Land Of The Giants
The Blues Giants live @ Harmonie
Bonn, Germany
Words & photos: Vincent Abbate
They call themselves the Blues Giants – a group of five musicians from different corners of the USA, all of whom have paid their dues and earned their keep in a variety of band situations. Two years ago, when they toured Europe, Mike Zito was one of the Giants. This time, a slight lineup change allowed us to enjoy the chops and vocals of Nick Schnebelen. The vibe didn't change much, though. This is a high-spirited, guitar-heavy and thoroughly soulful troupe in search of a good time.
As this is Blues Music Awards week (I still think of it as Handys week) and the indvidual members of the Blues Giants are up for a total of five awards, I thought I'd share a visual impression of each of them as they appeared onstage in Bonn, Germany last Thursday night, along with a few random thoughts. (Disclaimer: I am a bad photographer with a cheap cell phone.)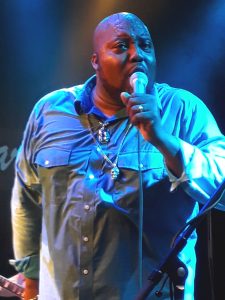 If anyone embodies the name Blues Giants, it is Sugaray Rayford. With his big frame and equally voluminous voice, Texas-born Rayford is the ringmaster. Loose and funny much of the time, poignant and deep when he wants to be. A masterful singer whose powerful pipes put unfair pressure on his bandmates to keep up. Ain't nobody can keep up with that!
Rayford is nominated in the Soul Blues Male Artist and B.B. King Entertainer of the Year categories.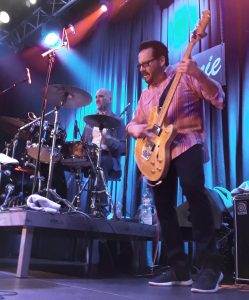 While Sugaray is out front prowling the stage, charming the audience and taking the piss out of the guitar players, Jimi Bott and Willie J. Campbell are the guys in the engine room. The veteran rhythm section that keeps everything moving. They've been the beat behind the Mannish Boys and the Proven Ones, never flashy but always deep down in the pocket. The economy of movement Bott exhibits, even when soloing, is fascinating to watch. Campbell, by contrast, was dancing, playing bass and chewing gum all at the same time.
Bott is up for Best Drummer, Campbell for Best Bassist and the album Wild Again by The Proven Ones is nominated as Contemporary Blues Album of the Year. There's your five nominations.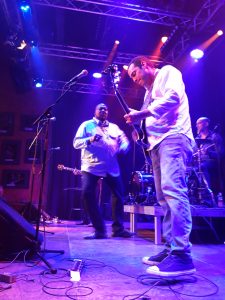 No love for "Jumpin'" Albert Castiglia, Blues Foundation? The former Junior Wells sidekick hails from South Florida and plays with an exuberance that puts him firmly in the Blues Rock category, where folks like Billy F. Gibbons and Eric Gales would have posed stiff competition. Still, Castiglia's fast hands and regular guy attitude make him immensely likable. It's no coincidence I chose to set up my perch near his corner of the stage. Albert's newest record Masterpiece is due out later this month on Gulf Coast Records.
Remember what I said about being a bad photographer? I cropped this shot of Nick Schnebelen from a full band photo. It's blurry and overexposed. But you know what? To me, it captures the mood of the evening. Schneleben – who has already won some BMAs himself as a member of Trampled Under Foot – seemed to be enjoying the hell out of his gig with the Blues Giants. He was new to pretty much everyone in the venue and needed no time to win them over with his sharp, no nonsense blues guitar playing. Nope, not a weak link in this band.
Good luck at the BMAs, fellas!