featuring…
♫ Philip Sayce, Peace Machine
🍺 Sierra Nevada Torpedo Extra IPA

Words & photos: Vincent Abbate
My past two Listening Party posts went off on a bit of a folky/world music tangent. The adventure was both musically satisfying and educational. But now, as I steer the proceedings back toward the grit and grime of the blues, I find myself wanting first and foremost to have my face melted. Who better to turn to in this case than Welsh-born, Canada-raised, next-level electric guitar monster Philip Sayce.
For me, any consideration of this abundantly gifted blues-rocker begins with the night he rolled into Leverkusen, Germany on the first night of a European tour and blew the walls off of a tiny club called topos. When I first caught wind of that gig, my first thought was, "What? He's playing there?!!" Sayce's growing reputation at the time suggested he would pack the place, and so it was: When the evening arrived, curious bodies occupied every available inch of space, from the gunky restrooms tucked away behind the stage all the way past the bar and out the front door. You basically couldn't move. 
Sayce's power trio was so damn good it didn't matter.
The knockout energy of Philip Sayce and his revelatory album Peace Machine, which we'll be sampling today, calls for a beverage that packs a similarly potent punch, so I'm going with a personal favorite: the Torpedo Extra IPA crafted by Chico, California's Sierra Nevada Brewing Co. 
The bottle is chilled. Three choice album tracks have been hand-picked for your pleasure. All I need now is a pair of heavy duty bolt cutters. This is Listening Party unchained.
The colorfully named and decorated Peace Machine, originally released in 2005, is the second solo album in Sayce's discography and the first to appear this millennium. At the time, he was still a valued member of Melissa Etheridge's band; prior to that, Canadian bluesman Jeff Healey and country-rock-crossover dude Uncle Kracker had already featured Sayce's prodigious six-string talents. It's fair to say he was coming into his own with Peace Machine. The mood of its 15 songs is like that of a lifer who's just busted down the prison gates, slid behind the wheel of a turbo-charged roadster and is speeding away at 100 mph.
After the fierce opener "One Foot In The Grave" makes Sayce's debt to Jimi Hendrix and Stevie Ray Vaughan obvious, "Save Me From Myself" shows off his affinity for fat, heavy, drop-tuned riffs.
I can't say enough about the quality of the musicianship on this album. Sayce's playing locks in tight with that of bassist and fellow Melissa Etheridge band member Mark Browne while drumming legend Kenny Aronoff does his impeccable thing behind them. The way Aronoff combines power, creativity and precision on album highlight "Angels Live Inside" is a thing of beauty. (We'll come back to that one later.) Keyboarder Fred Mandel fills out the sound on a few less tempestuous cuts, like "Dream Away" and the Roy Buchanan-esque instrumental "Alchemy."
That title – "Alchemy" – reminds me of a comparison drawn by craft beer aficionados Jonny Garrett and Brad Evans in their useful handbook Beer School:
"At its most basic, brewing is a science; a formula with rights and wrongs. (…) At its most complicated though, brewing is unfathomable. If it is a science, it is more akin to alchemy. For all our knowledge, making consistently delicious beer is a desperately difficult task."
I'll leave it to you to ponder that quote and enjoy Sayce's expert tone, phrasing and feel on "Alchemy" while I tilt the glass to 45° and pour …
Picking up where Garrett and Evans left off: If brewing beer is a desperately difficult task, then the people running the Sierra Nevada Brewing Co. have made a very good go of it. Since 1980, the earliest days of the microbrewery movement, the company has grown from a modest-sized local operation into the seventh largest brewing company in the United States. That doesn't happen unless there's some serious magic happening in the fermentation tank.
Sierra's Torpedo Extra IPA is a big box full of surprises. While indulging in its goodness this time around, I find myself thinking of a giant pink marshmallow or a thick wad of cotton candy in a glass. That sounds disgusting, but Torpedo is that smooth and delicious. Its soft, intoxicating aroma, maple hue and fluffy beige crown dazzle the senses. On the palette, it hits the sweet spot between maltiness and hoppiness. Beyond that … combined with these songs ("Alchemy" and those that follow it on the album), this goblet of 7.2 ABV potion has relaxed the heart beating inside my chest and has me dreaming of the days when concerts return and musicians will be taking us to faraway places again.  
Mmmm.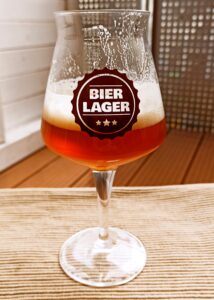 Unquestionably, dry formulas, machinery and carefully staged processes helped create the sensory explosion that is this exceptional IPA, just as a particular gauge of guitar string or the brand of drum head used affected the sounds we hear on Peace Machine. Still, I prefer to think of each of these pastimes – brewing beer and making music – as a kind of wizardry. When Philip Sayce got together with his studio band some 15-plus years ago, something extraordinary happened. There was a convergence of energies defying description that resulted in great and timeless music.
No song on the album embodies that more so than "Angels Live Inside." It's a gripping and explosive piece that's as exciting the hundredth time you hear as it is the first. Here's a live performance of the song from the City Sessions DVD. Sayce (sans his usual head of flowing blonde hair) pushes his axe to the limit, driven by the irresistible force of Aronoff and Browne. Enjoy.
Lucky #13 next week. I have a feeling it'll be something more traditional. Hope you'll come around again. Until then … look for the magic around you.  
* * *
The Who Is Blues Listening Party is powered by Bierlager, one of Germany's finest addresses for premium craft beer.