featuring…
♫ Various Artists, Not The Same Old Blues Crap Vol. 1
🍺 La Quince CRYOBOT IPA

Words & photos: Vincent Abbate
That time from the mid-1990s on into the current millennium when Fat Possum Records was shaking up the blues world was actually pretty significant. Who among us had heard of R.L. Burnside before then? Junior Kimbrough? T-Model Ford? How many of us even knew there was such as thing as the North Mississippi Hill Country blues and that it was different from anything we'd heard before? Not many, I'd venture to guess.
And then suddenly, there it was. A weird, edgy, hypnotic, punky, groove-oriented sound, propagated by a tiny indie label operating from Oxford, Mississippi – a college town. Not coincidentally, perhaps, the music appealed to a twenty-something alternative audience who didn't really know or care what the blues was. It didn't matter that most of the musicians on the Fat Possum label were two or three times as old as The White Stripes. All that mattered – as the name of the label's sampler series provocatively stated – was that it was Not The Same Old Blues Crap.
Today we're going to give the first entry in that series a listen – an eleven-track album with cuts by Kimbrough, Ford, Burnside and several others.
To wash it down, we've got La Quince's CRYOBOT IPA, a seasonal brew named for the Cryo Hops used in production and the futuristic bot on the label. As the late great Mr. Kimbrough once sang: I gotta try you girl.
So come on in … meet me in the city … ehh, enough of that …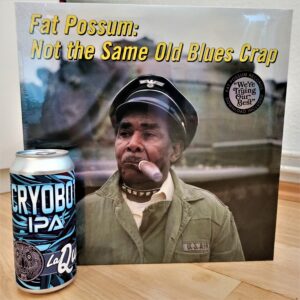 The liner notes on the back of Not The Same Old Blues Crap suggest Fat Possum had gone through plenty of upheaval prior to its 1997 release, all of it having to do with business operations. Looking back, it seems to have been for the better, as the label's reach and influence only increased moving forward. Importantly, Fat Possum had hung onto its most important artists and continued to turn out cutting edge records. Label founder Mathew Johnson, obviously partial to the cause, states his case in no uncertain terms: "There are only two kinds of blues records that are made today: Fat Possum records, which don't suck, and all the others."
Not everyone fell in love with the label's ethos; an enlightening master's thesis by Ole Miss student Jacqueline Sahagian takes Johnson to task for perpetuating stereotypes of the southern black "badman" in order to sell records. Whether you agree or not, there's no denying the immediacy of the recordings and decided lack of polish to the performances, which sets them apart from most contemporary blues, which Johnson openly hates.
Enough talk. Let's listen.
And the bar is open!
I was impatient and it's a 440cl can, so I've got a bit more to work with than usual.
Does "Snake Drive" cut it as a song? I mean, it's seven minutes without any change to speak of. The lyrics Burnside talk-sings over spare accompaniment can be summed up quickly: Love be the Devil, but it won't get me / Gonna let my baby ride. That's it.
Still, there's a manic energy there, a relentless hard-driving rhythm and unhinged soloing that flouts the rules of good behaviour. It works despite its seeming flaws, which is something you can say about a lot of Fat Possum's early output.
"Snake Drive" was later remixed into the heavy-hitting "Let My Baby Ride" – a key piece of the label's effort to find listeners beyond traditional blues circles.
The first few swigs of CRYOBOT have got me all loosey goosey. Let's move on to a Junior Kimbrough cut.
This version of Junior Kimbrough's "Meet Me in the City" is just as long as the Burnside track, but obviously has a very different energy. It feels almost jolly and swinging by comparison, obeying its own logic, ignoring structure, a song that could roll on forever.
For years, Kimbrough played this kind of music in his bar in Chulahoma, Mississippi, an establishment known simply as Junior's Place. It's said that the loose, intoxicating gatherings there could start on a Saturday night and carry on right through Sunday into the following week.
Sadly, I missed out on that juke joint, which outlived Kimbrough (who passed in 1998) but burned down a few weeks prior to my first visit to that part of Mississippi. I did swing through Oxford, 30 miles south, winding up at Proud Larry's – a hip local hangout – watching Cedell Davis together with a couple of members of the Neckbones. They invited me and my traveling companion to a house party afterward. One of my first experiences of Southern hospitality.
Yeah, so what about this beer?
I introduced you to the La Quince brewery in Listening Party #7 and we already spoke about the resurgence of canned beer in blog post #14. The cyborg-looking aluminum cylinder with Terminator-inspired lettering that houses CRYOBOT IPA is well in line with that Spanish brewer's "Brew Wild" credo.
As it unfolds into the glass, CRYOBOT unleashes a feast of fruity aromas through its foamy white crown. I place them somewhere between the ripe, sensual strawberry and the humble blueberry. On the tongue, the IPA does not disappoint. It's hoppy for sure, retaining its spectacular fruitiness with very little trace of bitterness. And boy oh boy is it smooth.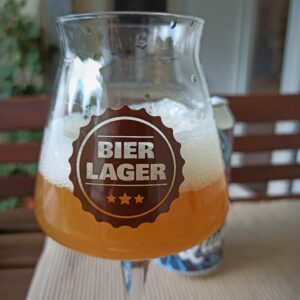 Let's face it. This beer is not something you would have found served at Junior Kimbrough's Chulahoma juke joint, where Moonshine was apparently the drink of choice. But! This delicious beer from Spain gives you a nice buzz, opening you to the sneaky magic of the songs on Fat Possum's sampler, where wrong feels wright.
Let's close it out with what I think of as a happy drunk song, the sound of a man laughing at misery. But seriously, you should hear every song on this record. At least once.
* * *
The Who Is Blues Listening Party is powered by Bierlager, one of Germany's finest addresses for premium craft beer.