featuring…
♫ A.J. Croce, Fit To Serve
🍺 Bevog Nitro Coconut Porter

Words & photos: Vincent Abbate
Before Listening Party breaks for summer (I may post some entries from the road depending on how travel shapes up) I've got an admittedly odd pairing for you. Stay with me here.
My musical pick this week is Fit To Serve, a 1998 release by A.J. Croce. Not only is this a great album – I listened again, the magic is still there – it also allows me to share one of my favorite stories about how a musician can pick you up off the floor when you're feeling like crap.
For the beer tasting, I've got a can of Bevog's Nitro Coconut Porter chilled and ready to go. Color me curious.  
The story begins on a Friday night in 1998. I'm at the Moulin Blues festival in Holland with my best blues buddy at the time – the same guy I wrote about in Listening Party #5. This is my first big European festival and I am totally naïve about the challenges I'm about to be confronted with.
But I'm also very excited, because B.B. King is topping the bill that evening.
My friend parks his station wagon in the camping area, we lay out our respective sleeping bags in the back – there's juuust enough room for both of us back there – and head toward the main tent with a supply of drink coupons in hand. Norwegian guitarist Vidar Busk opens the festival with a short, fiery set and we are feeling good.
We watch from the front of that very large tent. It's probably not quite the size of a football field, but it seems like it. Behind us there are hundreds of chatty festivalgoers who seem more interested in drinking, shouting and frisbeeing cardboard beer carriers through the air than in what's happening onstage. They make a lot of noise. A lot. When the Norwegians finish their set, my friend and I drift outside, grab another round, catch our breath and get ready for James Harman.
This is where things start to go south.       
A.J. Croce doesn't enter the story until later, but let's dive in with the title track from Fit To Serve, which he was touring at the time. Engineered by Richard McIntosh at Memphis's Ardent Studios, with Jim Gaines helming the production, Fit To Serve sounds big and full and punchy. Croce's Steinway is a thing of beauty.
So we're hanging out outside, my friend and I, in no particular hurry to head back into the tent. We hear the sound of a band launching into the evening's second set. A band with a brass section and what sounds like two drummers. Not Harman's band. B.B.'s band!
By the time we realize what's happening, it's already too late. The first 150 feet nearest the stage is packed. We look for an opening, but there's no point. We drift back toward the mixing desk. The stage is clearly visible but – all we hear is people talking. Laughing. Drunk and off their rockers. The sound of B.B.'s ten-piece is no match, and we can barely hear him sing.
I am now officially pissed off.
We exit the tent again and wind up watching King's performance from way off to the side near the front. We're barely inside the tent, but at least we can hear him. A little.
Whatever buzz I felt when we first arrived is gone now. We hang around for James Harman's set but – to quote B.B.'s biggest hit – the thrill is gone. I can't find my way back into the music. I'm utterly distracted by the noise and activity around me. When the last note sounds, we drag our butts back to the camping area, finish our last beer and turn in for the night.
So. Here I am. Lying next to a German guy in the back of a station wagon in some muddy field in Holland. We're determined to sleep. But all around us, the party rages on. The people who were loud and drunk in the main tent are even louder and drunker now. One a.m. Two a.m. Three a.m. I lie awake asking myself one question over and over and over.
WHY?
Why am I here? What good is all this?
At some point toward daybreak, mercifully, I nod off.
Let's give Croce's "Texas Ruby" a spin. We'll sample the coconut porter on the other side before I share (Paul Harvey pregnant pause) … the rest of the story.
I'll start with the painfully obvious: Bevog's Nitro Coconut Porter is a nitrogenated beer and requires a hard or heavy pour to activate the gas …
This means turning the can upside down. I didn't observe the famous cascading effect, but the rich, creamy tan-colored head in my engraved mug tells me I managed it OK.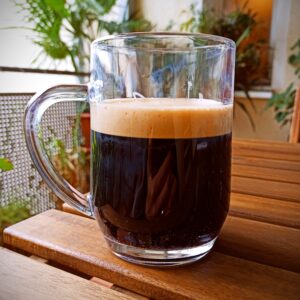 This beer and I became friends right away. It possesses the velvety smoothness nitro beers are renowned for and simply tastes good. It's funny how liking the taste of a beer gives you a happy, buzzed sensation right away, even before the alcohol can have any real effect. This tasty Austrian brew is malty and only vaguely nutty on the tongue, but give it a long sniff and the coconut really shows up.
OK, so now it's Saturday morning after a dark night of self-doubt and alienation. My friend and I have climbed our creaky way out of the station wagon. We're awake earlier than most of the all-night revelers, which is a good thing. We get breakfast in a tented area set up for the purpose. The hot coffee feels good. Together with a lingering sense of dread, I feel the slightest of sparks and resolve to give day two of the festival – the long day two – a chance.
The first set is not on the big stage, but inside a considerably more intimate tent with bench seating for maybe two or three hundred people. A.J. Croce and his band are kicking things off there at noon. We shuffle in, find a spot on the bleachers, and wait.
The musicians enter, with Croce taking a seat at the keyboard of a grand piano. He starts tinkling a jaunty "Trouble In Mind" as the other band members hang back:
"Trouble in mind, I'm blue, but I won't be blue always, 'cause the sun gonna shine in my back door someday…"
After the second verse, the one about going down to the river, the piano trails off, the song seems to be over. Then Croce shifts into boogie woogie mode, the band jumps in – ka-CHUNK-ka-CHUNK-ka-CHUNK-a – and "Trouble In Mind" blasts into orbit. All of a sudden – yes – the back door to my addled mind is open and bright, benign light is flooding in. Wow. Just wow.
The rest of Croce's set is just as invigorating, just as joyful. And: The audience is listening! Riding each wave of energy coming from the stage. Croce, his band and the people in that small tent save the festival for me. It turns into a good day all around. And Moulin Blues becomes a favorite festival destination for years. (I learn to always be within 50 feet of the stage if I want to hear the music and to head to the little tent whenever the mood sours.)
So I'm going to send you off with "Trouble In Mind" as Croce recorded it in Memphis back in the day. Perhaps you'll feel just a little bit of what I felt that day in Holland. The healing power of a high-powered blues tune.
Have a great summer. And visit a festival while you're at it!
* * *
The Who Is Blues Listening Party is powered by Bierlager, one of Germany's finest addresses for premium craft beer.