featuring…
♫ Jane Lee Hooker, Rollin'
🍺 BrewLab Steel Princess

Words & photos: Vincent Abbate
"Keep On Rollin'" says the official tour t-shirt.
That's what I intend to do today. Keep things rolling with another new album and another Belgian beer. Or three.
I live just an hour east of Germany's border with Belgium. So a quick shot and I'm in another country, where the language is different, the people are different and the beer is just as good, maybe even better. My excuse for making the jaunt this time is an appearance by Jane Lee Hooker – a steaming cauldron of blues, soul, gospel and rock'n'roll from New York City. I reviewed the band's show at the same venue in Verviers some four years ago – you can find it here – so this time we turn to JLH's latest and arguably best release, the aptly named Rollin'.
My first stop in the city of Verviers after arriving in the afternoon is the St Raph, a corner pub a few houses down from the concert venue Spirit of 66. Both of them are situated on the Place du Martyr, a once lively square that's been decimated by the one-two punch of the pandemic and last summer's catastrophic flooding. Half the stores and restaurants on and around the square are now boarded up. It's a depressing sight.
A Val-Dieu blonde, potent and spicy, helps to lighten my spirits and reacquaints me with the local drinking customs. The chalice of foamy goodness arrives with a small bowl of roasted peanuts, and after I've paid and tipped the barkeeper (the bill comes with the beer), he offers me some peppered cheese cubes as well.
Actually "lighten my spirits" is an understatement. A couple of sips and I feel frickin' great! This is the magic of beer. There, I said it. You're in a foreign country, somewhere you don't speak the language, it can feel intimidating. Some decent hop juice is a surefire way to put an end to that.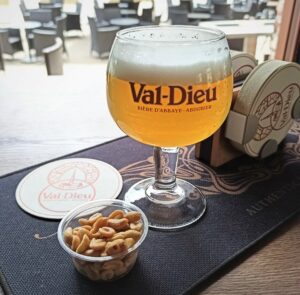 A short while Iater I make my way to L'Orchestre à Pots, a specialty food shop that carries a small stock of bottles from the local craft brewer, BrewLab. I walk away with a bottle each of Brass Baron and its more exotic sibling Steel Princess – the beer I've chosen to feature in today's Listening Party.        
So we're all set. The bottle is chilled. Jane Lee Hooker is in the starting gates. Let 'er rip.
When Jane Lee Hooker emerged some nine years ago, the formerly all-girl five-piece appeared to be little more than a supercharged, punked-up and extremely entertaining blues outfit. Their 2016 debut album No B! reworked and re-energized the classics: Muddy Waters, Howlin' Wolf, Johnny Winter, Sister Rosetta Tharpe. The follow-up Spiritus offered gritty self-penned tunes, the guitar interplay of Tina "T-Bone" Gorin and Tracy "Hightop" recalling the Stones, Thin Lizzy and Lynyrd Skynyrd. On the lean, mean Rollin', they've struck a perfect balance between the edgy and the soulful; lead singer Dana "Danger" Athens, the dynamic force at the band's center, climbs to new heights of expressiveness. With founding bassist "Hail Mary" Z and new drummer "Lightnin'" Ron Salvo in the engine room, the Brooklyn-based quintet has outdone itself, creating a pandemic-era classic.
The crowd-igniting live staple "How ya doin'?" comes early in a typical Jane Lee Hooker set, boldly proclaiming the band's dedication to good times and big fun. In Verviers, before that cut, a standout tune from the new album, "All Good Things," opens the show.
How's your beer French?
BrewLab's Steel Princess, it says on the label, is a Bière blanche non filtrée refermentée en bouteille. That's fairly straightforward. We've got an unfiltered white beer (aka Witbier) that is refermented in the bottle.
The ingredient list, or composition, sends me scrambling for Google though. Eau de brassage, that's any beer's main ingredient: water. Malt d'orge et de froment – both barley and wheat malt are on the grain bill. Boublon – don't hops sound cute in French? Fleurs de sureau – here's where it gets interesting – is elderberry. Levure can only mean yeast.
My first whiff of the Steel Princess is exciting. She's got the typically lively fragrance of a Witbier, but there's something else there – maybe some ripe mango. The pour is pale and cloudy, almost opaque. I'm curious.
Before we continue with the tasting, let's move on to "Drive" – a beautiful song that makes me think of the social isolation we've dealt with the past couple of years and how good it feels to break out of it, both physically and mentally. A song about connecting, finding and holding onto one another.
OK, so the Steel Princess is a tart and tangy drinking companion. She comes with a dry mouthfeel – not unpleasant, but acidity is definitely part of the experience. The glass has me thinking back to the first Hefeweizens I ever had, visiting a friend in Munich – it was an unfamiliar taste back then and has remained exotic to this day. The beer where I live tastes nothing like it.
Right now, I wish I had a second bottle so I could make up my mind on the Steel Princess. It's a beer with a strong character, a beer with bite. One I need a bit more time with.
And just as my glass is empty far too soon, Jane Lee Hooker's Rollin' is over before you know it. Just eight songs – but all killer, no filler as they say. That's way better than the other way around.  
The third of the three tracks pre-released before the album's official street date in April was "Jericho," a punchy rock song that has a 1970s FM radio vibe. The three singles included here might lead you to believe Jane Lee Hooker has abandoned the blues completely, but that's not the case. Treat yourself to the album and you'll find the blues in places like "Lucky," "White Gold" and "Runaway Train."
Hmm … this cross-border trip has been so much fun … Jane Lee Hooker's powerhouse show right at the heart of it … that I really don't want to go home. Not just yet. Maybe another round is in order. In fact, Spirit of 66 has started making its own beer and I hear it goes down easy …
See you next time.
* * *
The Who Is Blues Listening Party is powered by Bierlager, one of Germany's finest addresses for premium craft beer.