The Interviews: Blues Encounters 2000-2020
(Who Is Blues Vol. 2)
Fifteen interviews. Two decades of blues. That's what you'll find inside The Interviews: Blues Encounters 2000-2020, the second volume in the Who Is Blues series by New York-born author and journalist Vincent Abbate.
The book is a collection of candid in-depth conversations with 15 prominent blues bands and musicians, spanning the spectrum from downhome Mississippi blues to ear-piercing bluesrock. The Q&A interviews are virtually uncut, conveying honest portraits of blues luminaries past and present such as B.B. King, Walter Trout, Bobby Rush and Samantha Fish. The 265-page paperback also includes a selection of original photos by Marcella auf der Heide and brief biographical sketches of each of the profiled artists.
Grammy winner Bobby Rush says it best in his featured interview: "Most of what [people] hear ain't real. They're used to some phony shit. This ain't no phony thing."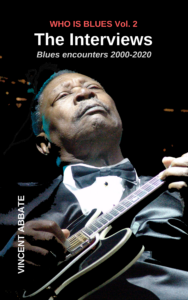 Includes interviews with: The Holmes Brothers, Dave Gonzalez (Paladins), Paul deLay, John Mooney, B.B. King, Sue Foley, Terry Evans, Bobby Rush, Tommy Castro, Josh Smith, Ronnie Baker Brooks, Quinn Sullivan, Watermelon Slim, Samantha Fish & Walter Trout.
NEW!! Now available through the Blues Music Store, order here.
To order via Amazon in the US, click here.
To order via Amazon UK, click here.
To order via Amazon Germany, click here.