Still Fierce and Free

An Interview with Watermelon Slim (Pt. 2)

Words by Vincent Abbate / Photos by Mike Latschislaw
(Click here for Part 1 of the interview.)
"Is any part of what you're telling me off the record?"
I really had to ask, because Watermelon Slim wasn't using a filter. He was sharing the most intimate details of his life – stuff you might tell your closest friend in confidence – though I'd never spoken with him before apart from a brief exchange at a blues festival ten years prior.
No. Every word of our interview was fit for print as far as Slim was concerned. When you have given up all hope of commercial success and accepted physical decline as a fact of life, you stop holding back.
"I'm an old man. I'm not in the greatest of health. I dance around it and put on a pretty good front, but…"
I've chosen to omit some of the more lurid aspects of Watermelon Slim's biography – information I've been party to since meeting him this past July – because they shed seemingly little light on his music. Including them for the sake of mere controversy could make me an accomplice to commercial suicide. Still, there's plenty left over to get one of Slim's chief messages across, i.e. the ups and downs of his roller-coaster past have given him street cred in spades.
"I have lived the blues life!" he declares, proud as a dog with two tails. "I have had the shit kicked out of me. I've lost the women. My wife took everything I had and stole everything I had borrowed and put it all into cocaine and methamphetamine. She was raped by two meth heads and wouldn't even let me take them out of the world. That's the blues."
Ahem.
As reckless as that sounds, Slim is, all in all, a extraordinarily sensitive man. He's an eagle-eyed observer of the world around him, blessed (or cursed) with a keen mind that never shuts down.
"I've thought far more deeply than most anybody you ever saw. I am always observing what goes on outside and observing what goes on inside of me. And if possible, what goes on inside others."
And he has a gift. A magical power, he calls it.
"That power is to stop or prevent rain at live performances outdoors. I've done it in Billings, Montana. I've done it in Norway. Magic Slim and Super Chikan invited me to play there, and it was raining off and on the whole time at that festival. But," he whispers, "I stopped the rain so we could play.
"I've stopped the rain in five or six different countries. Carl Jung would call it synchronicity. When time and space and matter are worked on by will, things occur. When the universe is ready for shit to happen, it happens.
"You probably think I'm crazy!"
I don't. But Slim: Why not take a break from talking about being a "phenomenologist by psychological discipline and an evolutionary existentialist by philosophical inclination" and simply do what most artists do – hawk your new album!
"It's an important record," he says of Golden Boy, released in the spring of 2017.
Well alright, then.
Golden Boy, as befits this doggedly independent thinker, is not your everyday run-of-the-mill blues album. Its ten songs, recorded in Winnipeg by producer Scott Nolan and engineer Jamie Sitar, represent what Slim calls a mixture of Americana and Canadiana. There are decidedly bluesy moments, like Blind Willie Johnson's "You're Going To Need Somebody On Your Bond." Other tracks would not be out of place on a Celtic music sampler or a collection of sea shanties.
The Winnipeg sessions – also documented on the hour-long DVD Lightning In Bottle – brought together local musicians to provide both the rhythmic foundation and some truly breathtaking instrumental and vocal embellishment.
"Winnipeg is the hotbed of Canadian music. It's really the epicenter," says Slim. He singles out multi-instrumentalist Jeremy Rusu for his contributions on clarinet, accordion, mandolin and piano. "The cut 'Winners Of Us All' is one of the two most complicated songs I've ever done. He had it in 15 minutes."
Thematically, Golden Boy requires a bit of digging. "Pick Up My Guidon" – an ensemble piece that echoes the buoyant southern rock of the Tedeschi Trucks Band – would seem to be a reflection on his service during the Vietnam War and an expression of solidarity with his fellow soldiers. But there is more to it than that.
"That song as well as 'WBCN' are songs dedicated to the Vietnam Veterans Against the War," clarifies Slim. He saw little combat during his brief tour of duty in Southeast Asia, but was stationed there long enough to be exposed to Agent Orange and be affected long-term by its toxic effects. "We have a common consensus about the betrayal of the American people for missions that do not defend the United States of America," he says of his ongoing membership in the aforementioned, politically active veterans group.
"WBCN" is his account of a confrontation between VVAW protestors and members of the American Nazi Party during the turbulent Republican National Convention in Miami in 1972.  Told in deep, gravelly, Johnny Cash-like tones, the story-song shows once again that Golden Boy is anything but your typical blues record. (If you ask politely, Slim will pull up his pant leg to show off the scar he received from a steel-tipped jack boot during that clash.)
On the remarkable "Wolf Cry," he takes a stance against capitalist exploitation and the maximization of profit at the expense of the earth's natural resources. It's a powwow song, driven by a relentless drum beat and the yowling of traditional Cree and Ojibway singer Ray "Coco" Stevenson, or Walking Wolf.  
"It's a warning," says Slim gravely. "The whole record is a warning. The blues is not just 'Oh, my baby left me.' The blues is fierce. And free."
Then there's "Winners Of Us All," with its smoky, late-night saloon-at-closing-time atmosphere. Written many years ago while he was struggling to keep his family afloat, it is Slim's deeply personal take on the economic divide that separates the haves and the have-nots. Here, the songwriter's defiance is somewhat muted; the adamance of "Wolf Cry" seems to be where his head is at now, as he has grown older and more ornery.
"The wolf cry is what we will make when we make our stand. I will die making my wolf cry."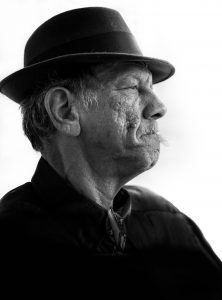 Bill "Watermelon Slim" Homans has not had an easy go of it. He emerged late in life from his truck driving and watermelon farming to become a musician of international renown. But tastes shifted, and shifted again, as they always do. Maybe he rubbed someone of influence the wrong way; it would not be the first time. In any case, few people will get to hear Golden Boy aside from those who go looking for it.
Slim will tell you he has accepted this fate, and that he is now less concerned with his own personal struggles than with the survival of the planet. As he approaches his 70th birthday, he sees himself as a soldier in the army that will save the world.
"I do not intend to die in any damn hospital. I'm gonna die in combat."
Yet perhaps, secretly – when no one is looking – he still hopes that his uniquely brilliant musical endeavors will someday receive their just due.
'Cause I'm still fierce and free,

and I'll fight toe-to-toe

for a piece of your comfort,

though it's coming real slow…
(from "Winners Of Us All")
* * *
Who Is Blues wishes to thank Mike Farley, Chris Hardwick, David Isaac and Philippe Langlois for their assistance in making this happen.
Special thanks to Mike Latschislaw for permission to use his incredible photos. See more of Mike's work at www.latsch.ca
Finally, my sincere gratitude to Bill "Watermelon Slim" Homans for taking the time.