The No Bullshit Factor
An interview with Sue Foley
Words: Vincent Abbate
Sue Foley is in a good place.
Even though I've had a few and she hasn't – "I'd really love a beer, but don't want to start drinking yet" – she's the one who's in high spirits during our pre-show interview, laughing about life and being back on the road in Europe after a long hiatus. Hot on the heels of The Ice Queen, her first solo album since 2006's New Used Car, the Ottawa native is a renewed presence on the international blues scene. She refuses to think of it as a comeback.
"That sounds so depressing. It's not like I went anywhere!"
Let's consider that for a moment.
The redheaded Canadian – she of the pink paisley Fender Telecaster – is most strongly associated with the city of Austin, Texas. It was there she recorded her 1992 debut Young Girl Blues after impressing the late Clifford Antone, founder of Antone's Records and manager of the storied 6th Street blues venue of the same name. Foley remained in Texas for a good part of the 90s, recording several more records for Antone's before returning to her native Canada. After three discs for the Shanachie label, Foley turned up on Germany's Ruf Records, issuing two solo albums, a live DVD and the collaborative effort Time Bomb with fellow blues ladies Deborah Coleman and Roxanne Potvin. She then teamed with Peter Karp for a pair of well-received duo albums before the project ran its course in 2015.
She's been back in Austin for about two years now, picking up where she left off and re-connecting with many of her musical pals from the 90s. Her star-studded new record speaks for her enduring reputation there. The Ice Queen features Billy Gibbons, Jimmie Vaughan, Charlie Sexton and the Texas Horns on various cuts and was produced by Mike Flanigin, the first-call Hammond B3 player who has worked with Gibbons, Vaughan, Robert Plant, Willie Nelson and a host of others.
Foley and I sat down before an intimate pub gig during her recent European tour.
Who Is Blues: The last time we met, in 2007, you were still living in Canada and hadn't yet teamed up with Peter Karp. That was a fairly successful partnership, wasn't it?
Sue Foley: We had a good run. We did two albums in about six years on the road. It's kind of a blur. That ended in 2015 and I started back on my solo career.
WIB: What convinced you to make the move back to Austin, where you'd spent the early part of your career?
Sue Foley: It's funny. My friend Mike Flanigin, who ended up producing my new album, is an old friend. We were all kids during the Antone's era of the early 90s. We were all in our 20s, so we all hung out together. Him and us, the Moellers, "Little Doyle" … there was sort of a gang, my band, we were all in our 20s. But I lost touch over the years. Mike Flanigin had gotten married and had kids. I moved away and had a kid. I only went back sporadically. Then Clifford Antone died, which made me not want to go back so much anymore. It made me sad to go back there. So I hadn't been back in a while.
Mike texted me out of the blue and told me that Antone's had re-opened. He said it had really great owners and that I should come down and play there. After they re-opened, they thought about who they should get to play there and Mike suggested me. So I looked him up and ended up going back for the Antone's anniversary celebration. That was 2016.
Flanigin and I re-connected. I really loved his album. He had become a solo artist and a B3 player. When I knew him in the 90s, he was a guitar player. Sort of an unremarkable guitar player. He was good and everyone loved him, but he wasn't one of the best on the scene. He's since become a B3 player and really took off. He plays with Jimmie Vaughan and Billy Gibbons and really came into his own.
So when we re-connected and I heard his album The Drifter – are you familiar with it? It's great! – I told him I loved his album. I liked the diversity of the material on it. He asked me what I had going on. I told him I had some songs. I played them for him and he told me I should come back to Austin and record them. So I asked him to produce. We even did a crowdfunding through Kickstarter and raised over 40,000 dollars. That allowed us to make a really high end album. He brought in Jimmie Vaughan and Billy Gibbons and Charlie Sexton. I'd never recorded with Jimmie before.
WIB: I read where you recorded it at the same studio where you'd recorded your very first album.
Sue Foley: Yeah! There were all these full circles. My son was grown. He's at university. It goes so fast. You think, oh my God, this is so boring, this is never gonna end. And then it's over and you're like … aww. So I was free to go back to Austin. So it was 20 years later and all of a sudden, I'm back. It's funny. I left Austin when I was pregnant.
WIB: You moved back up to Ottawa?
Sue Foley: Yeah, when I was pregnant. That was the late 90s. And here we are, 20 years later. But I'm probably in better shape now than I was in my 20s. It's a great age. Because you're still physically healthy – I mean, if you've taken care of yourself. If you have, then you're in good shape. Because mentally, everything is still intact. Actually it's very sharp. Plus you have a no bullshit factor in your vocabulary. You've learned. It's great.
WIB: Tell me about the "Jungle Show." What was that all about?
Sue Foley: The Jungle Show happened right before I recorded my album. That was a show I was brought into by Mike Flanigin and Billy Gibbons. They were starting the Jungle Show, which was kind of a supergroup show around Austin. They wanted to have Jimmie and Billy to play together on a show. They brought in Chris Layton on drums and Flanigin on B3. They needed one more person. I was like: Here I am! I told them if they needed an opener, I would open it. Then Mike called and told me they wanted me. It turned out really well. It was intended as a one-off thing at the end of 2016. But we've done it a few more times and we're probably going to do another one this year. It happens around Christmas, when everybody's home for the holidays. It's a good show. Kind of a supergroup blues show.
WIB: Having been away for roughly 20 years, what changes do you notice in Austin?
Sue Foley: It's changed drastically. There's still a good music scene, although the city is hugely gentrified now. The funky little hippie town it used to be is long gone. It's a money town now. Most musicians can't afford to live there. That's what they don't tell people. It's supposed to be the Live Music Capital of the World.
WIB: Your new album The Ice Queen sounds very relaxed, spontaneous and live.
Sue Foley: It's very live. We recorded live. What you hear is a full band, live in the studio. Which is the way a blues album should be. I think I'm a more seasoned performer now, so I'm comfortable doing it that way. And the other artists we have on it are all such heavyweights that they can play just about anything. Aside from a couple of covers, it's all my songs. One of them, "Fools Gold" – the one Billy is on – was a co-write with Mike Flanigin.
He was really specific about who should play on which song. So each song has its own flavor. Whether it's J.J. Johnson on one song, the Texas Horns on another, always for a specific reason. What we did was, we had days where certain people came into the studio. They had heard the song beforehand. So we would run through it and then play it and that was it.
WIB: The recording has a loose quality that I like.
Sue Foley: You're hearing first or second takes. That loose quality is what we were aiming for. I think that's the way blues should be recorded.
WIB: Tell me about recording with with Jimmie Vaughan. Your duet, "The Lucky Ones," would seem to be a reflection on times you shared back in the 90s.
Sue Foley: Well, I'm good friends with Lou Ann Barton and sometimes he'd be on the road with her and we'd hook up and say hi. But I wasn't really friends with Jimmie per se. We wouldn't hang out or anything. But we were aware of each other and he was always super nice. It was Mike who brought him into the fold. The song "The Lucky Ones" is actually about me and Flanigin. When we re-connected, it was sort of like, where ya been? We've both been through a bunch of shit. So when we re-connected, it was like: We're pretty fuckin' lucky to be here. That's the way we both felt. So I wrote that song. But it worked with Jimmie, too, because Jimmie's obviously been through a lot. He was able to get into the whole frame of it.
WIB: What about the title song? The Ice Queen is about a woman who has been misperceived, basically telling the world, hey, you don't know what I'm really about. How much of that is you?
Sue Foley: Yeah, I guess it is partly autobiographical. First of all, to do what I do and to be on the road as a woman all these years, you sort of have to have a hard shell. You've gotta protect yourself. You've gotta wear armor all the time. So "The Ice Queen" is about a person who's doing that. She's got armor on. And you can't see it. She's icy and cool and people might call her a bitch. When really, it's just because she has to protect herself. Or at least she thinks she does.
WIB: What do you feel you have to protect yourself from?
Sue Foley: I've been doing this for so long that you learn to keep a hard shell around you. It's not that you can't be sweet and nice to people. But you just can't let everybody in. You gotta be careful.
WIB: Have you been taken advantage of?
Sue Foley: Yeah! You gotta watch out. There's a lot of shit out there! In life in general, there's stuff that's flying at you from all sides. And I think we all do this anyway. We're so vulnerable when we're born. Slowly, as we grow older, we do harden, right? Some harden more than others. Some are impenetrable after a while. And some don't. Some are able to soften up again.
The Ice Queen can be a lot of things. But I definitely know from experience. I've been around long enough to have felt that. I've had my heart broken. I know what that feels like. And how you sort of bounce back.
But the song also refers to my being Canadian. When I first thought of the name Ice Queen I thought it would be kind of funny. I wasn't thinking of a heartbreak song. I thought about the idea of an Ice Queen. And being from Canada, I thought I could work with it.
I also thought about Albert Collins, the Ice Man. The Master of the Telecaster. So I kind of worked with those three themes. And I wrote the song thinking of the Ice Queen and what that could be. How can I write a song about that person?
WIB: Has the album done well for you?
Sue Foley: Yes. Really well. I'm having a blast.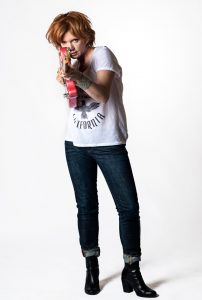 ***
Sue Foley is currently gearing up for a summer tour of North America that kicks off on July 10th with an anniversary show at Antone's. For complete tour dates, click here.