"Most of what [people] hear ain't for real. They're used to some phony shit. This ain't no phony thing."  – Bobby Rush
Fifteen interviews. Two decades of blues.
The Interviews: Blues Encounters 2000-2020 is a collection of candid uncut conversations with blues musicians past and present. Some, like B.B. King, are household names. Others – including blues harp master Paul deLay and Clarksdale, Mississippi's "dark genius" Watermelon Slim – have been widely overlooked. The 265-page paperback gives readers the inside story in the artists' own words, helping to enrich and deepen our understanding of the blues.
Starting off with a casual give-and-take with the three members of the Holmes Brothers in a German bar in Y2K, the interviews move through two decades of contemporary blues, concluding with an in-depth conversation with bluesrocker Walter Trout during the politically charged summer of 2020. While nearly all the interviews were done on assignment for various blues publications, they have never appeared before anywhere in the raw, uncensored Q&A versions found here.
"𝗪𝗵𝗮𝘁 𝗺𝗮𝗸𝗲𝘀 𝘁𝗵𝗶𝘀 𝘀𝗲𝗰𝗼𝗻𝗱 𝘃𝗼𝗹𝘂𝗺𝗲 𝘀𝗼 𝗶𝗻𝘁𝗲𝗿𝗲𝘀𝘁𝗶𝗻𝗴 𝗶𝘀 𝘁𝗵𝗲 𝘄𝗮𝘆 𝗵𝗲 𝗯𝗿𝗶𝗻𝗴𝘀 𝗼𝘂𝘁 𝘀𝗼 𝗺𝘂𝗰𝗵 𝗮𝗯𝗼𝘂𝘁 𝘁𝗵𝗲 𝗮𝗿𝘁𝗶𝘀𝘁𝘀' 𝗹𝗶𝘃𝗲𝘀 … 𝘆𝗼𝘂 𝗳𝗲𝗲𝗹 𝘆𝗼𝘂'𝗿𝗲 𝗯𝗿𝗼𝘂𝗴𝗵𝘁 𝗶𝗻𝘁𝗼 𝘁𝗵𝗲 𝘃𝗲𝗿𝘆 𝗵𝗲𝗮𝗿𝘁 𝗼𝗳 𝘁𝗵𝗶𝗻𝗴𝘀 … 𝗶𝘁'𝘀 𝗮 𝗵𝘂𝗴𝗲𝗹𝘆 𝗲𝗻𝗷𝗼𝘆𝗮𝗯𝗹𝗲 𝗿𝗲𝗮𝗱 𝗮𝗻𝗱 𝗮𝗻 𝗶𝗻-𝗱𝗲𝗽𝘁𝗵 𝗹𝗼𝗼𝗸 𝗮𝘁 𝘀𝗼𝗺𝗲 𝗴𝗿𝗲𝗮𝘁 𝗯𝗹𝘂𝗲𝘀 𝗮𝗿𝘁𝗶𝘀𝘁𝘀." – Pete Clack, Blues In Britain
Each interview is accompanied by a short personal introduction by the author as he recalls his interactions with these very different musical personalities. A separate section includes biographical sketches of each artist, providing background info, career milestones, etc.
"𝗔𝗯𝗯𝗮𝘁𝗲 𝗶𝘀 𝗯𝗹𝗲𝘀𝘀𝗲𝗱 𝘄𝗶𝘁𝗵 𝘁𝗵𝗲 𝗮𝗯𝗶𝗹𝗶𝘁𝘆 𝘁𝗼 𝗴𝗲𝘁 𝗵𝗶𝘀 𝘀𝘂𝗯𝗷𝗲𝗰𝘁𝘀 𝘁𝗼 𝗼𝗽𝗲𝗻 𝘂𝗽 𝗮𝗻𝗱 𝘁𝗲𝗹𝗹 𝘁𝗵𝗲𝗶𝗿 𝘀𝘁𝗼𝗿𝗶𝗲𝘀." – Pete Feenstra, Get Ready To Rock!
(To buy the book on Amazon.com, click on the book cover.)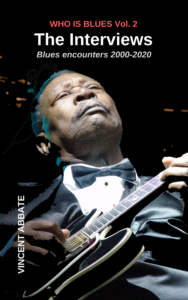 Watch the book trailer here. 
The Interviews: Blues Encounters 2000-2020 is available as a paperback or ebook via Amazon.com, Amazon UK, Amazon Germany and all other national Amazon sites.
NEW!! Now available through the Blues Music Store. Order here.