featuring…
♫ Henrik Freischlader, Missing Pieces
🍺Mühlen Kölsch
Words & photos: Vincent Abbate
So I've been thinking.
This is Listening Party #27. Alongside the variety of blues records I've featured until now, there have been lots of IPAs and lagers and porters and what not. That's thanks to my friends at Bierlager, who have kept up a steady supply of tasty, exotic suds.
But how can I ignore the one beer I've drunk far more than any other during the past 25 years?
The one I've enjoyed at probably 80 or 90 percent of the blues shows I've attended during that time. And before the shows. And after.
I'm talking about Kölsch, of course.
Those of you who have visited my adopted home city, Cologne, will know Kölsch as a bright, smooth top-fermented ale served in tidy, cylindrical 200ml glasses known locally as Stangen. It's a beer that's often frowned upon in other regions of Germany – by the snooty Pils drinkers up north or the provincial Bavarians, who turn up their nose at any mug smaller than their one-liter Mass.
Those who have never traveled here may know it instead as a fancy schmancy "Kölsch-style ale," a beer that appears to have caught on in international craft beer circles in recent years. The current ranking on RateBeer places exactly one brand of Kölsch actually brewed in Cologne in the top 50. One! The rest are from elsewhere. So, craft beer buffs … if you do come visit and go to a local Brauhaus to sample our beer of choice, you might well hate it.
I'm not here to defend its merits, but merely to down a few glasses and listen to the blues.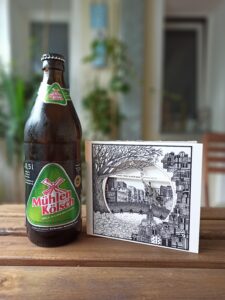 The beer pictured above is Mühlen Kölsch, brewed by Cologne's Brauerei zur Malzmühle since the mid-19th century. The bottled version is certainly no match for the habit-forming tap served at their famous brewpub in the old center of town, but as bottled brands go, it's probably the most flavorful Kölsch that's widely available at kiosks and gas stations.
The CD standing next to it is Missing Pieces by another Cologne export – singer, guitarist and songwriter Henrik Freischlader. Of the hundreds or possibly thousands of German musicians currently performing some variation of the blues, Freischlader has likely made the biggest splash internationally.
Let's get a taste of this, his most recent record with "Power To The Peaceful."
So I've cracked open that half-liter bottle, poured it into the proper vessel and … what can I say? This beer, this beer experience, is simply part of living in Cologne.
The Freischlader song – respect to Henrik for not choosing to call himself Mojo Henry or some such ridiculous name, he made it on his own terms – gave me a bit of time to consider what to say about this tried and tested liquid companion. And what I realized is: Kölsch is really and truly tied up with my experience of blues in the city of Cologne. And I'll tell you why.
My first few years here, I had no clue what was going on. I was blind to the music scene. It took Ann Rabson, the late pianist and singer who achieved notoriety with Saffire, to open my eyes to a fabulous weekly blues show that took place every Tuesday, literally just down the road from my apartment. It was (and is) called Talkin' Blues. At the time, it went down at a Brauhaus. Not the one run by Mühlen, the Kölsch we're drinking today, but by Küppers – a somewhat low-brow brand with a garish yellow label. That didn't matter though. What mattered was that the music was great and the beer flowed in an endless river.
In time I became a part of that show in a way that, when I look back upon it now, seems totally absurd. During the talk show portion, which took place late in the evening – by then I'd knocked back a good six to eight Kölsch at least – I would translate the words of our English-speaking musical guests for the German-speaking audience. Or at least try to. My German wasn't what it is today. If I hadn't had six to eight beers in me, I would have freaked out.
As it was – easy peasy. Following the interview I'd step right back down off the stage and carry on drinking with my collection of blues buddies. Yup, those were the days.
Here's some more Henrik Freischlader.
As I sit here enjoying my Mühlen Kölsch, I struggle to find a way to describe its appeal. Even my usual beer tastings tend to be unscientific. With Kölsch, it's practically impossible for me to step back and present an objective view. I'm particularly struck by the carbonation today – but that may only be because it looks so pretty as it ascends to the top of the glass. As always, it's a beer that goes down easily. One you could drink all night, as I often have.
Anyway, if you're ever in town, do visit one of the city's better Brauhäuser for the full-on Kölsch experience. Beer geeks may feel that brands brewed in Toledo and Tulsa eclipse "real" Kölsch in every way. I'd beg to differ, but you kind of have to live it first-hand.
One more thing before I go: Writing lots about the beer and little about the music at today's Listening Party should not be taken as a "dis" of Henrik Freischlader. The man's a shining star. A reserved and articulate bloke who puts so much care into everything he creates. The artwork and packaging of his albums set standards. The various configurations of his bands have forever been a bastion of top-flight musicianship. His guitar artistry is up there with the best of the best. What I admire perhaps most of all is that he tries to express something personal in his lyrics, eschewing worn-out blues cliches, even though English is not his first language.
I'm feeling all warm and fuzzy now. At its best moments, Cologne – like its beer – can do that to you. It's a loose, rough around the edges kind of place, not particularly classy or beautiful. But the people have a reputation of being open and tolerant and that's a good place to start.
Thanks for stopping by.
* * *
The Who Is Blues Listening Party is powered by Bierlager, one of Germany's finest addresses for premium craft beer.