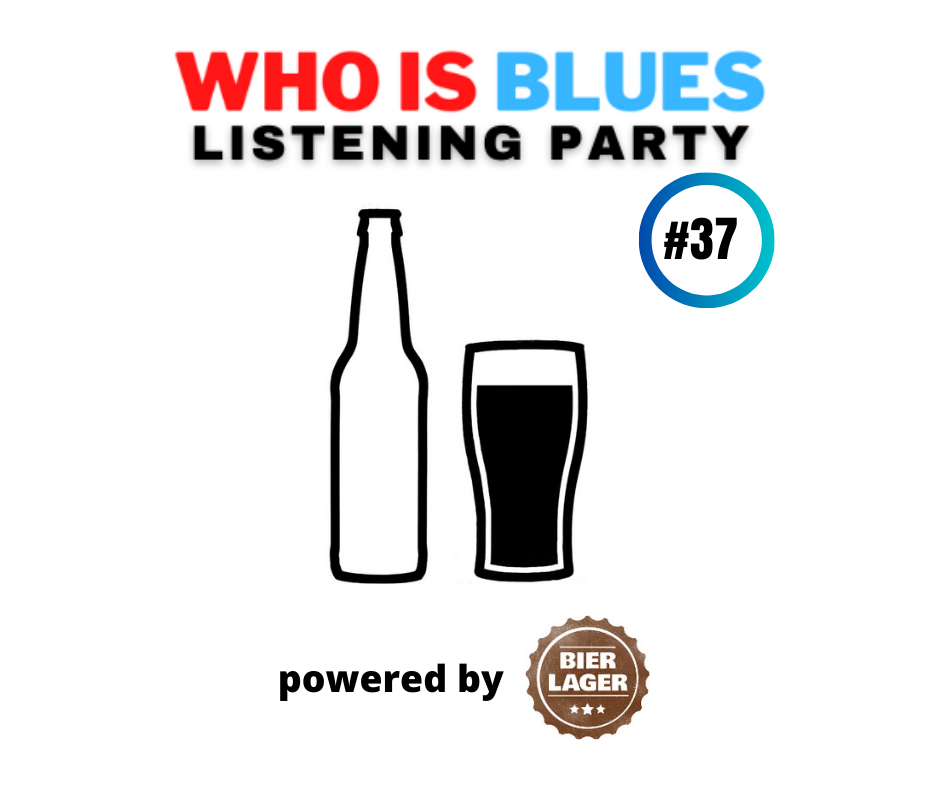 featuring…
♫ The Paladins, Let's Buzz!
🍺 La Quince Queens Kellerbier

Words & photos: Vincent Abbate
Dear reader, welcome to 2022. If you're new to the Listening Party, this regular blog post is where I celebrate two of my biggest enthusiasms, a pair of wonderful inventions that were seemingly made for one another: beer and blues. I do that by spotlighting one standout album from my record collection while cracking open a single vessel of exceptional beer. The majority are sourced from a local craft beer retailer, my Listening Party partner Bierlager.
This dive into the big, sudsy world of barley broth is essentially a by-product of the ongoing pandemic: I've had a thing for beer ever since my dad let me sip from his bottle of Schmidt's when I was a little boy (see Listening Party #11), but only recently did I begin taking the hobby a little more seriously. I now enjoy and appreciate it more than ever before – one of the millions swept up in the craft beer revolution.
A quote on the subject (it fills an entire page in Garrett & Evans' Beer School) gives us a good jumping off point: "Some may take beer too seriously, but few who do are guilty of taking life too seriously."
In that spirit, I'll kick-start the new year with a 1990 album that crackles with positive vibes: Let's Buzz! by San Diego roots stalwarts The Paladins. Liquid refreshment comes in the form of Queens Kellerbier, one Spanish brewer's take on a traditional German recipe. We'll indulge a bit later on.
If the pandemic has taught me anything, it's that you gotta make your own fun. Are you with me?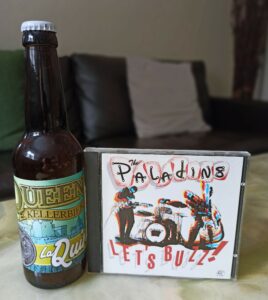 The Paladins have been around since the early 1980s. They're not a blues band in the strict sense, having begun as more of a rockabilly and retro-country outfit and revisited those styles often during their career. They do boast a bona fide guitar hero in frontman Dave Gonzalez, though – a big reason the trio has been marketed to blues audiences ever since the Stevie Ray Vaughan-led blues boom of the 1980s. Let's Buzz! is the second of their two albums on Chicago-based Alligator Records and features founding members Gonzalez and bassist Thomas Yearsley, with Brian Fahey and Scott Campbell splitting drumming duties.
The record is chock full of choice covers, including the raucous, John "Juke" Logan-penned title track. A heavyweight shuffle if ever their was one. The song gained notoriety when it was performed by the so-called Driller Killer in the comedy/horror movie Slumber Party Massacre 2 – if you're keen to subject yourself to that grisly version, you'll have to look elsewhere!
I wonder who the uncredited harp player is on that cut. Maybe Logan himself?
The liner notes to Let's Buzz! leave no doubt as to who's playing on The Paladins' cover of "Kiddio," a pop and R&B chart hit for Brook Benton in 1960. The trio is joined here by a pair of saxophone legends: Steve Berlin, the album's producer, known for his work with Los Lobos and many others, and Lee Allen, a seminal figure in rock-and-roll whose horn helped propel the careers of Little Richard and Fats Domino. Berlin (baritone) and Allen (tenor) teamed up as members of The Blasters decades later.
Many have noted the similarity of Gonzalez's tone on Let's Buzz! to that of Texas legend Vaughan; that's evident on the guitar licks that open this cut.
Shall we pour a cold one? Yes, let's.
Queens Kellerbier is a cross-cultural creation from Madrid's La Quince Brewing Co., whose excellent beers have been featured here a couple of times before. The kellerbier is a type of lager associated with the Franconia region of Germany; it is aged in a cellar, hence the name. While the hop varietal that gives La Quince's recipe its fruitiness, Saphir, is also from Germany, the brewery sourced theirs from a young grower in northeastern Spain, the Queen Country Hop Farm.
This pleasing all-rounder earns a definite thumbs up.
The brew pours a cloudy amber, it's white crown light and airy and quickly gone. The first whiff suggests pineapple. The mouthfeel is initially dry and prickly, but softens moments later, finishing smooth and satisfying. Hints of orange spice, berry and Graham cracker emerge. I still tend to doubt my novice palate, but that's what I'm tasting here.
Queens Kellerbier doesn't lean too hard in any one direction and that's to its credit: It's got a spicy zing that is not overpowering. It tickles the tastes buds just enough to have you craving another. So let's buzz!
Let's Buzz! – the album – has stood the test of time. Its rough and ready attitude outshines the clinical sterility of most other recordings from the era. How 'bout one more song: "Follow Your Heart" opens the proceedings and though I much prefer The Paladins' hard-driving version to the comparatively funky original from 1985, credit must be given to song creator Ronnie Earl for his simple but inspiring lyrics.
They always say to do what you got to do
I always say to do what's good for you
They always say to work it for success
I think you should do what makes your heart hurt less
That first verse is, for me, a gem. Forget that stack of well-intentioned self-help books on your coffee table: Do what your heart is telling you to do. That simple thought is one that can act as a beacon this year and every year.
On that note: Thanks for joining me. We're just getting started here at the Listening Party. There will be plenty more blues and plenty more beer in the weeks and months ahead. Come 'round often.
* * *
The Who Is Blues Listening Party is powered by Bierlager, one of Germany's finest addresses for premium craft beer.