featuring…
♫ Floyd Lee Band, Doctors, Devils & Drugs
🍺 Kehrwieder Prototyp

Words & photos: Vincent Abbate
I was just looking at a Forbes article outlining the development of the American craft beer movement in the ten years between 2008 and 2018. The most striking figure: Whereas in 2008, there were roughly 1,500 brewpubs, micro and regional breweries operating, by 2018 that number had ballooned to over 7000. That same year, craft beer sales accounted for roughly a quarter of the overall beer market in the US.
Contrast that to where the country was thirty years ago, when I first settled in Europe. Back home, Budweiser, Pabst, Miller and Coors ruled the day and people here – perhaps rightly so – looked down their collective noses at the mere mention of American beer. The craft beer revolution had in fact already begun, but quietly. It didn't make sense, at least not yet, to point out that there were beers being made on American soil and with American ingredients whose quality was at least as good as the Old World classics.
Today, that's hardly a secret. You often hear about young, upstart European brewers educating themselves in the art of craft beer by spending time in the United States. Case in point: Oliver Wesseloh, co-founder and master brewer at Hamburg's Kehrwieder Kreativbrauerei. Before going out on his own in 2011, he spent eight years learning his craft abroad, part of that in Florida. Today he runs a thriving brewery in his hometown in northern Germany.
Prototyp – today's Listening Party beverage of choice – was the very first beer he produced under the Kehrwieder flag.
Our featured record is Doctors, Devils & Drugs by the Floyd Lee Band, which surprised some people, including me, in 2008. We'll dive into it after the jump.
I recall receiving my review copy at the time of the album's release, never having heard of Floyd Lee – and frankly, as a reviewer, I was accustomed to hearing a lot of same ol' same ol' blues records. At the time, most new releases offered music that was technically solid, but displayed little in the way of original ideas or unique personalities.
Doctors, Devils & Drugs had both elements going for it. In certain ways, it sounded like the gritty young-meets-old collaborations we started hearing in the mid-to-late 90s, the groundbreaking stuff coming out of northern Mississippi, like the one Buddy Guy did with Jimbo Mathus, Sweet Tea. Only this one came from up north.
Let's listen to a sample.
The late Floyd Lee – whose tough, insistent voice recalls that of Taj Mahal – moved around and did all manner of things during his 86-plus years on this earth. After first seeing the light of day in Lamar, Mississippi in 1933 (you see, there is a connection), he made stops in Memphis, Chicago, Cleveland, Columbus and likely some other places we don't know about. After settling in Harlem in 1972, he became known for playing the blues on the streets and in particular in the subways of New York City while simultaneous earning a living as a doorman on the Upper West Side. Some late-in-life notoriety resulting from the four albums he made as a retiree carried him to far flung cities and continents; Doctors, Devils & Drugs was the last of those four.
As much as its Lee's name on the cover, as that first guitar-heavy cut shows, Joel Poluck's stamp is all over Doctors, Devils & Drugs as well. As producer, main songwriter and sole guitarist, how could it not be? Rather than include a few random facts about Poluck, I refer you to this excellent interview from 2017. There, he talks about his years touring and performing with Floyd Lee and about the personal tragedy that inspired many of the songs on this, the band's final studio album.
I wonder if people like Floyd Lee and Joel Poluck know how much their music means to listeners like you and me. Few things I know of have the power to raise the spirits like a great song.
Sometimes, not always, a beer can do the trick, too.
Prototyp is a well-rounded beer that, on the surface, checks all the boxes. It's a cold-hopped lager that tastes very much like an IPA. Unfiltered and unpasteurized, it pours a slightly hazy amber. The sweet and subtly fruity aroma, a vaguely citrusy taste with a somewhat bitter finish … it's all there. A quality beer through and through, not some bland macrolager. I'd drink it again in a minute. And yet, I'm missing that one defining characteristic that puts it over the top and sets it apart from the rest – as the Floyd Lee Band stands out from the also-rans of the blues world.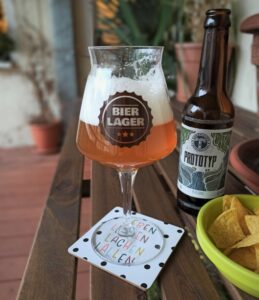 The nine tracks on Doctors, Devils & Drugs waver little in quality and the mix of electric and acoustic sounds keeps things interesting to the end. It's hard choosing a song to close with – each one is effective in its own way – but I'm going with "Blues Is A Beautiful Woman." Its origin is revealed in the interview I referenced above, though that information isn't necessary to appreciate its elegant simplicity.
That's all for now. See you next time.
* * *
The Who Is Blues Listening Party is powered by Bierlager, one of Germany's finest addresses for premium craft beer.