featuring…
♫ Buddy Guy, Sweet Tea
🍺 Riedenburger Dolden Hell

Words & photos: Vincent Abbate
Yeah, so it's heating up quite a bit 'round these parts now. No longer any need to summon summer. It's here. And with it, a slower pace. Even in the city.
That's one thing I really like about the American south. People take their time in almost everything they do. I'm tempted to say it's so because of the heat, but I'm a New Yorker and New York also gets excruciatingly hot in the summer months. But we haven't got that take it easy thing down. Not really. Not like southern folk.
The climate around JazzFest in New Orleans is just about perfect. Really, it's my weather ideal. The festival traditionally kicks off the last weekend of April, running into early May. Temps are in the 80s. Warm enough to knock off the rust of winter but never oppressive. Some of my favorite memories are of lounging in front of the Congo Square stage at the festival grounds, listening to funk and Caribbean sounds, soaking in the sunlight, enjoying an adult beverage.
But Mississippi in July? Yes, I have made that mistake. I've even camped out in the unbearable mid-summer humidity, inescapable even at night. I went to movies just to bask in the air conditioning.
Oh, right, music. It's got to be a steamy hot record this week, a Mississippi in July kind of record. So I'm going with Sweet Tea, a #1 Billboard Blues album for Buddy Guy following its release in 2001.
The perfect beverage would be the one mentioned in the title, but since this is about blues and beer, we'll pour a glass of Riedenburger Dolden Hell, a tasty and refreshing helles from Bavaria.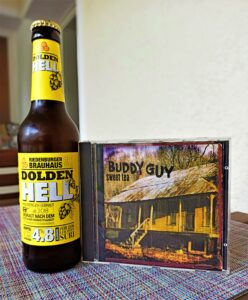 We already spoke a bit about Fat Possum Records last week. Sweet Tea could have been called Buddy Guy does Fat Possum. Though it wasn't actually released on the label, it was recorded in Oxford, Mississippi (at Dennis Herring's Sweet Tea Recording Studio, hence the title), where Fat Possum emerged in the early 1990s. Of Sweet Tea's nine tracks, all but two are covers of songs credited to Fat Possum artists. Moreover, with Mississippian Herring producing, Chris Shepherd behind the desk, T-Model Ford drummer Spam digging a deep pocket and roots guru Jimbo Mathus holding down rhythm guitar, Guy was thrown into in a stripped-down musical setting that had become somewhat foreign to him – essentially getting the Fat Possum treatment. The Louisiana native rose to the occasion, proving he doesn't need bells and whistles to sound freaking great.
Famed critic Robert Christgau called Sweet Tea "a landmark of neoprimitivism" – a ten-dollar description I'd never have come up with. The thudding, wrecking-ball sounds we hear on "Look What All You Got" are definitely unusual for Guy, who – during a career that's lasted well over half a century – has allowed himself to be painted into a pleasant, snazzy, but somewhat innocuous R&B corner. Especially since B.B. King's passing, he's become the uncontested monarch of the blues, and a king doesn't wallow in the mud. Only this time, he does.
Now I don't know when exactly Buddy Guy left Chicago to record the album, or what conditions were like down south, but it sure does sound like everybody in the room was drenched in sweat and that the noise emanating from the speaker cabinets probably knocked the soundproofing off the walls. If some of the playing sounds chaotic, like the band was operating without a road map, well, that's part of what makes Sweet Tea work.
Guy – drilled in the school of timing by his Chicago elders upon arriving there in 1957 – reportedly had difficulty adapting to the loose musical parameters he found waiting for him in northern Mississippi. You hardly notice it though. His string bending sizzles. His voice howls. Maybe it's unconscious, but through much of the album, Guy sounds as if demons have taken hold of him.
I'm not going to get preachy here and say that this is what the blues should sound like. But this is what the blues should sound like.
As I've been writing these lines on a June afternoon on the deck, the mercury has crept up to over 90 degrees. It's time to cool things down.
That beauty in the photo? That's a German-style helles, brewed by the Riedenburger Brauhaus in Bavaria. I figured, since Buddy went south for Sweet Tea … the Riedenburger brewery is a trend-setter of sorts in that in the early 90s, they rejigged their production to become the first 100% certified organic brewer in Bavaria. The family that runs the facility has been brewing for a couple of hundred years. The brewery markets traditional beers under the Riedenburger flag and uses the name Dolden for its craft beers.
Dolden Hell – bearing a striking bright yellow label – excites with its fruity aroma and the pungent scent of pine needles. It's unfiltered, nearly opaque with a yellowish-brown hue. My 0.33l bottle was empty way too soon. The flavor is more hoppy than malty and it's got a nice body. Like Brigitte Bardot. Not too heavy or overpowering. A good choice on this very hot day.
And still the heat still lingers. Rather than fight it, I'm surrendering to it. I invite you to lay back, maybe grab another beer, turn up the music and ride the wave of sound. There's a new Buddy Guy documentary debuting on PBS next month by the way. The old man getting his due.
Until next time … baby please don't leave me.
* * *
The Who Is Blues Listening Party is powered by Bierlager, one of Germany's finest addresses for premium craft beer.