Back to Live
We've waited almost a year for this.
Words & photos: Vincent Abbate
On Saturday night, I witnessed my first live show in a very long time. It had been nine months, give or take.
All along, throughout the COVID-induced shutdown, I've wondered what the first concert after the long drought would feel like. In my wildest fantasies, it was a grandiose, uninhibited affair, with hundreds of ecstatic men and women shouting and swaying and throwing their arms in the air. Like coming out of the darkness into the light. If there were any masks in the scene, they were tossed into the air in celebration, as graduating students toss their tasseled caps.
I've also wondered how I would react. Would I feel like my old self? Though I've managed to steer clear of COVID until now, being less active during the pandemic has taken a physiological toll. I feel older, more sluggish. In baseball terms, I've lost a few MPH on my fastball.
Could I get back in the swing of things? Or would I feel out of place in a setting that had been second nature pre-corona?
After so much time avoiding other humans, keeping one's distance … how would it feel to be sharing a space with friends, acquaintances and strangers?
It felt great.
The return of live music to these parts did not come with a big bang. It wasn't Buddy, Samantha, Keb' and Charlie onstage. There were no laser lights, go-go girls or flying pigs. It was a low-key experience that felt familiar, reassuring, soul-soothing.
I met my companions for the evening early so that we'd have time to catch up before music commenced at 7 p.m. My closest blues buddy had organized a couple of beers for the half-hour drive to the venue. A tradition of ours, a dubious one perhaps, but part of what made the evening feel like a return to normality.
The venue was a beer garden northwest of Cologne, Germany, my adopted home city. Tucked neatly into a grove of tall chestnut trees, their leaves in relief before a baby blue sky, the outdoor setting had a relaxed vibe and was by no means overrun with potential virus carriers.
At the entrance, we were given contact tracing forms to fill out and encouraged to wear masks whenever we left our table. Nobody seemed to know exactly how many different households were allowed to sit together – the rapid recent decline in COVID numbers has left everyone a little confused. The local promoter handled it well in his address before the show, essentially asking people to behave responsibly. The applause he received shows just how tired everyone had become of lockdown. We've come this far, let's not backslide.
The music? Yeah, that was familiar, too. Calling themselves the Kings Rhythm Crew Blues Revue, this was actually the Dutch band King of the World minus their usual lead guitarist, who broke his arm a few weeks ago. The four more-than-competent players onstage appeared just as relieved to be working again as we were to be cheering them on.
They played a lot of standards. And you know what? It was just the right thing for this night of reawakening. It let us know the blues is still there and had merely spent the better part of a year in hibernation.
Two performances stood out. One, a rousing version of Robert Johnson's classic "Walking Blues," played with energy and focus. The other, an exceptional reading of Eric Bibb's "Don't You Ever Let Nobody Drag Your Spirit Down," transformed into a lengthy and surprisingly funky jam.
The two sets flew by, punctuated by round after round of bottled beer and the sound of those bottles clanking together in celebration. The 9 p.m. curfew was in accordance with some local bird protection ordinance. Even that was OK. We hung around, drank, chatted in muted tones so that the birds could sleep, made new acquaintances.
Live music is back. At least until the next wave. (Please, no.) The shows will be small for a while. We're all wading back into this. And that's fine. The blues isn't necessarily about big and loud. It's about the small, quiet but no less life-affirming joys we share.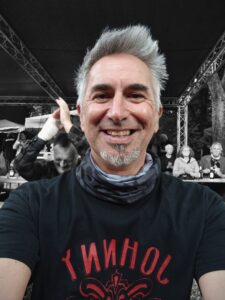 * * *