featuring…
♫ Buddy Guy, Sweet Tea
🍺 Riedenburger Dolden Hell

Words & photos: Vincent Abbate
Yeah, so it's heating up quite a bit 'round these parts now. No longer any need to summon summer. It's here. And with it, a slower pace. Even in the city.
That's one thing I really like about the American south. People take their time in almost everything they do. I'm tempted to say it's so because of the heat, but I'm a New Yorker and New York also gets excruciatingly hot in the summer months. But we haven't got that take it easy thing down. Not really. Not like southern folk.
The climate around JazzFest in New Orleans is just about perfect. Really, it's my weather ideal. The festival traditionally kicks off the last weekend of April, running into early May. Temps are in the 80s. Warm enough to knock off the rust of winter but never oppressive. Some of my favorite memories are of lounging in front of the Congo Square stage at the festival grounds, listening to funk and Caribbean sounds, soaking in the sunlight, enjoying an adult beverage.
But Mississippi in July? Yes, I have made that mistake. I've even camped out in the unbearable mid-summer humidity, inescapable even at night. I went to movies just to bask in the air conditioning.
Oh, right, music. It's got to be a steamy hot record this week, a Mississippi in July kind of record. So I'm going with Sweet Tea, a #1 Billboard Blues album for Buddy Guy following its release in 2001.
The perfect beverage would be the one mentioned in the title, but since this is about blues and beer, we'll pour a glass of Riedenburger Dolden Hell, a tasty and refreshing helles from Bavaria.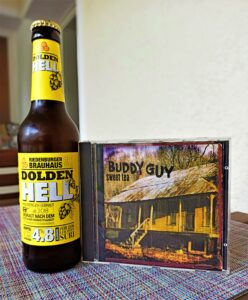 Continue reading →