WIB Live Twin-Pack:

Modern Earl live @ Torburg, Cologne, Germany
Vdelli live @ Okiedokie, Neuss, Germany
Words & photos: Vincent Abbate
Hi folks! I'm going to bang this one out while the good vibes of the past weekend are still resonating. Two live shows by two bands who, on the surface, have little in common. One's a blues power trio, the other a rootsy southern rock'n'roll combo. But there is a distinct similarity: Both outfits are based in Germany without being – in the strict sense – German bands. Vdelli's frontman is a native Australian and Modern Earl has its roots in Nashville.
Let's start with them, since they were the ones who gave this fun-packed weekend a rip-roaring kickstart on Saturday night.
OK. So the evening began with a beer tasting in Cologne's Südstadt neighborhood. Since we – that's me and my drinking partner – ran the gamut from a 4.4% India Session Ale to an 11.5% Imperial Russian Stout in the course of nine tasty varieties, we were already feeling more than fine when, at around 9 p.m., we entered Torburg. It's a rowdy but friendly tavern and one of the city's prime locations for live blues and rock'n'roll.

I knew practically nothing about Modern Earl except they're "supposed to be good." Often, having no expectations or preconceived notions is the best way to experience a concert. So it was on this night.
We had to push our way through the crowd near the door, but after that minor annoyance, it took roughly five seconds to realize what a great Saturday night this was going to be. Like I said, I didn't know much about Modern Earl. Still don't. But the sound I heard – that down-home mix of blues, country and rock'n'roll. That can only come from the Southern United States.
The band's official bio explains how three Nashville natives teamed up to form the band over ten years ago. Yet the tour plan lists almost nothing but German cities plus the odd gig in Switzerland or the Czech Republic. Modern Earl is one of those ex-pat bands that realizes there are a lot of hungry ears over here. Hungry for loud, authentic, handmade music.
More to the point: These boys have got their shit down.
I said blues, country and rock'n'roll, but that's not entirely accurate. Built around the twin-guitar excellence of singer and chief songwriter Christopher "Earl" Hudson and his counterpart Ethan Schaffner, the Nashville transplants push the roots rock envelope with a bristling energy that sometimes recalls punk and hard rock. The sound that came from Torburg's tiny stage – it's so small bass player Ben Hunt had to set up way off to the side, where you could say hello on your way to the toilet – was flat-out electrifying.
What did they play? There was a riff-driven shout-along called "Backwoods Betty," the balladesque storytelling of "Whiskey Sister" and the quite-possibly-autobiographical "Hillbilly Band." Beyond that – darned if I know. I was too busy hopping around and hollering to take notes. Modern Earl has five studio albums and a live disc under its belt, including this year's Ameriphonica, so I have some catching up to do.
You go see a band the first time and know instantly you'll be there any time they play nearby in the future. That doesn't happen often. Discoveries like this are what make life fun.
Fast forward to Sunday evening. Predictably, I felt worn out from the rigors of Saturday. It was rainy and cold and our concert destination required us to find a designated driver willing to drive out to the suburbs in miserable conditions. But: Vdelli. That's all you had to say.
Vdelli is a three-piece that has a long history here. For years, guitarist/singer Michael Vdelli and drummer Ric Whittle formed the trio's core, with a succession of bass players joining them for semiannual tours of Germany. As they moved from heavy blues to an ever harder brand of bluesrock, those bass players would stick around for a year or two or five. Eventually, some four years ago, Vdelli tired of the limited opportunities in their Aussie home base of Perth and made the long-distance jump to Continental Europe. They chose Hamburg as their new headquarter and jumped right into the local music scene. Mainstay Ric Whittle opted out while bassist Leigh Miller, a steady presence for several years and albums, was initially down with the plan. (Family commitments have since called him home.)
Nowadays, Michael Vdelli employs a German rhythm section: Drummer Björn Hofmann and bassist Michi Weber team with him to form the latest incarnation of Vdelli. Sunday night's show was their last of the year and the final gig of a months-long tour that ran under the heading "Back To Blues." Having watched Vdelli grow progressively less bluesy in recent years, I was skeptical.
But "Back To Blues" wasn't just some innocuous advertising slogan. During a hot and sweaty first set at the club called Okiedokie, the guitarist showed he is and has always been a blues man at heart. He proved this by rolling out an inspired collection of classics. Blues standards including "Baby Please Don't Go," "Help Me," "Dust My Broom" and "Wang Dang Doodle" were rearranged and juiced up with plenty of firepower. After months of touring, the trio displayed a telepathic feel for one another. Vdelli's soloing on a beat-up Les Paul Deluxe was plain and forceful without excessive posturing. His ability to laugh at himself and take the piss out of his bandmates (who do the same in return) while playing the heck out of his guitar makes him an extraordinarily likable fellow.
The second set kicked off with proof of Michael Vdelli's popularity with concertgoers: A local fan had brought along a three-string cigar box guitar built especially for him. It received its maiden voyage on a couple of frenetic, improvised slide numbers before the band returned to its usual setlist. The show after the break bore a greater resemblance to what we'd been hearing from Vdelli in recent years. Brawny titles like "Could Be Good" and "My Baby Does It Better" brought the excitement level to a fever pitch and "Ain't Bringing Me Down" pushed it over the top.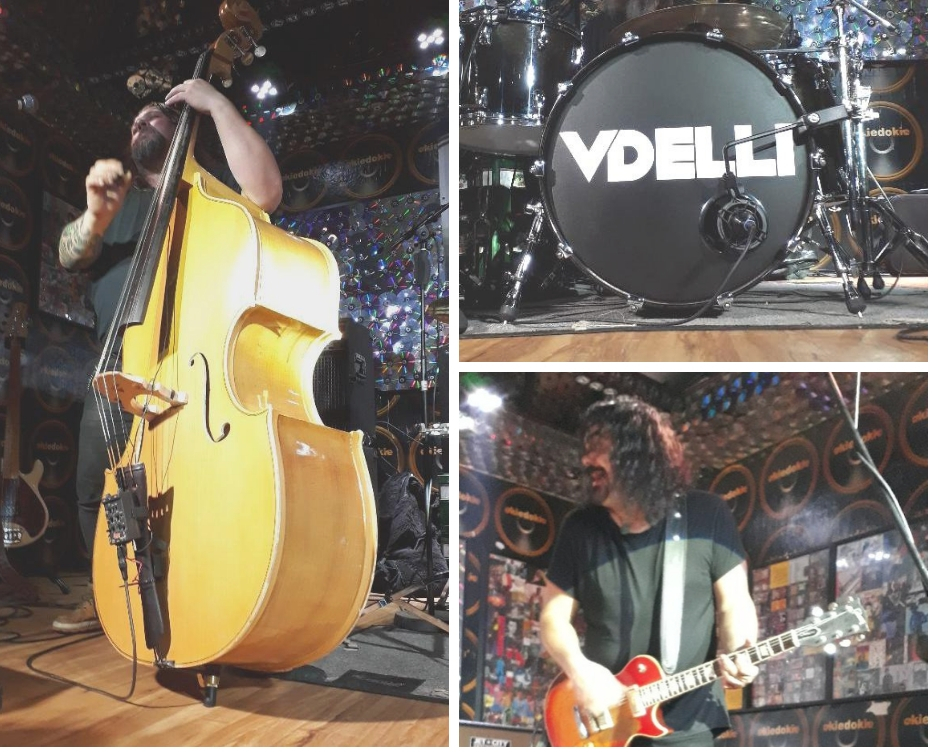 What's next for Vdelli? In a few days, they're gonna make like the snowbirds and follow the sun to the Southern Hemisphere. So if you're reading this in Perth or thereabouts, you'll wanna check out these gents while they spend the European winter in Australia. Lucky bastards!

They also plan to record a new album that will be out next year. Like the next installment of WIB Live. See you there.