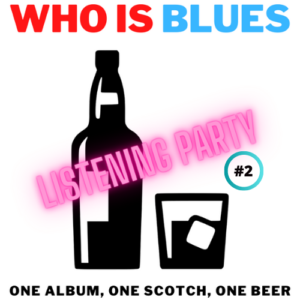 featuring…
♫ Lightnin' Malcolm, Foot Soldier
🍺
 BrewDog Punk IPA

Words & photos: Vincent Abbate
Foot Soldier is one of roughly a half dozen solo albums authored by contemporary Hill Country bluesman Lightnin' Malcolm. It was released in 2016 on Mississippi-based indie label Shakedown Records and I'm not sure many people noticed. Which is a shame. It's a raunchy, no-frills, mud-spattered one-man band record, a fun ride down a dirty back road. It's got attitude and it grooves and will whoop you upside the head if you dare turn your back on it.
Let's crack open a bottle of BrewDog Punk IPA and give this sucker a spin …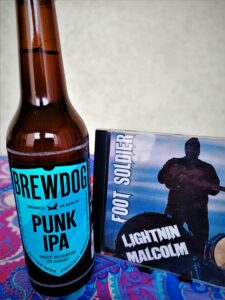 For what it's worth, Malcolm calls his sound "world roots music" and there's definitely something to be said for that, because he sure has been around. He's played and toured with people like Samantha Fish and the North Mississippi Allstars and shared stages with Robert Plant, Buddy Guy and Gary Clark, Jr. Beyond the blues, there are other influences bubbling inside his songs. Bob Dylan, for one – check out the brilliant storytelling of "Nuclear Fallout Cave." That cut's on Outlaw Justice, another very good album of his. But we're here to riff on Foot Soldier.
It opens with "Done Wrong."
It's really amazing to hear him get so much out of such a simple set-up. It starts with two drums, kick and snare, both played with the feet. Hence the album title, I guess. The hi-hat is there mostly for show. Add guitar and vocals and that's it. And still he gets you moving. In his web bio, Malcom writes about how as a teen, he would play gigs as a one-man-band in the Mississippi jukes. He'd show up and people would already be dancing to soul records on the juke box. It was his job to keep them on the dancefloor. All through Foot Soldier, the alternating kick and snare lay the rhythmic foundation. His syncopated guitar licks and bass notes lock in on that. It works.
First time I saw Malcolm was at the Spitz Club in London's East End, where he was accompanying old-timer T-Model Ford on drums and second guitar. They were the headliners and didn't get onstage until around midnight. I guess we thought they'd do an hour set or so. But we passed 2 a.m., 2:30, coming up on 3 a.m. with barely anyone left in the place, and they still hadn't quit. By then, Malcolm was leaning over to T-Model after every song, almost begging him to call it a night. But the old man just kept on going. Must have been some good whiskey backstage.
A deep groove. There's a lot of Junior Kimbrough in "Tree," the way the vocal melody doubles the guitar line. And not in any scatty, George Benson manner. That's all Kimbrough. With Kimbrough, R.L. Burnside and T-Model Ford long since gone, Lightnin' Malcom is now one of the only guys carrying the North Mississippi tradition forward. He takes it further by mixing in bits of funk, soul, folk and reggae.
Now about this beer …
One reviewer with overactive taste buds, writing for Beer Advocate, discovered "strawberry and wet grass opening it up, slight banana, orange muffin, blueberries, and tangerine" in his glass of Brewdog Punk IPA. Wet grass? Orange muffin? Wow. Think I'll leave that stuff to the experts.
My take? Caramel-colored with – yes – a pleasant fruity aroma and a warm tingly feel going down. A little gassy. I'm not sure what's punk about it, though I do like the clean, bold colors of the label. BrewDog originated in Scotland, but my Punk IPA was brewed in Berlin. The BrewDog founders have been busy opening pubs and building breweries in all corners – a craft beer brand gone global.
Underground musicians like Lightnin' Malcolm have it a little harder than the makers of BrewDog. Countless millions will gladly hand over their shekels for a good glass of beer. Only a minority of the already small blues audience appreciates the raw, rock steady, juke joint-style of someone like Malcolm, who has to compete with the flash and the pretty packaging and the thousand-notes-a-minute solos we've all become accustomed to. I invite you to give him one more listen. I mean, c'mon people. This is the blues. And with that, I'm outta here. See you next time.