featuring…
♫ Various Artists, Wizards From The Southside
🍺 Saranac Adirondack Lager

Words & photos: Vincent Abbate
I must say I'm bummed about the way 2021 is shutting down. Fourth wave, fifth wave, whatever the experts want to call it – where I live in Germany, stricter social distancing measures are back in place, requiring vaccinated individuals to present a negative COVID test to do fun things like attend concerts or enter restaurants. So people are staying home, shows are being cancelled, businesses of all kinds are suffering. Necessary? Probably. But I can't help feeling we're all the poorer for it.
So please allow me – in this, the penultimate Listening Party post of the year – to vent a little and return to a much happier time and place. I need only think back a couple of weeks.
I flew to New York for Thanksgiving and there it felt almost like business as usual.
Travelling upstate, I met a beer called Saranac Adirondack Lager.
And I caught up with an old friend: Wizards From The Southside, a Chess Records compilation featuring mid-50s recordings by the likes of Muddy Waters, Bo Diddley and Little Walter.
Read on if you dare …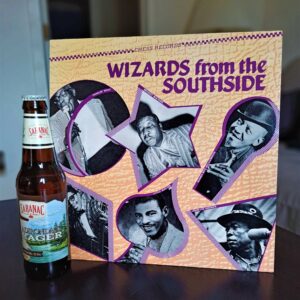 My visit to the US was an eye-opener and with regard to my exploration of the local beer culture rather a misadventure.
Headed north on I-87 the first morning in a rented Hyundai Kona and with a high-calorie IHOP breakfast in my belly, I chose to stop off in Newburgh, New York. Why that? I figured a beverage distributor was my best chance of finding a decent selection of craft beers. I'd seen one there, along my route, called Beer World.
Once the Hudson Valley encampment for George Washington's Continental Army, today Newburgh has become synonymous with gang violence and ranks among the most dangerous places in America. I only found this out later, when the city's high crime rate became a topic at the Thanksgiving Day dinner table between discussions about the Yankees and the various methods of eating a stuffed artichoke.
Nothing bad happened to me in Newburgh, mind you. But my time-wasting search for this out-of-the-way distributor (which stocked a surprising array of local and far-flung beer brands) proved to be pointless. Many of the same, seemingly exotic varieties were available for purchase in the beer section of just about every supermarket in central New York. The degree to which craft beer has become mainstream in America was a real shocker.
My tasting on home turf called for some classic Chicago blues, so once I planted myself at my mom's house for the holiday, I dug out Wizards from the Southside, one of the first blues LPs I ever owned. Sadly, this treasure resides with about 500 other vinyl records in one of her upstairs closets. I visit them every few years.
I already covered Chess in the very first edition of Listening Party back in January, but let's face it – when it comes to post-war electric blues, Willie Dixon's playground has more than enough to go around. So let's return to the carefree days of 1954 and kick things off with this Little Walter gem.
Carefree? That's not to be taken entirely seriously. People in the 1950s had their fair share of problems I'm sure, even if Richie and Potsie would have us believe otherwise. It's just that I've had more than my fill of 2021 and just about any other period in history seems idyllic.
To my mind, Little Walter is the most accessible of all the great blues harp players. His records of that era have an infectious quality that owe at least as much to his studio musicians as to his copious talents as a singer and master harmonica player. The lineup on "Mellow Down Easy," recorded October 5th, 1954 and released as a single on the Checker subsidiary: Robert Jr. Lockwood on lead guitar, Luther Tucker on second guitar, Fred Below on drums and Dixon on bass. Wow.
Two years prior, the great John Lee Hooker was laying this one down for the Chess brothers.
We don't necessarily think of Hooker as a Chess artist because in those early days, he changed labels and pseudonyms as often as he changed his clothes. In truth, the legendary boogie man recorded 31 sides for Chess in the early 1950s (though none of them charted) and would return to record several influential albums there the following decade. "Walkin' The Boogie" is essentially a sped-up version of the song that broke him in 1948, "Boogie Chillen."
Bo Diddley recorded "She's Mine, She's Fine" for Chess in 1955, the same year his eponymous debut single "Bo Diddley" went to #1 on the R&B charts. Later transformed into "You Don't Love Me" by blues singer Willie Cobbs, the song became a staple for bands like John Mayall's Bluesbreakers and the Allman Brothers Band. After giving the original Bo Diddley version a spin, we'll return to New York and a smooth glass of lager.
So, again: I stopped off at Beer World, a beverage distributor with cramped aisles full of six-packs, growlers and kegs. I looked specifically for local beers from upstate New York. Unfortunately, most of what I took home that day was nondescript. A golden ale from the region that shall remain nameless tasted oddly like cardboard. The "Adironack Trail Mix" twelve-pack from the Utica-based F.X. Matt Brewing Company, proprietors of the Saranac brand, proved to be a mixed bag. But there was one standout: Adirondack Lager.
Clean, sparkling and deep amber in appearance, the surprisingly soft, almost juicy aroma of this award-winning Vienna-style lager drew me in instantly. Eminently drinkable but my no means bland, its subtle bready sweetness made it an absolute pleasure on the tongue. All in all, one of the smoothest brews I've enjoyed recently – not flashy, but satisfying. A great everyday beer.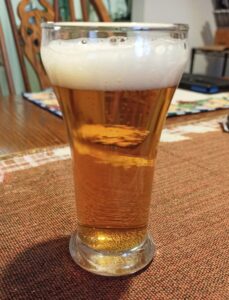 I'm no longer in Upstate New York as I write these lines, so my enjoyment of Saranac Adirondack Lager will remain an isolated memory for now, like everything else I experienced during my ten days on American soil. COVID didn't seem to be on people's minds quite as much as it is here in Germany – perhaps an indication of a uniquely American unwillingness to bow down to authority. Or rather an ability to overcome adversity by ignoring it.
Whatever the case, I'm grateful for this upbeat blip in an otherwise annoyingly downbeat calendar year.
In that strong, brash, undaunted spirit, I give you Muddy Waters to take us home. How can you not love this?
* * *
The Who Is Blues Listening Party is powered by Bierlager, one of Germany's finest addresses for premium craft beer.