featuring…
♫ The Delta Saints: Bones
🍺 Spirit of 66 Blonde Ale

Words & photos: Vincent Abbate
When you hit your late 50s, memories of the past lose much of their clarity. That's true even for a lifelong journal keeper like me. The times and places, people and faces blur. And the names! Please forgive me if I've ever given you a "hey, how's it going?" after you greeted me by name. I've always been terrible with names.
The blurriness prevents me from pinpointing my first visit to Spirit of 66 in Verviers, Belgium.
It may well have been for the Jon Amor Blues Group, an erstwhile favorite of mine that never played in Germany during their brief existence but often toured the Benelux countries. Jon's voice was shot that evening, but the foursome was as tight and as edgy as expected.
Spirit of 66 was also the site of a nerve-racking encounter with the Mississippi Mudbloods around the same time. The band's road manager told me beforehand that drummer Cody Dickinson didn't like talking to journalists. Gee, thanks. However, when we sat down prior to the show, Cody wound up taking over the interview, talking lots and turning his brother Luther and bandmates Ian Siegal and Alvin Youngblood Hart into little more than spectators.
Both those occasions are roughly a decade ago, and I've seen plenty of shows there since.
Spirit of 66 is a staple tour stop on the European club scene. The Hall of Fame on the venue's website includes hundreds upon hundreds of acts that have played there since the doors opened in 1995. If Spirit of 66 was nearer than 120 kilometers from my home, I'd be a poor man today. Rich in musical memories, but flat broke.
You could always get a decent glass of beer there, because, let's face it, Belgian blondes rock. Val-Dieu, La Chouffe, Leffe, all good. But only recently did a bottle bearing the venue's name and logo begin showing up in the fridges behind the bar. I tried it, enjoyed it, and have since made it my beverage of choice whenever I attend a show: Spirit of 66 blonde ale.   
The Delta Saints is a band I've enjoyed over the years and seen countless times, just not at Spirit of 66, though they've played there as recently as 2018. They temporarily disbanded thereafter to devote themselves to family and other projects but are returning to Europe this fall – reason enough to enjoy some tracks from their killer 2015 release Bones.
I'm aiming for some kind of closure with this expanded edition of the Listening Party (more on that a bit later) which I'm calling "Bones and the Spirit of 66."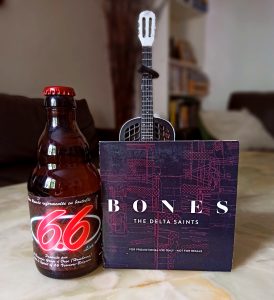 If you're reading this, you probably love music and listen to a lot of it. What I've noticed is that on certain days, when I put on a particular song or album, it goes straight in. Like I have no emotional filter. I had one of those days yesterday, when just about everything emanating from my earbuds took a direct path to my soul. What it did upon arriving there was ignite a state of euphoria. I'm preaching to the choir here, I know, but … OMG music has such power. It can make a person like me feel young, free, weightless, like the coolest dude to ever walk the earth.  
I listened to Bones in its entirety yesterday and it didn't disappoint. It never has.
Here's a first sample. Tough to choose from all the great songs on the album, but let's go with "Sometimes I Worry," the opening track.
Running a little over 38 minutes, Bones contains 10 thrillingly emotional and often beautiful soundscapes. The production is quirky yet impeccable. The instruments jump out at you. The songs transcend the standard guitar-bass-drums-keys recipe with random blips and noises and atmospheric disturbances that serve the music. All the while, frontman Ben Ringel sings with a fragile fluidity that somehow recalls Billie Holiday. (Check out the intro to "Soft Spoken.")   
Two songs after "Sometimes I Worry" comes the slamming "Heavy Hammer." I especially love the beat drop in the middle of the chorus. Wait for it. It's where the song goes into overdrive.
I confess I didn't feel like waiting and have already opened my bottle of Spirit of 66. My last bottle, unfortunately: On my most recent visit to the club I took home a handy four-pack. An IPA-style glass adorned with the club's logo was also included.
The mere existence of this excellent beer is a triumph – evidence of how the craft beer movement has made our collective lives better. For decades, when you ordered a beer at a live show, you could expect a plastic cup of watery, overpriced, mass produced yellow liquid. It sorta kinda quenched your thirst and maybe gave you a slight buzz, but only when you drank it fast and in large quantities, with frequent rest room visits the logical consequence.
Today, independent venues and small local breweries have formed partnerships like the one between Spirit of 66 in Verviers and Brasserie Grain d'Orge, a brewing operation of nine employees in the village of Hombourg, roughly 15 miles to the north. Put those two together and voila – you can hear a live band and scratch your itch for good beer at the same time, even if that beer still usually comes in a plastic receptacle.
Let's listen to "Dust" as we pour …
The makers of Spirit of 66 went all out to do the beer's name justice. It has an ABV of 6.6% and an IBU rating of – what else? – 66. One thing I've learned in the past couple of years is that a high IBU doesn't necessarily mean a beer is bitter and that applies in this case. Spirit of 66 is a hazy, deep amber ale refermented in the bottle; once you pour and swirl, you see lots of yeast particles swimming around, practically suspended in this exceptionally rich and full-bodied beer. It has a heady, sweet aroma like ripe banana and drinks like a spiked slice of banana bread in a glass.    
The motto "Live Music Beer" sums it up beautifully … because one glass of Spirit of 66 beats ten cups of the swill traditionally served at large concert events. This beer satisfies. There's the difference. Quality over quantity.
Ah yes … beer and music. Is there a more perfect pair anywhere?
During the past two years, I've written here about many things. About COVID-19 and the war in Ukraine. About my travels in the American south and in various European cities. About life in Germany, the effects of social media, Halloween, Thanksgiving, Christmas, you name it. Yet above all, this book has been about two magical elements – beer and music – that come together to stimulate the nervous system in such a way as to make us happier. Looser. More alive.         
Did I just say book? Yes, I did. For some time now, I've thought about putting these off-the-cuff musings on blues, beer and all of the above into print. Many don't read books anymore, as we've turned into a race of scrollers, but I still enjoy the feel of paper and the experience of turning pages. I thought I'd stop at 50 entries. Finally, I decided 66 would be the perfect place to bring this experiment to a close. (Though the Listening Party will likely continue to exist online in some form.)
Whether you've been reading these posts regularly the past two years or are now holding a book in your hands: I hope you've had fun, discovered some cool records and great beers along the way and that I've done a little something to increase your enthusiasm for and curiosity about both. 
As we enjoy one more choice cut from the Bones album in a video showing the Delta Saints in action, let's you and I raise a glass together. I'll wait while you get a beer from the fridge.   
Got it?
Cheers.
* * *
The Who Is Blues Listening Party is powered by Bierlager, one of Germany's finest addresses for premium craft beer.