featuring…
♫ Doug MacLeod, Break The Chain
🍺 Lowlander Cool Earth Lager
Words & photos: Vincent Abbate
Riffing on the environment, drinking the environmentally-friendly Cool Earth Lager, revisiting Doug MacLeod's 2018 gem Break The Chain. Welcome to Listening Party #32.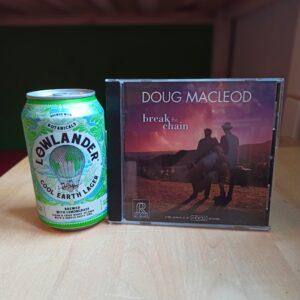 This morning I was watching CNN's ongoing coverage of COP26. If you're reading this in the year 2050, it means this particular summit meeting – "The United Nations Climate Change Conference of the Parties" is the official title – wasn't all for naught and that Planet Earth is still inhabitable. Hooray for that!
But I'm doubtful. Even as they put on a good show and say all the right things, I question our leaders' willingness to put the long-term good of the natural environment ahead of economics and their own addiction to power and personal gain. 
Today's news included promises to reduce methane emissions and a deal by 100 heads of state to end and reverse deforestation by 2030. Well, OK.
Then CNN brought in a representative of an anti-poverty organisation who put a damper on things. He pointed out how Britain was actually doubling down on fossil fuels while doing the climate change dance at the COP26 conference. Greta Thunberg also chimed in, calling out politicians for their hypocrisy and shouting about how we cannot entrust the fate of the planet to corporations and governments. In true revolutionary spirit, she said climate change would have to come from "the people."
Next came an almost too-painful-to-watch report from Afghanistan showing impoverished parents in the act of selling their daughters in order to survive. Selling their daughters.
My main takeaway: humanity sucks. The systems we've created are unjust. Given that situations like this exist – circumstances so desperate that mothers and fathers would make the soul-killing decision to sell their children – is there really any hope that we can pull together as a race and reverse the seemingly irreversible downward climatic spiral?