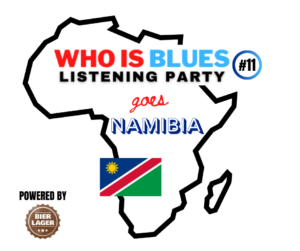 featuring…
♫ Elemotho, My Africa
🍺 Windhoek Lager

Words & photos: Vincent Abbate
This entry in the Listening Party series is about discovery. Specifically, one that sent me on a rather wide detour from what we generally call the blues. It's that rare instance in which a particular brand of beer led me to some truly wonderful music I hadn't known of before. Perhaps I should explain how it came about.
My partner in this blues-and-brews endeavor is Bierlager, a craft beer retailer in Cologne, Germany, the city where I took up residence some 28 years ago. Bierlager's bottle store sits around the corner from my office, and once a month or so I stop in to pick up a fresh supply of beer to write about. Last time, I walked away with a small carton full of interesting sounding ales and lagers from Canada, the U.S. and Europe. The folks who run the shop also included a bottle of Windhoek Lager, a Namibian beer that was fast approaching its sell by date. 
Fine. Something out of the ordinary.
I thought it best to pair Windhoek Lager with a band or artist from Namibia. Makes sense, right? Fairly confident I'd find something bluesy, I tried a half dozen or so recordings on for size, but nothing inspired me. Most sounded like an imitation of American blues, some fell into the generic pop category and I really wanted something that sounded African. After all, it's the source.
Eventually, my persistence paid off as I stumbled upon Elemotho, a native artist with roots in the Kalahari Desert. His song "The System Is A Joke," a plain and melodic protest song, sounded promising enough for me to order My Africa, a compilation CD on ARC Records that culls songs from Elemotho's first three albums. It's been in heavy rotation since it arrived at my doorstep. 
Full disclosure before I go any further: I've never been to Namibia and won't pretend to know much about its people, history or geography. What follows is simply a response to what I hear on My Africa and what flows out of the green 330ml bottle of Windhoek Lager standing before me.