Puttin' the Hammer Down
Ash Grunwald live @ topos, Leverkusen, Germany
Words: Vincent Abbate / Photos: Udo Udelhoven, Gerwin Jakobowski
There's not much hollering and moaning in the blues anymore.
We've got singers, the good and the great, and not a few vocally challenged guitarists. But can anyone rattle the window panes with his voice? That's what happened when the incomparable Son House took his otherworldly field holler indoors to the coffee houses a half-century ago. And when, even further back, Robert Johnson moaned his "Me And The Devil Blues," well … you could practically see ol' Satan close his claws around the doomed minstrel's shoulder.
Ash Grunwald has got the holler down.
I know, because my Kölschstange told me. When the Aussie singer tore into Johnson's "Walkin' Blues," unaccompanied, during his appearance at the tiny, living room-sized topos, the sound waves created by his voluminous voice resonated in the slim glass cylinder I held in my right hand. My beer literally started shaking.
And boy can he moan. The 40-year-old Melbourne native, author of nearly a dozen albums to date, is equipped with a yowl that does more than just fill a room. It can blow down the doors to your soul. Even as he's rockin' a pair of flip flops.
Grunwald opened his show in Leverkusen with Howlin' Wolf's "Smokestack Lighting" – fitting, because he began his career as an edgy interpreter of classic Mississippi blues. But since arriving as a dreadlock-sporting, surfboard-loving throwback roughly 15 years ago, Grunwald has mixed and matched his earthy roots with all manner of urban styles, from bluesrock to hip-hop. The punchy "Skywriter" followed, its jagged groove then giving way to a song sure to scare off the purists – "Human" by British pop singer Rag'n'Bone Man, a chart-topper across Europe in 2016. For all its honesty, it was the least convincing vocal performance of the evening. Yet this display of vulnerability and open-mindedness endeared Grunwald to the clubgoers, most of whom were hearing him for the first time. The subsequent singalong on his most recent single "Hammer" did the rest.
On guitar, the now dreadlock-less Australian employed an assortment of heavyweight slide licks, percussive chords and nimble fingerpicking to good effect. The trio arrangement with Kris Stangeland on bass and fellow Edmontonian Joel Purkess on drums was in its infancy on this midsummer date – the rhythm players still glancing over at Grunwald for cues – but came through without any major train wrecks. The Canadians supplied plenty of momentum on first set highlights "Ain't My Problem Anymore" and the hard-driving boogie "Shake That Thing." By the time "Mojo" rolled around, the unrelenting groove had done its good work and the boozers in the room were singing along without invitation. (Author included.) The set closed with the rousing "Open Country," leading to a short break that – surprise, surprise – wasn't short.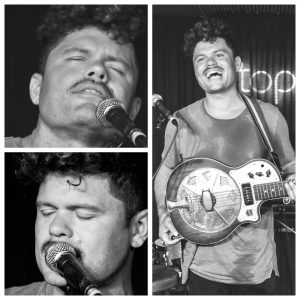 Refreshed and with their respective thirsts quenched, Grunwald, Purkess and Stangeland did what any good band does. They took it to the next level. After Grunwald reached all the way back to his 2002 debut for the eerie and hypnotic "Just Be Yourself" (those moaning skills coming into play big time), the three instrumentalists locked in and kept the energy high throughout the rest of set number two. The nuggets mined from Grunwald's back catalog included the fast and frenzied "Serious," the aptly-titled "Raw," a funky version of "Give Signs" oddly reminiscent of Red Hot Chili Peppers and the electrified magic of "Walking," which is about as far as this gritty, down-to-earth bluesman ventures into spaced-out Jimi Hendrix territory.
By night's end, every copy of Grunwald's most recent album Now had been snapped up and proffered to the band members for signing, the eager audience members jockeying for position to take selfies alongside their newest blues hero. Grunwald appeared surprised by the adulation, particularly in a country in which he is largely unknown.
It's the moan, Ash.
And the holler.
And the songwriting and the way you squeeze emotion out of every note you play.
Come to think of it, this guy's a bit of OK.