featuring…
♫ Albert King, Born Under A Bad Sign
🍺 Guinness Hop House 13 Lager

Words & photos: Vincent Abbate
I bought Born Under A Bad Sign when I first started writing about the blues in the late 90s. It's one of those quintessential albums you had to be familiar with if you were going to publish anything on the subject. Required listening, so to speak. Read any three guitar player interviews and one of them is bound to mention Albert King as an influence. Hendrix, Clapton, Stevie Ray Vaughan … if those guys idolized the big man from Mississippi and tried to copy his peculiar left-handed upside-down string-bending style, then there must be something there, right?
I like what self-proclaimed guitar nerd Joe Bonamassa had to say about King's legacy on an episode of his Live From Nerdville video series: "[Albert] has been imitated many times – including by yours truly – but never quite duplicated, because his attack, his presence and the way he felt the music was completely new."
The appeal of Born Under A Bad Sign begins with cover art that is among the coolest in the blues' long history. The color scheme, the placement of the ace of spades, snake eyes and other bad luck symbolism, even the iconic Stax Records logo tucked into the lower left corner – all very striking. It reminds me of some psychedelic 1960s wallpaper … one you wouldn't want hanging in your room if you were on a bad trip.

The album collects 11 tracks recorded in 1966 and 1967, many of them running less than three minutes (!!) … starting with the title song, dating to May of '67 and played countless times by well-intentioned blues bands the world over in the half-century since. Frankly, it's a challenge to listen to an LP with fresh ears when so many of its tunes have been covered to death – though it speaks volumes about the quality of the material.

Perhaps a bit of barley broth will help get us there! Guinness Hop House 13 Lager was an obvious choice for Listening Party #13, what with the bold red number 13 on the label echoing the calendar page on the cover of Bad Sign.
That's a lot of 13 gathered in one place. Bad juju?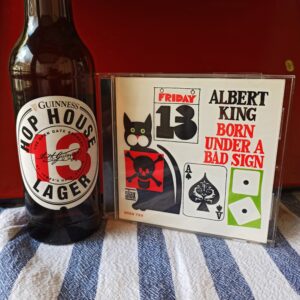 The surprising thing about this album from the perspective of the 2020s is just how compact the songs are. On many of them, King's guitar doesn't even feature all that prominently. The vast majority of today's blues guitarists, many of whom pay lip service to Albert King, don't display anywhere near this kind of economy in their playing and songwriting. You won't find any blistering solos here – at least not the way we think of them today. There's no shredding. Instead, King packs his blues licks into tight, well-constructed tunes like "The Hunter," my personal favorite. (Remember: These weren't really album cuts. Records were being made for the jukebox and the radio back then.)
I can't say I'm in love with the sound of Born Under A Bad Sign. To my spoiled 21st century ears, it feels a bit thin and doesn't convey the impact of King's guitar playing the way some later albums do. (See Live Wire/Blues Power.) But "The Hunter" is typical of how Bad Sign delivers on so many other levels. It builds off a simple but very effective 24-bar groove, piano, bass, drums, guitar and horns all holding steady while King tosses out classic vocal lines like "I got you in the sights of my love gun" in that warm, nonchalant style of his. (BTW Paul Stanley admits he stole the love gun idea for the KISS song of the same name.)  
Anyway, me not digging the sound quality is just my left brain talking. Left brain is not the way I generally enjoy music. I'm right brain all the way. Hey, Hop House 13! Come on over here and help me rouse the right hemisphere out of its slumber.
Another killer groove. Now we're getting somewhere.
Before I get to the tasting, I want to revise something I wrote above. Moments ago, for the sake of comparison, I also listened to Gary Moore's version of "Oh Pretty Woman." It was the first single off Moore's Still Got The Blues and featured Albert himself in a guest spot. Far be it from me to knock a guy who has legions of fans and surely did the elder statesman a solid by covering his tune, but to me, it's no contest. King's original version, recorded in August of 1966, kicks its butt down the hall and out the door. The Moore track sounds heavy-handed and lifeless in comparison – 1990 production technology be damned. I hear more fireworks, but less sizzle. So … mea culpa, Albert.
On to the beer: Hop House 13 is a double-hopped lager named for a storage building at Guinness's famous St. James Gate brewery in Dublin. The specs say it's brewed with Australian Galaxy and Topaz hops and American Mosaic hops – the kind of data that makes beer nerds swoon. It was introduced in 2015 to answer the growing demand for craft beer and has proven a successful alternative to Guinness's classic stout.
(Several minutes later…)
Nope, I'm sorry. Hop House 13 just isn't doing it for me or my brain's pleasure center. Every beer tasting is like a first date and though I was drawn in at first by the pretty packaging, the conversation between me and this clear, golden, lightly carbonated lager never developed. I gulped and sniffed and even opened a second bottle in the hope it would distinguish itself in some way. It didn't and when a slight buzz from the second round kicked in, all it did was have me looking around the bar for a more interesting date. 
Hmm. Maybe I did incur the wrath of the juju gods with all the bad omens in this post. Before this gets any uglier, let's bring it back to "Born Under A Bad Sign." The song. But not the studio version.
The stripped-down performance captured on Wednesday Night In San Francisco (which gathers live cuts from the same Fillmore West show that gave us King's iconic Live Wire/Blues Power) is taken at a slightly quicker pace than the 1967 studio recording and is nevertheless 90 seconds longer. It gives King room to stretch out, his tone is dirtier and more palpable. Thus, his power rings out.
Swing round next Friday for another installment or explore the Listening Party archives right here on Who Is Blues. Thanks for reading.
* * *
The Who Is Blues Listening Party is powered by Bierlager, one of Germany's finest addresses for premium craft beer. I bought Hop House 13 somewhere else. Serves me right.