featuring…
♫ Los Lonely Boys, Forgiven
🍺 Mashsee Beverly Pils

Words & photos: Vincent Abbate
Do you have a funeral playlist? You know, a batch of songs you'd want to have played when people gather at your memorial service and talk about what an incredible person you were? I do, though I haven't yet bothered to write it down.
Certain songs express an attitude about life, mortality, God and a hypothetical hereafter. An attitude that speaks to you. Sometimes, I imagine the folks sitting there when I'm gone, hearing the songs on my personal playlist and gradually recognizing who I was and what I believed in. 
I'll get to one of those songs shortly. First, let's talk about Los Lonely Boys. A terrific band that's overlooked by many blues fans.
One reason might be the name. Los Lonely Boys doesn't scream blues like, say, Too Slim & The Taildraggers. Or it might be the curse of their smash debut single "Heaven" – a melodic rock number that put the band on the map in 2004. It's the only thing a lot of people know by Los Lonely Boys. The trio has tried to replicate that success with radio-friendly tracks on subsequent albums but has never come close. So for some, they're a one-hit wonder.
But Henry (guitar), Jojo (bass) and Ringo Garza (drums), sons of Conjunto musician Enrique Garza Sr., have been making good to great albums all along, mixing blues, classic rock, pop and Tejano into what they like to call Texican Rock'n'Roll. My favorite of theirs is 2011's Rockpango, where the brothers blend those ingredients into a cocktail spicier than a Bloody Maria. The follow-up Revelation, their final album to date, is also very good.
Today I'll go a bit further back to their third studio album Forgiven, mostly because the title track is one of those on my funeral playlist. At this writing the band is on some kind of hiatus or may in fact have packed it in completely. I hope not, so I'll talk of them in the present tense.
And because the motto of the Who Is Blues Listening Party is "One album, No scotch, One beer," I'll be diving into Beverly Pils a bit later on – a superb Pilsener created by Germany's Mashsee brewery.
Now, let's head south to San Angelo, Texas, a little bit west of Dallas, a little bit north of San Antone.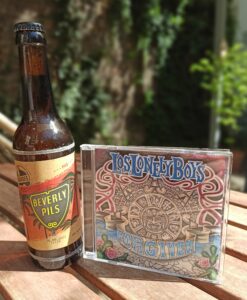 Stevie Ray Vaughan. Carlos Santana. Jimi Hendrix. Like any of them? Then you're bound to enjoy at least the guitar-heavy songs in Los Lonely Boys' bag of tricks. Henry Garza is a seriously skilled and explosive blues-rock guitarist. He's also a team player. With all three brothers contributing musical and lyrical ideas, the song always comes first. So Henry's (often wah-laden) solos enhance rather than overwhelm the tunes. Let's listen to the opening track on Forgiven, the hard-driving and infectious "Heart Won't Tell A Lie."
That's the tightness of a band that has been jamming together since childhood. The Garza brothers' musical interplay is telepathic. Their three-part harmonies are seamless.
I got a good look at them in action in 2010 when they headlined the Bluesrock Festival Tegelen near the Dutch/German border. Not only were the brothers on point musically that evening, they also thrilled the festival crowd – or at least that part of it sober enough to notice – with circus tricks like simultaneously tossing their instruments in a high arc to one another without missing a beat. (You kind of have to see it to appreciate it.) In a setting where bands tend to be same-y, the trio was exceptional.
To be fair, there's a lot of mid-tempo melodic rock on Forgiven. Arguably too much. On the other hand, what's not to like about a beautifully sung, positively uplifting number like "Make It Better"?
Don't know about you but I'm ready for that beer. And some more music. Let's move it right along to the band grooving on the Spencer Davis Group classic "I'm A Man" while we give this German Pilsener a spin.
OK, so the name Beverly Pils is a but cutesy, a good joke or a bad joke, but let me tell you: This beer has it going on. You can always tell. You uncap a bottle of beer, put your nose to the bottleneck and if that first whiff has you shouting "oh yeah" then you know you're in for a good time.
Beverly Pils is a pale, hazy, straw-colored Pilsener that can go toe-to-toe with any IPA. It's nice and hoppy with aromas of citrus and apricot. The bitterness and dry mouthfeel give it a cold, bracing effect, and while the AVB of 4.7% might suggest a tame beer, this one is vibrant and alive with flavor. 
You know how I was talking about funerals before? It strikes me, sitting here partaking of this fabulous beer, that I'd want to have it or something like it served to my funeral guests. I had to say goodbye to a friend last fall, gone before his time. His family set up whiskey shots at his burial, and it fit. I'd wanna offer a good beer like Beverly Pils to whoever wants to raise a glass. So if you're reading this, and outlive me, do it!
One of the songs played there should be "Forgiven."
As vices go, drinking beer is a fairly harmless one. But some of the stuff I've done while under the influence, I'm not particularly proud of. If you're human, you've probably got skeletons in your closet and have done deeds you'd like to take back.
"Forgiven," whether you believe in God or not, is such an eloquent expression of, well … guilt and wanting to be freed from the feeling of guilt. Bluesmen of old would sing "Lord have mercy on my wicked soul." Los Lonely Boys, in this heart-wrenchingly beautiful song, choose the words "Can you take it away, Lord? Oh, can I be forgiven?"
See you next week.
* * *
The Who Is Blues Listening Party is powered by Bierlager, one of Germany's finest addresses for premium craft beer.