featuring…
♫ Tarbox Ramblers, Tarbox Ramblers
🍺🍺🍺 Helderse Jongens Dubbel Wit, Tripel & Watertoren
Words & photos: Vincent Abbate
It's summer vacation and I've crossed the border from Germany into another great beer drinking and brewing nation: the Netherlands. The bottled beer section at the local DEEN supermarket, the one my wife and I shop at whenever we visit this part of the country, reveals the Dutch passion for suds: Alongside mass market brands like Heineken and Grolsch, there are dozens of intriguing alternatives ranging from traditional Belgian Trappist ales to hip new craft beers.
As we're headquartering in Den Helder at the northwestern tip of Holland and this city has a worthy brewery of its own, the Stadsbrouwerij Helderse Jongens, I'll be sampling several of its beers in this special "on the road" edition of the Listening Party.
Let's make it a game of double-triple-quadruple: We'll start with Helderse Jongens' Dubbel Wit, followed by their Tripel and then onto Watertoren, a quadruple that clocks in at a robust 12% ABV.
After trying all three, I'll pick a favorite.
And while beer is the focus this week, what's a vacation without a little music? I'll be rolling out some choice cuts from a Rounder Records gem: the self-titled Tarbox Ramblers, a standout release from Y2K.
Get ready for some foamy goodness …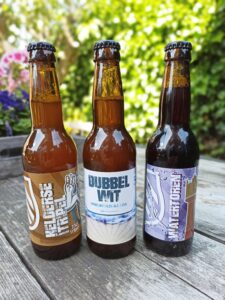 I was fortunate to catch Tarbox Ramblers at the Blind Willie McTell Blues Festival in Thomson, Georgia in 2001. Sharing the bill with modern blues acts like Kenny Neal, Sean Costello and Deborah Coleman, the Massachusetts-based outfit fronted by singer/guitarist Michael Tarbox stood out for their old-time sensibility. The music they played – a mixture of country blues, rock and hillbilly – felt closer to the roots of American music and thus to McTell's legacy than anything else at the festival. It felt as raw and real as stones, grass and dirt – just as it did on their debut album from the year prior.
"Third Jinx Blues," one of three originals on the Ramblers' celebrated debut CD, is a fine example. [Note: The cover depicted below is not the debut album, it's the 2004 follow-up A Fix Back East. Even on some popular streaming platforms, the two covers have somehow been mixed up.]
Today's game of double-triple-quadruple starts with a bang. The Dubbel Wit crafted by Helderse Jongens is magnificent. Spiced with coriander, cumin and sweet orange peel, this unfiltered white beer is an ode to the foamy surf that rolls onto the nearby beaches. It boasts a zesty citrus aroma that is downright intoxicating and backs it up with exceptionally smooth body and a well-rounded flavor. Savored on a backyard patio on a sunny, windy afternoon, this one elicited a "wow" or two from yours truly.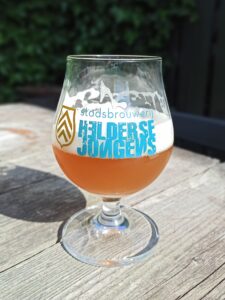 The hazy amber color of the same brewer's Tripel is nearly identical with that of the Dubbel Wit, but at 7.9% ABV (versus 6.5%), it is indeed a more potent brew. The first swig of this strong pale ale made with wheat and barley is bitter, dry, bracing. In time, the Tripel's underlying fruitiness and honey-like aroma come through. I do like it – it's a beer with a lot of character. But I'm not sure it tops the Dubbel Wit in terms of flavor and drinkability.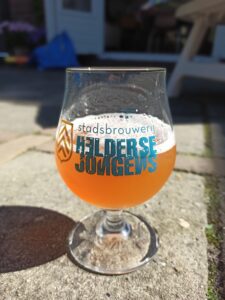 The next album cut, "Honey In The Rock," is one found in many a Christian hymn book. It goes all the way back to the late 19th century. Tarbox Ramblers' revved up version does it proud. Afterward we'll move on to the third entry in today's tasting.
Our quadruple – dubbed Watertoren after Den Helder's landmark water tower dating from 1856 – is quite a surprise. The high alcohol content had me expecting a cloying, sweet, overpowering beer. It's not that at all. It's a smooth and biscuity brew reminiscent of a porter, startlingly delicate and balanced. Nearly opaque dark brown with a frothy tan head in the glass, its nutty cinnamon notes and alcoholic finish are like that of some rum-laden pastry.
Though a very different beer, Watertoren gives the Dubbel Wit a run for its money in terms of pure enjoyment. At the end of the day, however …
When I return to the store and am standing in front of the shelf with each of the varieties we've sampled, Dubbel Wit is the one I'll choose to re-stock our refrigerator with. It's like with music: Some albums you listen to once or twice, appreciating their obvious merits intellectually. Others you return to over and over for months or years on end, because there's something there that simply does it for you.
(BTW I did swing by the Stadsbrouwerij Helderse Jongens a few days ago, hoping to sample a few of their beers on tap. Sadly, the beer garden had been rented out for a private birthday party. Some dude in a sombrero was entertaining the guests on guitar.)
Tarbox Ramblers' eponymous debut record – which received rave reviews and convinced Robert Plant to hire the band as tour support – has stood the test of time. The band hasn't released a whole lot of music since and have undergone some lineup changes, but apparently still exist. The last concert dates listed on their website are from late 2019, but that may simply be a by-product of the corona pandemic.
I'm going to close things out with their suitably gritty take on Fred McDowell's "Shake 'em On Down." Meanwhile I've got work to do exploring the local pubs and cafés (miraculously open, at least for now) and raiding the supermarket shelves. Tot ziens, my blues- and beer-loving friends!
* * *
When not on the road, the Who Is Blues Listening Party is powered by Bierlager, one of Germany's finest addresses for premium craft beer.