featuring…
♫ Nathan James & Ben Hernandez, Hollerin'
🍺 Oedipus Gaia West Coast IPA
Words & photos: Vincent Abbate
My three-week summer holiday in the Netherlands is winding down. If you missed the first Listening Party from the road, here it is. It's been a cheery, beery time by and large – tinged with feelings of guilt. While I was here at the coast swimming and drinking and getting the deepest tan I've had in years, deadly flooding, the worst in decades, hit parts of Belgium, Holland and Germany. Hundreds of families close to where I live in Cologne, Germany, lost everything.
Beer-wise, the past three weeks have found me in an almost constant state of temptation. In every well-stocked supermarket in the region, there are literally dozens of fascinating bottles and cans on the shelves. You needn't visit a specialty store to find craft beer. It's everywhere. My oh my …
Today I'll tell you about a few of the ones I've tried, including what may have been my absolute favorite: Gaia West Coast IPA from Amsterdam's Oedipus Brewing.
At last week's party, buzzed on a thunderous glass of Dubbel Wit, I found myself looking for music that would pick up where the old-timey Tarbox Ramblers left off. Hollerin', a 2007 release from San Diego-based duo Nathan James & Ben Hernandez, came to mind. I let 'er rip and – as so often over the past six months writing this blog feature – rediscovered a great album that has been sitting neglected on my CD shelf.
Ladies and gentlemen, I give you our very colorful tag team for Listening Party #25.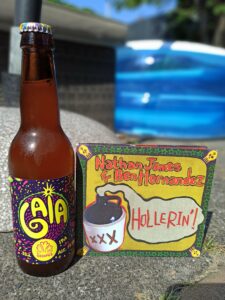 First up at today's party is what New York newspaper legend Jimmy Breslin might have called a good drinkin' beer. For everyday purposes you could do a whole lot worse than Skuumkoppe, one of twelve varieties brewed on the island of Texel by Texelse Bierbrouwerij. This copper-colored, top-fermented wheat beer is served on tap in many restaurants in this part of northwest Holland and is an easy, enjoyable everyday companion on holiday. At 6% ABV, it's got enough kick to leave you feeling satisfied.
But sometimes I don't feel like going local. At one afternoon pit stop, I asked the waitress what she had on tap, recognized the term "IPA" in whatever mix of Dutch, German and English she was speaking and went for it. What came back was a smooth, golden, refreshing and deliciously hoppy glass of Lagunitas IPA. Never had it before, in fact I've never even seen it anywhere in Germany. It was so good I ordered a second.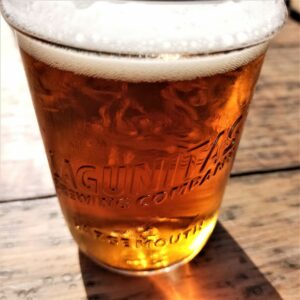 Nathan James & Ben Hernandez had a nice run following their victory in the Solo/Duo category at the 2007 International Blues Challenge. Their spirited, rootsy performances were among the highlights of the Legendary Rhythm 'n' Blues Cruise that same year. Hollerin' eventually earned Best Self-Produced CD honors from the Blues Foundation. It kicks off with James and Hernandez doing Willie McTell proud. You ask me, this is what you do with a classic. Make it your own.
Another beer I'll mention briefly is Affligem Blond, a 6.8% clear blonde abbey ale brewed in Flemish Brabant and fairly common throughout the Netherlands. Enjoyed with a midday meal at a Thai restaurant near Bloemenmarkt in Amsterdam, it's prickly, yeasty taste was a perfect complement to the spicy Asian food on my plate.
(That day in Amsterdam had me seriously wanting to ditch my family, hit up as many brown cafés as possible and maybe sneak in a visit to Lowlander Botanical Beers. Like I said: Temptation!)
Oh but my favorite beer experience of all during the past three weeks … there's a bit more of a story to go along with that one. Let's listen to some more Hollerin' first.
The extent to which you enjoy a glass of beer is invariably connected to the circumstances surrounding it. Here's what I wrote to a friend about the day I discovered Gaia West Coast IPA at a beachside restaurant in Grote Keeten. (I've initialized the names for privacy.)
"We met up with V., the guy I've been sharing an office with the past thirteen years, since M. arrived. V. has been busy during that time, having FOUR kids with his wife S. The oldest, a girl, is the same age as M., while the youngest, the third of his three boys, is just eight months old. V. recently turned 50. You do the math. Brave guy!
"Anyway, the whole gang of them, plus V.'s parents, is vacationing a little ways down the coast. We watched the European Cup final at their place and finally managed a beach day yesterday. It was glorious.
"Perfect weather. Plenty of waves to splash around in. B. and ten-year-old T. paired off as we hoped they would, swimming and playing soccer and giving yours truly a much-deserved break. At one point everyone from eight-month-old D. to V.'s parents, who are in their early 80s, was there.
"His dad isn't all that good on his feet, so instead of coming down onto the beach, he parks himself at the beachside café and enjoys a glass or two. Late in the day I found myself wanting to do the same, so V. and I joined his mom and dad at a table looking out onto the North Sea."
That's where my friend and colleague V., who's more of a beer traditionalist, allowed me to order the first round. Oedipus's IPA came bottled but served on a tray with the brewery's explosively colorful goblet-style glass – a nice touch. Noting the eclectic mix of hops listed on the label (Cascade, Centennial, Chinook, Columbus and Amarillo) I told my friend to expect something more citrusy than what he's accustomed to and watched his face as he took his first swig. It was an expression of … mild revulsion. Despite reassuring me that he liked the taste, when we moved on to the next round, a very bitter Trappist ale, he admitted that one was more up his street.
As for me … Gaia IPA put me in a state where all was right with the world. Off in the distance, I could see my son's silhouette as he played together with V.'s two boys, splashing around in the water, tossing sand at each other.
All care and worry disappeared. There was no flooding back home, no COVID anywhere, no politics, no shootings, no climate change, no hate or discrimination. Just friends, two families, three generations enjoying time together.
We're living through hard times. Nothing is as simple as it was pre-pandemic. Simply returning home from vacation, since we're crossing a national border, involves testing, filling out forms, uploading documentation online.
You've simply got to cherish those happy moments.
The final cut from Hollerin', "Lonesome Hobo Blues," is – fittingly I think – bittersweet and beautiful.
Thanks for your interest in the first 25 Listening Party posts. The fun will continue back on my home turf.
* * *
When not on the road, the Who Is Blues Listening Party is powered by Bierlager, one of Germany's finest addresses for premium craft beer.