featuring…
♫ The Paul deLay Band, Ocean Of Tears
🍺 Lowlander I.P.A.

Words & photos: Vincent Abbate
A cool, rainy week in the middle of March and one of my go-to blues albums. Ocean Of Tears. Seriously, this 1995 recording by The Paul deLay Band contains some of the most hopelessly heartbreaking tunes I know of. In a genre like the blues, that's saying a lot.
Is Paul deLay's story a tragic one? I suppose it is in many ways. On the strength of his extraordinarily creative harp playing and exceptional skill as a songwriter, the big man from Portland had built an equally heavyweight reputation as one of the brightest blues lights in the Pacific Northwest. That is until a drug bust interrupted his career in the early 1990s. Stories of addiction are so commonplace in musical circles as to be ho hum, but deLay used his 41 months of incarceration wisely, getting clean and sober while simultaneously penning and refining the wealth of material that would fill the albums that followed his release, including Ocean Of Tears.
"It's odd to look at it this way now," deLay tells interviewer Mark Spangler in the disc's liner notes, "but (…) it was a luxury to have that kind of time to devote to it, to make sure there were no weak spots." 
Then physical problems took over. When I interviewed deLay in 2002 – unfortunately I never met him or saw him perform live – he spoke in detail about the health issues he'd been battling the previous several years. But he was feeling better now, he said, thanks to the wise advice of his endocrinologist. He had just put out a killer album, Heavy Rotation, and was looking forward to getting back to regular touring, maybe even returning to Europe. But none of that ever materialized. In 2007, deLay succumbed to Leukemia, just 55 years of age.
Is it a tragic story? I honestly have a hard time calling it that. DeLay left so much good blues behind. And as any fan knows, a good blues song is a thing of joy.
So let's salute Paul deLay today, raising a glass of Lowlander I.P.A. as we listen to a few timeless gems off Ocean Of Tears, my personal favorite from his catalogue.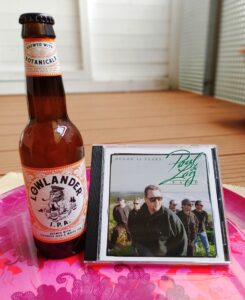 Have you ever read up on one of your favorite artists, found out that he or she has been married for decades, then wondered how that artist could possibly have written so many songs of heartbreak and longing and loss? That's how it is with Paul deLay. When you listen to "What Went Wrong" or "If She Is" or "Ocean Of Tears," you absolutely feel what he's going through. He makes you feel it. Especially in his singing. That's another thing. People generally praise deLay's harmonica and songwriting talents before remarking on his voice. To my mind, he was a true triple threat who could rip your heart out with a single, subtly turned vocal phrase.
In the interview I mentioned above (it's included in my newest book BTW), deLay mentioned his wife and how she had been a steadying, supportive influence throughout the years. So … can a guy like him just sit down and force himself to come up with a heartbreak story? Was he drawing on experiences that pre-dated his marriage? Or was it the ache of separation he felt while in prison that drove these songs? Since I didn't ask him, I'll never know exactly.
Let's give a listen to "If She Is."
I've heard that song a hundred times. Still, the tears well up. Still my hair stands on end.
I could use a beer.
As you may have guessed from the name, the Lowlander Beer Company is based in the Netherlands. Amsterdam, to be exact. Lowlander is a young, smart, award-winning craft brewer whose main selling point beyond its eye-catching labels is that it brews with botanicals. What's that you ask?
As I've recently learned, using "botanicals" in beer brewing means that herbs, flowers, spices etc are part of the recipe. This isn't some trendy new development; botanicals were used to bitter beer long before hops took center stage a millennium ago.
For their IPA … oh wait … in this case the letters don't stand for "Indian Pale Ale." Lowlander's I.P.A. is an Indonesian Pale Ale. Coriander seed and white tea are two key flavor-giving ingredients here. Pretty exotic sounding.
Let's get on with the tasting while Paul deLay tells us about "What Went Wrong" … a show of strength for every member of his brilliant six-piece.
The first pungent whiff of Lowlander I.P.A. is a wake-up call. It's nice and citrusy and excites the senses even before the first sip. The beer glows a milky golden yellow in the glass. The thick, foamy head exhibits staying power.
The I.P.A.'s tartness announces itself immediately upon tasting. In subsequent swigs, a grassy quality comes through. The overall effect is of a bold and slightly heavy beer with a dominant citrus-lime note. It's a pleasure to drink if you can handle a fair amount of bitterness. Not your run-of-the-mill IPA.
Paul deLay, too, stood out from the crowd. Big body, big talent, big personality. I could sense that even talking on the telephone for a half an hour 19 years ago. He was a straight shooter, self-deprecating, honest about the challenges he had faced in his life. But not bitter. No sir. Not for a second.
I wish I could have gotten to know him better. I mean personally. Listening to a record like Ocean Of Tears, you feel like you know him. And that's something only the greatest of musicians achieve.
Since this is a party, and because I always like to finish on a high note, let's wrap things up with the track that closes Ocean Of Tears, the jubilant "I Win," wherein Paul, bless his heart, finally gets the girl. Turn it up if you haven't already!
See you back here next time.
* * *
The Who Is Blues Listening Party is powered by Bierlager, one of Germany's finest addresses for premium craft beer.