featuring…
♫ God Don't Never Change: The Songs of Blind Willie Johnson
🍺 Men's Hell Extra Strong Lager

Words & photos: Vincent Abbate
Blind Willie Johnson.
I'm going to let that name sit there and resonate for a bit.
Those with only a vague notion of the blues are now wondering: Why are they all called Blind Willie? Or Blind something-or-other? Consider the career opportunities available to a southern black man with a handicap one hundred years ago.
If he was musically inclined and bold enough, he might choose to play popular songs on street corners, happy to hear the clatter of coins in the tin cup hanging around his neck. If he was good, word might spread to one of the label reps scouting around for talent. If he was exceptional, that label rep would put him on record. All the participants, including the street singer, were out to make money. They didn't become artists and blues pioneers until later generations put those monikers on them. 
From all that I've read, though, Texas-born Blind Willie Johnson wasn't your average busker. He was more of a wandering preacher. The 30 sides he left behind, recorded for Columbia Records between 1927 and 1930, bear that out. Johnson's music – which he played and sang mostly close to home in Texas, but also as far away as New York City – is akin to the Living Bible. The gospel set to a fervent rhythm people can relate to. Moreover, he was genius at tying the teachings of the Bible to the major news events of his day, like the Titanic disaster ("God Moves On The Water") or the Spanish flu epidemic ("Jesus Is Coming Soon.")
As a singer and guitar player, he had a peculiar intensity. His voice was raspy and sharp as a buzzsaw, his syncopated bottleneck playing raw and rough – the exceeding beauty of the results is hard to explain. You know by listening that this man meant business, and even the agnostic ear can feel the power of the Lord in his songs.
Johnson's God-fearing spirit will serve us well today, as we take on a diabolical brew that would curl Satan's toes: Men's Hell Extra Strong Lager. It's one of five beers crafted by Kraftbierwerkstatt, a small German brewer based near Stuttgart. Musically, we'll look at the recent star-studded tribute God Don't Never Change: The Songs Of Blind Willie Johnson.
Two potent forces. One sonic, the other sensual. Let's do this …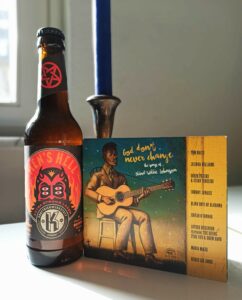 Listening to the album for first the time in a while since its 2016 release, it strikes me that it's the women who carry the day. I like Tom Waits and don't question for a minute his admiration for Blind Willie Johnson or his knowledge of American music. But to me, his interpretations of "The Soul Of A Man," the first of the album's eleven tracks, and "John The Revelator," which comes later, sound a little bit forced. Like he's trying to capture a sound rather than singing from deep down in his soul.
The Blind Boys of Alabama contribute a version of "Mother's Children Have A Hard Time" that is churchy and respectful. Luther Dickinson is wonderful singing "Bye And Bye I'm Going To See The King" with the Rising Star Fife & Drum Band. On "Keep Your Lamp Trimmed And Burning," Derek Trucks shows why he's considered one of the world's finest slide guitarists.
His wife, Susan Tedeschi, the lead vocalist, can't help but outshine him on that number.
Born in the deep south of Lake Charles, Louisiana, not far from the Texas border, singer Lucinda Williams really inhabits a couple of Johnson's songs on the album. Blind Willie, though a man of faith, was by no means a saint and some of his original recordings come across as dark and foreboding. Williams explores that side of him on "Nobody's Fault But Mine" before praising the Almighty with electric guitars on "God Don't Never Change." Both performances are moving and highly recommended.
Toronto's Cowboy Junkies, fronted by vocalist Margo Timmins, stand out with their version of "Jesus Is Coming Soon." Blind Willie Johnson makes a cameo here thanks to a vocal sample from the original 1928 recording. Some might consider the arrangement blasphemous, but it succeeds in communicating the spirit of the song, which deals with the Spanish Flu epidemic of 1918 and thus feels relevant today.
Hmm. This a sneaky smooth beer.
With a name like Men's Hell and an ABV of 8.7%, I was expecting fire and brimstone in the glass. But behind the inverted pentagram and four-eyed demon on the label waits a mild-tasting, honey-colored lager with a hint of wheatiness. I'd liken it to that female co-worker who's kind of cute but doesn't knock you out at first. The more time you spend in close proximity, the more you get to know her, the more interesting and attractive and dangerous she becomes.
(OK, I'll be honest. The first mental association I have with the phrase "men's hell" is women. Few things in this world can kick your sorry butt to purgatory as quickly or as brutally. But that's a topic for another day. Or not.)
Yeah, so … Men's Hell Extra Strong Lager – like that lady at the office – is sweetly seductive at first. Satisfying when you're deep into the glass and it hits you. And when the well runs dry? That's when you get the blues.
But – as Blind Willie Johnson and Sinéad O'Connor sang – sorrow will have an end.
Wait. Did I just put Blind Willie Johnson and Sinéad O'Connor in the same sentence? Yup, I did. That's because the Irish singer and controversy magnet is on this tribute album, too, delivering a cracking version of a lesser-known Johnson song, "Trouble Will Soon Be Over." O'Connor seems to have had a love/hate relationship with Christianity throughout her life (a quick scan of the web informs me she converted to Islam a few years ago), but wherever she was in her spiritual journey when she recorded Blind Willie, she sounds beyond genuine interpreting his words of praise.
I'd like to conclude on that note, listening to a veritable choir of Sinéads singing it up to heaven. This past year has been hellish for pretty much all of us. Dreaming of a time when "trouble will soon be over, sorrow will have an end" seems about right.
See you next time.
* * *
The Who Is Blues Listening Party is powered by Bierlager, one of Germany's finest addresses for premium craft beer.