featuring…
♫ Big Bill Broonzy, Volume One – Mississippi Blues
🍺 Ratsherrn Dry-Hopped Pilsener

Words & photos: Vincent Abbate
I usually post these things on Friday afternoon. Perhaps my favorite feel-good time of the week. I generally go pretty hard from Monday to Friday, working and looking after my family. So when Friday afternoon rolls around and I close up shop, a satisfying weekend feeling of freedom sets in. I have pushed through and gotten things done and the Listening Party is one way I reward myself for not being a total goof-off in life.
This time, though, it's a lazy Sunday. I'm recovering from a friend's Saturday night birthday party. It involved live music and a healthy variety of adult beverages. As it's Sunday, I've decided to turn this Listening Party into a kind of casual backyard barbecue. We'll have beer of course, and good, down-home southern-style cooking … aww, who'm I kidding? I'm a New York boy. The barbecues I knew growing up were burgers and hot dogs, roasted peppers, Italian sausage and corn on the cob. We'd eat out on the patio with maybe a ballgame on the radio or my dad's favorite music playing.
I can definitely imagine the great Big Bill Broonzy having played a barbecue or two during his time on this earth. In fact, I believe there are stories of him playing the fiddle at such gatherings before he switched over to guitar. We're going to listen to a few classic Broonzy tunes from Volume One – Mississippi Blues, a vinyl EP released in 1955 on the British Nixa label that somehow found its way into my collection. Broonzy mastered rural and urban blues styles during his career and the four-song disc touches on each.
Our beer, Ratsherrn Dry-Hopped Pilsener, comes from the city of Hamburg.
Let's take it slow and easy this time, shall we?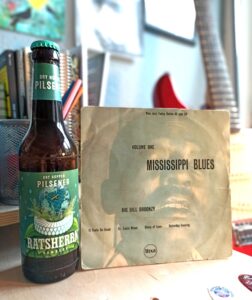 Is it me or does Big Bill Broonzy get unfairly overlooked? And it's not just him, either – you just don't hear much at all anymore about pre-war blues. Today's consumers seem to have gotten hung up on the greats of post-war Chicago blues and the generation of rock-oriented blues players that followed. Broonzy – who was born in Mississippi or Arkansas around the turn of the 20th century and eventually found success in Chicago like so many others – was a key figure in the transition from pre-war country blues to the predominantly electric sound that became popular from the late 1940s onward.
I need look no further than last night's birthday wingding for evidence of his enduring legacy. The four-piece electric band covered "Key To The Highway" in a version clearly modeled on Clapton. Broonzy may not have written the song per se, but the eight-bar arrangement he recorded with Jazz Gillum in the early 1940s became the standard.
"I Feel So Good" is another of Broonzy's best-known titles. The version on the Mississippi Blues EP (erroneously titled "It Feels So Good") – seen spinning here on the official Who Is Blues cheapo phonograph – is a bright, jazzy toe-tapper. Grab yourself a cold one, pull up a lawn chair and enjoy.
While you're enjoying your beer, I've got a little confession to make. Suspecting that after last night's debauchery I probably wouldn't be craving a beer today – and I'm not – I did my tasting yesterday in the hours before heading out. Ratsherrn Dry-Hopped Pilsener was indeed a fine jumping off point. It poured a slightly murky straw gold with a creamy white head. The surprisingly earthy aroma was instantly pleasing. The very dry mouthfeel of the first sips gave me pause, but with a few more generous swigs, the delicious underlying fruitiness of the beer came to the fore, suggesting melon and tangerine. Nice. A beer that wins you over slowly and leaves you wanting more.
Just not today.
I think one reason Big Bill Broonzy may not get the credit he deserves is his versatility. People hear his smooth vocal delivery and dexterous playing on the six-string and unfairly deny him the status of a bona fide bluesman – who, by their definition, must be raw, reckless and eccentric. From where I'm sitting, Broonzy comes across as a true professional who merely wanted to entertain people.
Yet even on a song from the popular music canon, his blues comes through.
Come to think of it, "The Glory Of Love" is the kind of song my dad would have listened to while flipping burgers shirtless in our backyard. It would have been the Dean Martin version, though.
OK, so we've heard Broonzy with an uptown jazz combo and playing solo with a kind of ragtime feel. Let's finish by going way down deep and lonesome.
On "Saturday Evening" (aka "Saturday Evening Blues"), a sorrowful Broonzy is haunted by the memories of a departed lover. "Her picture is still on my dresser and her gown is on my bed …"
Now tell me Broonzy isn't a real bluesman.
* * *
The Who Is Blues Listening Party is powered by Bierlager, one of Germany's finest addresses for premium craft beer.