featuring…
♫ John Lee Hooker, It Serves You Right To Suffer
🍺 Aleworks Tavern Brown Ale

Words & photos: Vincent Abbate
Rotten times call for urgent measures. Let's drink. Just like that. Bango. No messin' around.
That's right. I'm upending the traditional structure of this beer-and-blues soiree, the usual slow build-up before we get to the beer tasting. That's because after eight days without a drink, I am truly craving one.
Alewerks Tavern Brown Ale, with which I will momentarily break my fast, is one of five year-rounders made by the Alewerks Brewing Company of Williamsburg, Virginia. Here's what it looks like smiling at me:
Cheers.
Mmmm. That is good. Smooth, rich and nutty and it goes down like a dream. Two thumbs up.
So here's what's going on.
I'm eight days into my first bout of Covid-19. Got sick right after posting my Halloween entry. I kind of assume the virus got me while I was out trick-or-treating with my nine-year-old son and his fourth-grader friends, ringing doorbells, entering strange apartment houses unprotected. That day, I briefly thought about doing the sensible thing and wearing a mask – a medical mask, not Pennywise, Ted Cruz or some other rubbery abomination – but like most people, I've reached a point of inner whatthefuckitude as concerns corona.
You guys ever see the movie Fearless? In it, the character played by Jeff Bridges survives a horrible plane crash that wipes out nearly all the passengers. But he walks away without a scratch. He moves through life post-crash convinced nothing can harm him and starts taking all kinds of unnecessary risks.
The past couple of years, as I've watched friend after friend, colleague after colleague and even close family members get Covid without me once testing positive, I've developed a similar sense of invulnerability. I thought I'd never get it. And that if I got it, HA, it would be nothing. A mere bag of shells. Well …
The blues has given us plenty of titles for times like these. "It's My Own Fault." "Goin' Down Slow." The first one more or less fits, while the latter seems a little premature. The one I've settled on is It Serves You Right To Suffer – the title of this week's featured John Lee Hooker album.
Covid, for me, has been three very crappy days of body aches and fatigue followed by five days of restlessness as I do the right thing and isolate. So far, I've managed not to infect the three members of my household, the only humans I've been in proximity to since the first symptoms appeared on November 1st. I suppose that should give me a certain level of satisfaction.
But man do I hate sitting around on my ass as life carries on without me. I feel useless and alone and I absolutely fucking hate it! And I'm not someone who goes around swearing all day.
Eight days and I have found nothing to sufficiently dispel the frustration and ennui. Not Netflix, not the NFL, not Springsteen, not Douglas Adams and OMG any form of social media makes me want to sprint to the nearest window, open it and jump. Because from what I can tell, you're all out there eating good food in sunny exotic places and hanging with the best friends any person could ever want. And I'm … not.
Enough with the self-pity. Gimme another swig of that smooth Tavern Brown. And some more Hooker, quick. The coolest that ever was.
The lacing patterns left behind on the first glass were elaborate. A brontosaurus skeleton fighting a brave duck.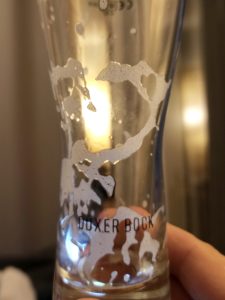 And now, if you'll indulge me, a rant.
I mean, anyone who writes and publishes secretly hopes that someone out there will read his thoughts and think, "Amen, brother! I feel that way, too." In that spirit, I now give you my take on contemporary society as seen through the prism of social media and eight days of Covid isolation.
It is one big nauseating shitpile of self-aggrandizement.
And our musician brothers and sisters have bought into it. Our blues brothers and sisters.
They are all about me, me, me, me, me. Look at me! Look at my guitars! Look at this cool venue! Look at the two hundred people who came out to see my band last night! See how special I am! Oh and I've got a new endorsement deal, too. And my current album is at number 13 on the charts, sandwiched between Beth Hart and Eric Clapton. How about that?!
You think John Lee Hooker would have spent his days uploading photos of himself and his dinner?
Think Muddy would have boasted to the world about his rig?
Did Koko Taylor need Instagram poses to prove how sexy she was?
Today, we move endlessly in orbit around ourselves.
I can't blame the artists, though, because as a cheap form of advertising, it works. They flood their social media channels with content and their followers view it and like it and share it and buy it because it makes them, the consumers, feel somehow relevant. After all, in this shallow online pseudo-world, we are all "friends."    
I'm torn between wanting no part of it and wishing I was better at playing the game.
Though when the smoke clears, when we come face-to-face with our maker, we'll have to ask ourselves: Is popularity what truly gave us satisfaction? Was the adulation of others worth scratching and clawing for?
I seriously doubt it.
One last swig and "Money (That's What I Want)."
If I've learned anything today and in the past eight days, it's that isolating for any considerable length of time is not good for my mental health. So watch out people. You may be next. Covid's out there still. Making a comeback, actually. I'm not going to sit here and lecture you about wearing a mask next time you go out. Because I didn't. But be warned: Covid may put you in a situation whereby your chief source of contact with the outside world is the media. Your cherished sense of community may quickly vanish. And when it does, all you may have left is the depressing conviction that everyone is in it for himself.
Anyway: The beer was good, the music was great.
I'm going to meditate now …
* * *
The Who Is Blues Listening Party is powered by Bierlager, one of Germany's finest addresses for premium craft beer.