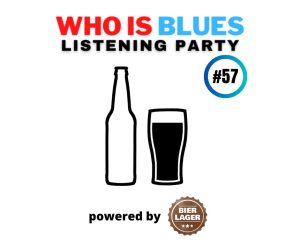 featuring…
♫ Screamin' Jay Hawkins, At Last
🍺 Misfit Pumpkins Imperial Pumpkin Stout

Words & photos: Vincent Abbate
Halloween is stupid.
I mean, can we at least agree that it is becoming increasingly stupid?
For kids, I get it. In fact, later today I'll be chaperoning my son and a few of his friends as they do the traditional trick-or-treat thing.
When I was a boy on Long Island, trick-or-treating was an annual thrill. I'd go with my siblings or closest friends and come home with bag after bag full of Tootsie Rolls, Milk Duds, Mary Janes, Jawbreakers. It was excessive and I loved it. After some swapping with my sisters, we'd each pour our respective haul into a big cardboard box and then devour the contents over the course of many weeks. Nobody thought much about the consequences for our teeth back then.
If that sort of thing exists in suburban America today, when everyone is far more afraid that the reclusive guy who lives four houses down could be a cannibal axe murderer, well kids – more power to you.
But when I go on social media and see how much effort normally level-headed forty- and fifty-year-old acquaintances of mine put into dressing up as zombies and horror clowns, I can only shake my head. If only folks would put one-tenth of the same energy into more important things, like, say … feeding the poor?
This past weekend's tragedy in Seoul, South Korea – where the desire to celebrate this bizarre ritual cost more than 150 young people their lives – made me hate Halloween even more.      
So why do a Halloween edition of the Listening Party?
Here's a hint.
Some weeks back, on my most recent visit to Bierlager, I was given a can of Misfit Pumpkins Imperial Pumpkin Stout. It's an annual collaboration between La Quince Brewing Company (previously featured in Listening Parties #7, #21 and #37) and another Spanish outfit called Drunken Brothers. What do you do when your supplier hands you a beer with a freaked out evil jack o' lantern on the label? You do a Halloween Listening Party.
I thought about what musician best embodies the spooky vibe and came up with just one idea vaguely in the realm of the blues: Screamin' Jay Hawkins. The only full album of Screamin' Jay in my collection is the late 1990s, Jim Dickinson-produced At Last. I'm not a huge fan of the record, I must confess, though Hawkins's legendary baritone is still very powerful for a man in his sixties who wasn't long for this world. But much of the material feels thin.
The handful of highlights includes "Shut Your Mouth When You Sneeze."
I'd have to be quite a bit older to have caught Screamin' Jay Hawkins in his gaudy, outlandish prime. The first note of music I heard from the pioneering shock-rocker (I think we can call him that) was in Jim Jarmusch's Stranger Than Paradise – the unforgettable scene in which Eszter Balint, looking adorable in oversized cardigan and trousers, sways around the drab Lower East Side kitchen of her cousin Willie to a cassette tape of "I Put A Spell On You." Willie, played by John Lurie, then enters and turns off the music in disgust. Balint's retort is classic: "It's Screamin' Jay Hawkins and he is a wild man, so bug off."    
Originally hoping to become an opera singer, Hawkins – much to his chagrin – became universally associated with the pseudo voodoo costumes and accessories of his early days on the rock'n'roll revue circuit. He was famous for emerging onstage from a coffin and for "Henry," his skull on a stick prop. He performed with reckless abandon and a big dose of humor.
Case in point: "Coulda', Woulda', Shoulda'," where he's joined by singer Kelley Hurt.
Now onto the beer portion of the program …  
As with last week's Milkshake New England IPA, this will be the first pumpkin stout I've ever tried. The classification as an imperial stout implies dark malts and a mighty kick; at 10% ABV, Misfit Pumpkins is likely the strongest beer I've served here at the party to date. Due to its Spanish origins, most of the information I've got comes straight from the ingredients list on the label: Aside from pumpkin, the recipe includes barley and wheat malt, oatmeal and palo santo wood, a wood of Peruvian origin used for ageing in select beers. Fairly exotic.
Misfit Pumpkins doesn't want to wait for me. When I pop the top, a bit of dark brown syrupy fluid rises up and settles in the grooves on the top of the can. I lap that up and get a sneak preview of what's coming – the taste is strong and chocolaty. Then into the glass it goes, hardly foaming at all. Instead it looks slick and viscous, somewhat like motor oil – odd comparison though it may be. I approach with caution, partake of a first velvety sip … whooh, it sure packs a wallop. Like Screamin' Jay in his prizefighting days.
For me, coffee and chocolate are the dominant flavors. I don't detect any pumpkin. All in all, it's a dark, rich, exceedingly smooth and very potent glass of beer. 
While enjoying Misfit Pumpkins, I had a brainstorm. An idea for an adult variation on trick-or-treating that would actually get me to leave my house on Halloween. Instead of ringing bells and asking for candy at private homes, how about we go from bar to bar and at each establishment we enter, they hand you a Kölsch, a Gose, an IPA, a Porter … at this point in my life, they're simply more interesting than Milk Duds and Mary Janes.
On second thought, forget it. Things would get even more out of control than they are already, all in the name of exorcising our demons, warding off evil spirits or whatever it is we aim to do on Halloween.   
Let's finish this up with Screamin' Jay Hawkins in action. In the following clip, he performs his most famous tune on a TV show of indeterminate origin. The vocal, the grunts, the mumbling, that all seems to be live on the mic. He certainly was one of a kind.
* * *
The Who Is Blues Listening Party is powered by Bierlager, one of Germany's finest addresses for premium craft beer.