featuring…
♫ Stevie Salas, Set It On Blast!!
🍺 Unverhopft Galactic Splash Milkshake IPA

Words & photos: Vincent Abbate
Sometimes you've got to roll out the big guns. The heavy artillery.
Remember how last time around I was feeling down and how a few timeless blues songs seemed to lift me out of the hole I was in? I didn't quite make it.
Maybe it's the change of seasons, a case of the fall blahs as each day grows a few minutes darker than the one before it. Maybe it's the exhaustion brought on by the rigors of parenting – presiding over a vicious fifteen-round fight between a pair of rival siblings can take a lot out of you. Maybe it's just how fucking sick and stupid and depressing the world is sometimes. All of it is adding to a sense of heaviness and loss that hangs stubbornly in the air, weighing me down.
So I've been looking for a stronger and more muscular musical drug to keep me moving forward. One that kicks me squarely in the keister and says – snap out of it, man, get out there and get busy living. The record I've gone to most often these past few weeks is Stevie Salas's Set It On Blast!!, a brash explosion of funk and guitars and conquer-the-world attitude. In name and in spirit, it pairs beautifully with Galactic Splash, a Milkshake New England IPA from Berlin's Unverhopft brewery.
If this high-octane dream team doesn't get it done, I may be a hopeless case.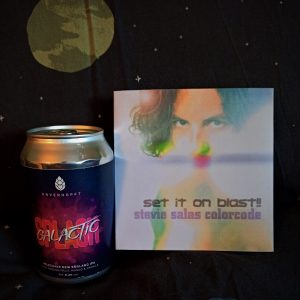 You're not familiar with Stevie Salas? Well that's why I'm here.
The California native is known within the industry as a guitar player of extraordinary talent and versatility. He's been a hired hand for rock heavyweights like Mick Jagger, George Clinton and Rod Stewart. But a resumé as long as your right arm isn't what makes this dude fascinating. The albums Salas has generated under his own name the past three-plus decades are rich listening experiences for anyone who enjoys classic hand-made rock'n'roll infused with funk, blues and psychedelia.
His discography is cumbersome, unfortunately. It's a ragtag, overlapping mix of smaller indie releases, imports and compilations, some attributed to Salas, some to Stevie Salas Colorcode, others to one of his side projects, like Nickelbag or IMFs. Once you start rooting around in all of that, you find plenty of outstanding material. Salas is much more than a technical wizard; he's a songwriter of great skill and depth.
Factually, I can't tell you much about Set It On Blast!!, an 11-song Japanese release from either 2008 or 2009. What I do know: It kicks off with "Get Your Hands In The Air" – a rhythm-driven number that puts a spring in my step no matter how bad I'm feeling.
Here's where I add my traditional disclaimer for the purists: Yes, I know it's not blues but but but blah blah blah. Good music is good music. It's about who you are and not what you're not. (Great line, Mr. Salas.)
To be fair, Set It On Blast!! covers a lot of ground stylistically, which may not be everyone's cup of tea. In between the snappy funk rhythms of songs like "Get Your Hands In The Air" or "Rock the House," there are indie flavors and Brit-Poppiness on cuts like "OMG" and "The Uprise," respectively. On "Forgive and Remember," Salas reflects in brooding fashion on the burden of his Native American heritage.
There are Hendrix-worthy riffs all over the album, snaking around the primeval beats on the track I just mentioned and providing the nuts and bolts on this next one, "Block Rocking."
Now that we're sufficiently warmed up and the endorphins are flowing, let's get acquainted with the Milkshake New England IPA, or NEIPA. This type of beer is uncharted territory for me, a situation that always calls for my favorite source, the aptly-named Beer Bible. The brief description found on page 408 of Jeff Alworth's invaluable tome is slightly off-putting; there, he calls the Milkshake IPA an "exaggerated form of hazy IPA that uses sweeteners (lactose, vanilla) along with flavor additives to create confectionary-type profiles." 
The Galactic Splash info page on the brewer's website reiterates Allworth's statement; the beer is brewed with passion fruit, mango, vanilla, lactose and HBC 630 hops. The words fruity and creamy appear often in connection with the Milkshake IPA. Let's do it, shall we?
Crack!
First the nose … I'm getting berry scents, cherry, mango, some underlying citrus. Sweet, airy and enticing.
The pour is paler than expected. Milky, opaque. And it tastes … tangy. Ridiculously smooth and luscious, though. There's no deliberation necessary with this one. Galactic Splash tastes delicious and feels exciting on the tongue. Like the kiss of a full-lipped, voluptuous woman, you want it to go on and on.
I've got Stevie Salas on as I write this and indeed, I am shaking a leg and playing air drums. The beer and music combo from outer space – Set It On Blast!! meets Galactic Splash – is doing what it's supposed to be doing: making me feel good.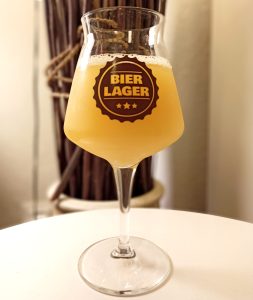 The closing song on today's Listening Party is going to be "I'm Not Looking Back." Lyrically, it fits the occasion. It starts with the singer informing us that winter is coming. Sunlight is dwindling, the warmth is fading, the approaching dark season will be long.
Then a girl (presumably) enters the picture. One who has exited the protagonist's life for good. He weighs his options: Should he remain in a comforting dream state in which the female presence who once calmed his heart is still there for him? Or wake up to the emptiness of the present moment? Ultimately, he decides his best bet is to face his cold and wintry reality, put the past behind him and move forward. Or at least try to.
Springtime will come back around. Sunlight is inevitable. You know that. I know that. The guy singing "I'm Not Looking Back" knows that. Maybe he's even heard this in an old blues song and the thought stuck in the back of his head: The sun's gonna shine in my back door someday.
An upbeat note to finish on.
Am I out of the woods now?
Dear musicians of the world, keep the songs coming and I will be, eventually.
* * *
The Who Is Blues Listening Party is powered by Bierlager, one of Germany's finest addresses for premium craft beer.