featuring…
♫ Albert Castiglia, I Got Love
🍺 Baladin POP American Pale Ale

Words & photos: Vincent Abbate
Pop goes 2022.
In this, the year's final Listening Party, I'll reflect on a challenging twelve months and the respite and release I experienced at a summertime blues festival. Together, we'll open a gaudy can of POP – an American Pale Ale from Italy –, listen to some choice cuts from Albert Castiglia's April release I Got Love and generally celebrate being alive.
I hope, when all is said and done, it will make some kind of sense.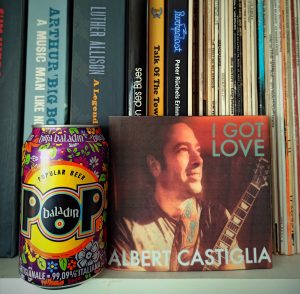 The previous sentence was intended as a comment about this blog post, but on second thought, could apply to life itself. Does life make any sense? The past twelve months have fed the skeptic in me.
I want to say it all started when Russia invaded the Ukraine last February. (Fuck Putin.) But it's more than that. I see a civilization that has stalled or is maybe even backsliding into more violence, more hatred, more discrimination. My teenage daughter worries our city will soon be the target of a nuclear bomb and that if she visits the United States she's likely to be shot down by some sick young man with a long gun. Against that backdrop, so much of what I see people busying themselves with and so much of what I do – my semi-regular Listening Parties included – seems trivial. What's the point of writing about beer and music?
Then again, if it wasn't for music, where would we be?
In that spirit, let's listen to the raw and funky "Don't Pray With The Devil" from Florida axeman Albert Castiglia as we pop a can of POP.
POP is the one of the newer beers from Birra Baladin, a northwestern Italian craft brewer that's been at the forefront of the movement there for close to three decades. (A bit of trivia for beer nerds: The company's founder Teo Musso was involved in the creation of the TeKu glass.) It identifies as an American Pale Ale but also states with pride that it is "99.09% Italiana" – less than one percent of its ingredients are sourced from outside Italy. My initial impressions: Pale milky complexion, subtly fruity aroma. The taste of citrus and honey. A light body, smooth and very drinkable. Yum.  
There's a reason I chose Albert Castiglia for this Listening Party and I'd like to share that story with you.
It was June. Let me check that. Yes. June 4th to be exact. I'd missed the opening of the 29th Grolsch Blues Festival the previous evening because my daughter (the one who worries) celebrates her birthday on June 3rd. So I hung around that Friday, then took a train up to Münster, Germany on Saturday morning and travelled onward via bus to the hotel I'd be staying at the following two nights. It's in the center of Schöppingen, the small town that hosts the annual festival. The weather was perfect, both train and bus were on time and I arrived early enough to rendezvous with friends at the local campground before wandering over to the festival grounds for the day's first performance.
Saturday at the festival came at me from all angles and instilled me with hope. With the sun beating down and the first Grolsch Premium Pilsener or two in me, I bathed in the glorious, groovy, Hooker-esque sounds of Bai Kamara & the Voodoo Sniffers' mid-afternoon set. A Belgium-based band I'd never heard of and … wow. Just wow. A couple of hours later, Angelique Francis and her six-piece made their joyful noise and I got to meet the Canadian singer and her beautiful family at the merch stand. Then there was Ronnie Baker Brooks, commanding the evening with a set of pure and masterful, no-nonsense electric blues. That day was easy on the senses and when you experience all that and can then fall into a comfy bed around midnight, I mean, it doesn't really get any better.
Only it does!
The sun refused to shine on Sunday. The forecast called for rain all day. But we were reasonably fortunate. When Harlem Lake – fresh from winning the European Blues Challenge in Malmö, Sweden the previous night – blew in to open the proceedings on Sunday afternoon, the skies were merely overcast. By late afternoon, the rain came in a steady drizzle and while a few took cover, the hardiest festivalgoers gathered near the stage for a wonderfully professional set from King Solomon Hicks.
It was there I realized that the act of playing through the rain (the musicians) and standing in the rain (the audience) intensifies the bond on both sides. The audience is making a definitive statement: We're not gonna half-ass this. We're here for you! The performer sees this and responds with an effort that says: You guys are the best. Well alright then, let's do this!
The rain let up. Ranky Tanky played. It was so beautiful I cried. Robert Finley played and he was good, too. But I needed something in my belly before the festival finale, so I took in his set from a bench near the pizza stand.
POP is very good by the way. Its lightness and quaffability probably marks it a summertime beer but hey, who made up these rules? I'm writing about summer anyway, even if it's frickin' cold outside right now.  
Last on the bill in Schöppingen was the Nick Schnebelen Band with special guest Albert Castiglia. Here is where the weather gods said, "Well friends, we've been merciful until now. But all this water up here is getting heavy and putting a strain on our backs. So get ready. Here it comes." And they dropped it on us. Thwack. As Schnebelen took the stage, it came in a torrent. A good half, maybe even three quarters of the attendees bolted. And you can't really blame them. They'd been standing outdoors for the better part of two days. We were approaching midnight on a Sunday night and they were tired.
I stayed, got drenched and went to heaven.
The music was hard-hitting, rhythmic and powerful. Even more so when Castiglia joined in. Those guys – Nick Schnebelen, Albert Castiglia and the rest – took us higher and higher. We, the dancers, the partiers, the last holdouts, were now just a couple of hundred strong. And we went totally apeshit crazy, bouncing around giddily, crashing into one another, turning our faces to the skies, letting big cool colorful stage-illuminated raindrops soak us to the bone and wash away whatever pain and disappointment this year had thrown at us.
I'm sorry you missed it.
Followed by a hot shower and a cozy bed.
Ah, yes.
So my friends … even in a year like 2022, life is good. That's what the music tells us. That's what the blues is there for. I raise this glass to you – the musicians, the concertgoers, the pub and club owners, the friends and acquaintances and strangers I have shared these times with. We're still here making the best of it.
Cheers.
* * *
The Who Is Blues Listening Party is powered by Bierlager, one of Germany's finest addresses for premium craft beer.