featuring…
♫ The Proven Ones, Wild Again
🍺 Samuel Smith's Nut Brown Ale

Words & photos: Vincent Abbate
First beer of a new year.
I've been at this for a while now. I've learned a thing or two about beer and quite a bit about myself. With any luck, the first 60 entries in the series will have reached a few eyes – the click counter on my website has registered more than 20,000 – and in the process, led beer and blues enthusiasts to albums they may have missed or beers they'd never heard of.
My original intention was to use the Listening Party to celebrate those two great passions.
But last year … I dunno … there was a lot of Weltschmerz mixed in with the beer and music. I wound up writing about war and politics and my disenchantment with social media. I've promised myself – and promise you, dear reader – to limit the amount of social commentary moving forward. Because, personally, I hate parties where the topic of conversation is how the world is on a downward spiral and we're all doomed.
Instead, the Listening Party should feel like that moment when … well, just yesterday, while I was making pasta and sauce, I put on a playlist of my favorite blues tunes and opened a bottle of Bavarian Helles. For those few minutes I wasn't thinking about climate catastrophe or the plane crash in Nepal or the evils of government. I was simply feeling the music and enjoying that very slight buzz that makes everything copacetic. Can you dig?
That said, this edition of the Listening Party is first and foremost a farewell to Willie J. Campbell, who left us last December 18th. A Detroit native who made his way on the left coast, he famously played bass in the James Harman Band and the Fabulous Thunderbirds and later as a member of the Mannish Boys, the Blues Giants and the Proven Ones. I didn't know Willie J. well, but he was one of those dudes who treats you like a friend the moment you meet him.
Please join me as we toast Willie J.'s life with a bottle of Samuel Smith's Nut Brown Ale and listen to a few cuts off of the BMA-nominated Wild Again by the Proven Ones.
Here's the title song.
I first met Willie J. backstage in Bonn, Germany in January of 2017. He was on the inaugural Blues Giants tour with Mike Zito, Albert Castiglia, vocalist Sugaray Rayford and drummer Jimi Bott, Willie J.'s long-time rhythm section partner. The mood among the fellas was relaxed and welcoming. Either Mike or Albert, probably Mike, introduced me to his fellow band members. Though at that point it wasn't clear if the Blues Giants was a band or just a bunch of really good musician friends coming together for a one-off tour.
Duly impressed with what the Giants laid down that evening in Bonn, and having enjoyed the few moments we spent together, I sent Willie J. a message the following day hoping it wouldn't be the last time. His three-sentence reply included a phrase that shows what a warm heart he had.
"It was a pleasure to visit with you my friend. We hope to be back as often as possible. Take care my friend!"
That feeling when one of the best and best-known bassists in the blues accepts you as a compadre – as a writer, those are the small blessings that put a smile on your face.
The Blues Giants came back two years later with a slight reshuffle: The always busy Mike Zito had been replaced by fellow guitarist and singer Nick Schnebelen. I think it was Albert this time who invited me backstage, allowing me to reconnect with the band. Bott and Campbell in particular were keen to talk about their main gig with the Proven Ones and proudly handed over a copy of their first CD Wild Again, recorded and mixed by Bott at his studio in Portland, Oregon.
Of course, as blues insiders, they were familiar with Doug MacLeod and interested in getting their hands on the book Doug and I had recently worked on together. In the next round of messaging between Willie J. and me – I needed his home address so I could have the book mailed to him – he no longer called me a friend. Now I was his "bro."
Though we never met again, the news of his death a week before Christmas saddened me. I loved watching Willie J. at work; he performed with a joy that was both obvious and infectious. I hate that ALS cut short his life at 65. No doubt he fought hard and kept giving and loving until the end. In fact, just eight weeks before leaving this realm, Willie J. recorded one final album with – his obituary states – "… all of his favorite people, his brothers and sisters."
OK, bro: Today, we open a bottle of Samuel Smith's Nut Brown Ale, brewed at the Old Brewery in Yorkshire. (Previously featured in Listening Party #6) Tradition is writ large there, from the stone Yorkshire squares employed in fermentation to the hand-made oak casks used for conditioning. The Nut Brown Ale – best served at 55°F (13° C) – pours almost black into my Bierlager TeKu glass and boasts a foamy off-white head and sweet malty aroma. It's smooth going down and has a mellow roasted character that's just right, not overpowering. I've often been disappointed by darker bottled beers over the years but not this time. This glass of Nut Brown Ale is rich and flavorful and worthy of the occasion.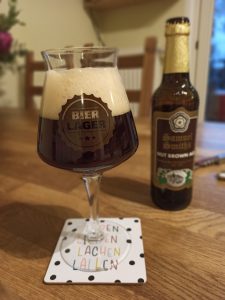 To close: Just a few days ago, the Blues Foundation announced the nominations for the 2023 Blues Music Awards. And wouldn't you know it, Willie J. Campbell picked up his seventh nomination in the "Instrumentalist – Bass" category.
I hope you win it this time, Willie J. Here's to you, my friend.
* * *
The Who Is Blues Listening Party is powered by Bierlager, one of Germany's finest addresses for premium craft beer.