featuring…
♫ The Neckbones, Souls On Fire
🍺 Everything Sucks DIPA

Words & photos: Vincent Abbate
It's okay to write about The Neckbones once every 20 years or so, right?
I mean, sure, the band only existed for a brief, intense period starting in the mid-90s, leaving behind a trio of discs: the self-released Pay The Rent, 1999's The Lights Are Growing Dim and today's featured album Souls On Fire, their 1997 Fat Possum Records debut. The Neckbones' limited shelf life didn't stop me from falling in love with them, though. Now, some 20 odd years down the road, I still find myself returning to those albums – usually when I'm out and about and need a jolt of youthful energy. The music they left behind is vicious and exciting, sounding like it sprung from the oil-stained garage of a low-rent house right next door to Richard Hell & The Voidoids and just down the block from where Chuck Berry parked his Cadillac.
The fiery and rebellious Souls On Fire will be served today with Everything Sucks, a Double New England IPA brewed with a wheat, barley and oat malt bill. It's a collaboration between FrauGruber Brewing and Superfreunde, two young German brands with a flair for experimentation.
The name of the beer is as close as I'll get to commenting on the state of the world. As promised!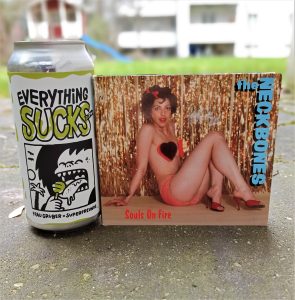 To my mind, The Neckbones had several things going for them: 1) Their record label Fat Possum sparked a small-scale, mid-90s blues revolution and as residents of Oxford, Mississippi, they got caught up in it, 2) Though they weren't a blues band, they hung around with Fat Possum stalwarts like T-Model Ford and Cedell Davis, so some of that back alley bluesman mystique rubbed off on them, and 3) In Tyler Keith, Dave Boyer and Forrest Hewes, they boasted three members who could capably sing and write songs.
It's fun looking back on our interactions during the earliest days of this millennium. I wasn't young exactly, but younger then than now. (Side note: Until recently, I thought "younger then than now" was what Dylan was singing on "My Back Pages." He's smarter than that.)
The first occasion was the show they opened for T-Model Ford at the Underground, a rock venue in Cologne, Germany that would become my workplace soon thereafter. I may have been there on assignment to interview T-Model. I honestly don't know for sure. In any case, I sat down with The Neckbones that day and it's fair to say that at our backstage interview (still online if anyone's interested) and while hanging out in the club later in the evening, we hit it off.
Just so happened I was planning my very first visit to the American south in a few weeks' time. Amos Harvey, the Fat Possum rep who played bass on that tour, told me to give him a shout if I happened to be in the Oxford, Mississippi area.
And so I shouted … I love ya rock n' roll!
Seriously: Taking Amos's invitation at face value, I rolled into Oxford one sunny afternoon in April 2000, maybe a month after our meeting in Germany. I was about to get a crash course in the southern mentality and how different it is from the New York way of doing things.
I mean, if I – as a native New Yorker – had invited someone from halfway around the world to look me up next time he was in NYC and that person actually showed up at my doorstep, I'd be like, "Hey! Wow! You really came! Awesome! Let's meet up!" In New York, we're all exclamation points. When I got Amos on the phone – he'd handed me his business card in Cologne – what I heard on the other end of the receiver was periods and question marks.
"Hey. Vincent. What's up? Where are you?"
It sounded subdued in my city boy ears. When I told him I was in Oxford, he hesitated.
"Oh. Right. What are your plans?"
We did get past that initial awkwardness, but for a few anxious moments, this New Yorker thought he'd made a huge mistake.
I'd soon learn, though, that southerners for the most part are not effusive in their emotions. And that they take hospitality seriously. When someone goes through the trouble of visiting, they feel an obligation to that person. So it was that Amos informed me of the Cedell Davis show that was happening at Proud Larry's that evening. He said he would ask some of the other Neckbones to come out, too, and even invited me and the friend I was travelling with to an after-show house party a few blocks from the club.
Dave Boyer, who sang and played guitar in the band, was around that night. He was quiet and kept to himself. Forrest Hewes, the drummer, was a bit more boisterous. Of course, on record, The Neckbones all sounded New York wired – none more so than guitarist Tyler Keith, whose shrill squawk opens the next cut.
"I bet my last dollar, I bet it on a dead horse …"
A funny, bluesy line set to punk, which is The Neckbones in a nutshell.
Let's get to the beer, shall we? Everything Sucks comes in a neat 440ml can with a label designed by Killerartworx, who also do rock band logos, posters and t-shirts. It clocks in at a heady 8.4% ABV, so I probably shouldn't be drinking it on a weekday afternoon. 😮
But oh … this recent FrauGruber x Superfreunde creation sinks its claws into me real fast. Pop and the tangylicious aromas spring into action, even from inside the can. The pour into my chichi IPA glass is as milky as unfiltered apple juice. Once it reaches my palate, the flavors of mango and melon gently say hi. For a double IPA, Everything Sucks is exceptionally smooth and quaffable, though the finish does have a sharp, hoppy edge to it. Which makes for a well-rounded drinking experience. All in all, it doesn't suck!
Since we're reminiscing … I wonder what we were drinking that night in Oxford, Mississippi roughly 23 years ago. Proud Larry's is still there, housed in the same low-slung brick building at 221 South Lamar Blvd. A quick Google search shows that brewers like Grind City, Yellowhammer, Memphis Made and Wicked Weed are represented on the menu. But back in 2000, before the craft beer explosion?
Certain details are lost to the winds of time.
To this day, I do know exactly where I heard The Neckbones for the first time, and which song it was. I was at home, dubbing a CD copy of the Fat Possum compilation Not The Same Old Blues Crap onto a cassette (something us old-timers did back then). The Neckbones got a prime slot on the album, sandwiched in between R.L. Burnside's "Snake Drive" and Junior Kimbrough's "Lonesome Road." Following on the heels of seven minutes of Burnside and Kenny Brown slash and burn, the compact blast of The Neckbones' "Crack Whore Blues" hit hard and had you asking what is that?! And who are these guys?      
Enjoy.
* * *
The Who Is Blues Listening Party is powered by Bierlager, one of Germany's finest addresses for premium craft beer.