featuring…
♫ Kenny Brown, Stingray
🍺 Two Chefs Funky Falcon Pale Ale

Words & photos:

Vincent Abbate
2003's Stingray is a classic example of a really good album that slipped through the cracks.
Recorded at The Money Shot in Water Valley, Mississippi and released on Fat Possum, it's the work of singer and guitarist Kenny Brown. Best known as the musical sidekick to R.L. Burnside until the latter's demise in 2005, Brown grew up in the North Mississippi tradition, apprenticing with local legends like Joe Callicott and Johnny Woods before hooking up with Burnside for a partnership that lasted roughly three decades. More recently, his guitar featured on The Black Keys' Delta Kream, Robert Finley's Sharecropper's Son and Hank Williams Jr.'s Rich White Honky Tonk Blues. So he's out there, still doing his thing.
I scooped up my CD copy of Stingray for a measly $3.95 at a second-hand book outlet in Nashville, Tennessee, following a string of unforeseen circumstances. More on that in a bit.
What we got greasing the wheels this time around?
That would be Funky Falcon Pale Ale from Two Chefs Brewing. Founded in 2012 by a pair of now-former chefs (duh), Two Chefs calls itself "Amsterdam's Finest Craft Beer Brewery" and adorns its beers with bold, brash colors and characters, like the Dia de los Muertos Mariachi gracing its Mexican-style lager or the gunslinging cowboy on its Green Bullet IPA. I admit I'm a sucker for creative names and designs – undoubtably they're a part of what makes craft beer fun. But it's what's inside that counts, right?
We'll see what the Funky Falcon has to offer and dive into the Kenny Brown album on the other side.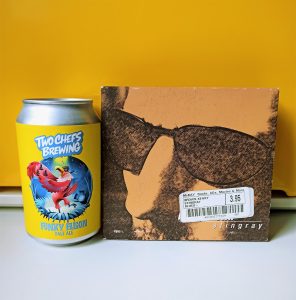 Why I loved Stingray the instant I heard it: The rootsy, downhome quality you hear in its eleven songs – for lack of a better description – is something you can't fake. That kind of authenticity comes from the ground up. It's the product of where Kenny Brown comes from, who he learned from and listened to and the interplay of his skills with those of drummer Cedric Burnside and bassist Takeeshi Imura, his two main cohorts here.  
When Brown sings "If down was up, Lord, I'd be on top, I wouldn't be here watching the man turn the power off," you believe him. And you sympathize. Just two minutes into the album and you're already in his corner.
Besides that, the song grooves like crazy.
The Nashville story happened in 2010 and if you're from Tennessee, you probably know what's coming.
I had flown into Memphis on May 1st, a Saturday. I'd get a rental car, drive east to Nashville, pick up my best friend, who'd recently moved there, then head back to Memphis in time to celebrate my 45th birthday. At least that was the plan. As I battled intercontinental jetlag at a hotel near the airport, a big storm was blowing in from the west. An outdoor music festival in Memphis had been cancelled that evening to get people indoors to safety, so this was a big deal apparently. Sirens sounded and I drowsily wondered what was going on outside. Since my body clock would have me up before the sun, I figured I'd get on the road early and stay ahead of the storm as it moved eastward.
Memphis to Nashville is a straight shot on I-40 that takes three hours under normal circumstances. Heading off around dawn, nothing suggested that calamity was ahead. Yet the radio was talking about road closures and evacuations. Where was all this rain? Was the storm now in front of me? In any case, the straight shot on I-40 was no longer an option. I had to look for minor roads heading east and figure out a way to my buddy's front door on the fly.    
By noon I was stranded at a gas station somewhere in the middle of Tennessee. Every road in every direction had now been flooded. The gas station had a kind of a mini-mart and because the power was out, the proprietor encouraged us to drink what was in the fridges while it was still cold. I say "us" because I wasn't the only one stuck there. A few of us got beers and made smalltalk, waiting for any news about roads being reopened.
Late afternoon, that news came. I jumped back in my vehicle (a snazzy red gas-guzzling Dodge Charger) and gunned it eastward …
Looking back, I'm lucky I never made it as far as my friend's place. Usually, his back porch was 100 feet from the Cumberland River. That night, his back porch, front steps, car and all his belongings wound up in the Cumberland River. A couple of men in a canoe rescued him and a single suitcase.
My serpentine journey came to an end on the southwestern outskirts of Nashville. I spent the night in my car because evacuees had filled every available hotel in the area. Had a few beers at a local bar and parked overnight in front of a Walmart. Kept trying to get a hold of my friend, but his phone was dead. Next day, same story. There was little to do but hunker down until I heard from him and look for some kind of amusement.
Which is what led me to McKays second-hand bookstore on Old Hickory Blvd. The place was massive and filled with books, CD, DVDs, you name it. I had nothing but time on my hands. My years as a student in New York City had made me an old hand at thumbing the bins.
Stingray was one of my finds that day.
Whoo boy telling that story sure has me thirsty for a beer. Let's listen to Brown's brilliant take on the traditional "Cocaine Bill," then hook up with the Funky Falcon.
No beating about the bush: Funky Falcon is a good one. An American-style pale ale (featuring a pair of hop stars from the northwest, Chinook and Centennial) that pours a bright, hazy gold. It unleashes luscious fruity aromas from afar and a piney undercurrent to the bloodhound sniff. The initial taste is surprisingly yeasty, like a wheat beer, but that's only when tapping the brakes. With my foot on the gas, Funky falcon reveals itself as a yummy bucket of fresh, fruity, slightly lemony flavors. It is as exciting as the lustful dream I had last night.
And like that dream, it is over way too soon.
Since the first beer has me jonesing for another, I'll bow out here. The Listening Parties have been sporadic lately – my apologies, people – but I've got ideas and beers lined up for the next two. So stick around. The weather's warming up and I'll be sprucing up the deck so we can move it outside. The scent of spring and the blissful aroma of hops is in the air.
Can you feel it?
(Postscript: My friend eventually got in touch a day later, shaken but not broken. Since the thousand-year flood had left him temporarily homeless in Nashville, we did the logical thing and went to Memphis. 😄)  
* * *
The Who Is Blues Listening Party is powered by Bierlager, one of Germany's finest addresses for premium craft beer.