featuring…
♫ The Baseball Project, Vol. 1: Frozen Ropes & Dying Quails
🍺 Brew Dog Curve Ball West Coast IPA / Cold Beer Pale Ale

Words & photos: Vincent Abbate
To paraphrase sixties rock'n'roll icons The Animals: It's my blog and I'll write what I want. It's my mind and I'll think what I want.
Today, on Opening Day, my favorite day of the year – better than Christmas, Thanksgiving and the Fourth of July rolled into one – I am thinking and writing about baseball.
Depending on who you ask, baseball is either an excruciatingly slow and boring athletic competition that's well past its sell-by date as America's favorite pastime or the most beautiful, artistic, compelling and enjoyable sport on earth. I'm in the latter camp, so if you're a hater, you may want to jump off here. 
I'm a sucker for anything baseball. Books, movies, ESPN docs about baseball heroes and history. Boxes of the baseball cards, programs, newspapers and other memorabilia I collected as a kid still reside at my mom's home. And to this day, I can't break the habit of following my favorite team, the Yankees (just lost a few more of you) on a day-in, day-out basis. I live in Germany. It often results in me staying up for games that start at 1:00 a.m. when I should be sleeping. I was born into a Yankee family in New York. It is simply in my blood.
So let's throw a baseball-themed Listening Party, shall we?
Musically we've got tracks from Frozen Ropes & Dying Quails, originally released in 2008 on Yep Roc Records. It's the first volume of songs by The Baseball Project, a sort of baseball nerd supergroup that has been chronicling the sport to music for a good 15 years now.
I've also got a couple of canned beers lined up for us courtesy of BrewDog: Curve Ball West Coast IPA and Cold Beer Pale Ale. In the spirit of Hall of Fame slugger Ernie Banks … let's play two today!
Just don't throw the empties on the field.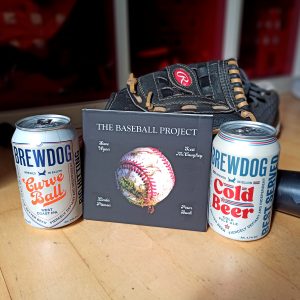 The Baseball Project is the brainchild of musicians Steve Wynn, Scott McCaughey, Linda Pitmon and Peter Buck, whose former bands include R.E.M, The Dream Syndicate, Young Fresh Fellows, The Minus 5 and Zuzu's Petals. Mike Mills, another R.E.M. alumnus, later joined to make it a fivesome. Without exception, every song they've put out has had a connection to baseball. A new LP to be called Grand Salami Time is slated for release in 2023.
"Past Time," which led off Volume 1 back in 2008, reflects upon the seasons and players of long ago and wonders aloud if baseball is indeed past its prime. How can you not like a tune that admires "the sideburns of Pepitone and Oscar Gamble's afro"?
(This isn't blues obviously, but again: It's my blog and I can play what I want!)
What's baseball without a beer?
Let's start with BrewDog's Curve Ball. A west coast IPA in a pinstriped can. Brewed with the classic four (water, malted barley, hops and yeast), this pale, clear brew sports a lofty 7.4% ABV. So there's some zing to it for sure. It greets you with the pleasurable piney scent you expect from a west coast IPA. On the palate, it's dry and hoppy and has a bite like a Bert Blyleven yakker. If I have reservations about Curve Ball it's because I've become more of a New England IPA fan recently; the more you get into this, the better idea you get of your own personal tastes.
I move on to song #2 in the lineup only grudgingly, as it celebrates Boston's legendary Splendid Splinter while taking a swipe at The Mick. Here's "Ted Fucking Williams."
As it's originally a Scottish company, it's somewhat surprising to find names like Curve Ball or Cold Beer in BrewDog's ever-growing product range. For me, the latter phrase carries with it memories of the old Yankee Stadium or the less majestic Shea, of the vendors who marched up and down the aisles hawking Schaefer or Rheingold for probably two dollars a pop. "Cold beer here!" Like a Reggie Jackson blast to the batter's eye, those days are long gone.
After struggling a bit with BrewDog's high-octane Curve Ball, the comparatively mild Cold Beer feels as crushable as a hanging slider. It's one of the brightest, palest beers I can remember seeing. The aroma is subtle and slightly yeasty with maybe a hint of fruitiness. (Peach? Litchi?) It's an easy drinking beer, light and tasty, a comfortable companion. While that may not sound like a glowing endorsement, by the time I reach the bottom of the glass, I am feeling good. Which is kind of the whole point, no?
A couple more songs before we settle in for a long day of pickoffs and pop-ups and shoestring catches and long throws from the hole.
"The Death Of Big Ed Delahanty" is kind of bluesy actually. It's about one of baseball's great anti-heroes, a standout professional player at the turn of the last century, said to have died after falling from the International Railway Bridge near Niagara Falls while on a drunk. 
And finally, the raw and fearless sound of "The Closer." A song covered in dirt and grime like the player who leaves it all on the field. One thing I often notice about baseball freaks is their tendency to overdo it when waxing poetic about the game. The Baseball Project tells great baseball stories but doesn't lay it on too thick.
And me? I'm not going to say another word about how much I love the game. Or rather love it and hate it. Because baseball almost always breaks your heart in the end. And yet you keep going back for more.
I'll be damned if that doesn't sound a lot like the blues.
Play ball!
* * *
The Who Is Blues Listening Party is powered by Bierlager, one of Germany's finest addresses for premium craft beer.