featuring…
♫ Dean Zucchero: Electric Church for the Spiritually Misguided
🍺 Voodoo Ranger Juicy Haze IPA

Words & photos: Vincent Abbate
OK, so what's it's been? Around four months? My previous Listening Party post was a farewell of sorts – my attempt to neatly wrap up the first 66 entries before going on hiatus indefinitely. Didn't know when or if I'd be back at it. Even now I'm hesitant, as I can no longer knock these out at the steady pace I established in the Listening Party's first year-plus of existence. 
But with summer now in the rear-view mirror and only some lingering warmth and sunlight keeping fall and winter at bay, it feels like the time has come. June to September often feels scattered and hectic, while the onset of autumn and gradually darkening days tends to guide me back to my desk and keyboard (where I write) and to my living room armchair or the rear balcony of my apartment (my preferred listening spots).
It's a good time to contemplate an album and a beer.
We'll leap back in with Electric Church for the Spiritually Misguided, a 2023 project spearheaded by New York native Dean Zucchero and featuring a cavalcade of guest artists.
To wash it down, we have an alluring 19.2-ounce tallboy of Voodoo Ranger Juicy Haze IPA.
I'm feeling pretty good about this combination.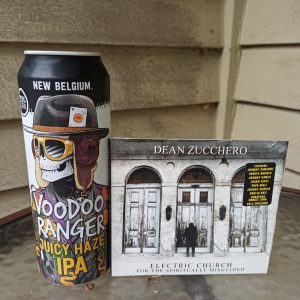 Both the album and the beer are recent discoveries. I stumbled upon Juicy Haze while visiting the U.S. this summer; it was one of several Voodoo Ranger varieties stocked by a gas station about 200 yards from my mom's home in Upstate New York.
Shows you how much America has changed in the past few decades. The town where she lives is mostly lower middle-class and was once home to a Miller Brewing plant. Round those parts, a big day out means pulling on your best sweat pants and driving to the mall. But now you can walk into a gas station, play the lottery, grab a box of sugar donuts and choose from five or ten or 15 different kinds of craft beer.
(I even found two different kinds of locally-brewed Kölsch at the nearest Walmart. The one I bought tasted nothing like Kölsch but was light and refreshing. No reason to be snobby about it.)
Reading up on the company history, I see that New Belgium Brewing – makers of the Voodoo Ranger line of beers – began operations in Colorado in the early 1990s, right around the time that Upstate New York Miller brewery shut down. Makes sense. As one traditional entity dies, a young, forward-thinking enterprise comes along to take its place. The way of the world. And that's all the philosophizing I'm going to do today.  
Instead I'll let Zucchero and guest vocalist Jonathan "Boogie" Long ponder the merits of craft beer in this curious musical number.
One good reason to appreciate Electric Church for the Spiritually Misguided – beyond its wealth of really fine performances and smart blending of musical moods and styles – is that it introduces us to regional artists we're not all that likely to have heard before. Bassist, songwriter and producer Zucchero is a New Orleans transplant who regularly performs and hosts gigs with local talent when he's not touring internationally. He's adopted that city's melting pot attitude as his own.
Thus, as he states in the press info, there is no place for "musical monotheism" in his Electric Church. As a listening experience, it's nice knowing the song you're about to hear may sound nothing like the one that preceded it. That's because Zucchero doesn't force his guests to adhere to some overriding agenda. Instead, each track confronts us with a different personality. In that abundance, you are bound to find favorites and as-yet unknown artists you will want to explore further.
The sophisticated arrangement of "Fascist Love," which features vocalist Leslie Smith and guitarist Papa Mali, stands as one of the album's high points.
 So let's see what this filling station IPA can do.
Before I even taste, I'm impressed. The milky gold-orange hue, borne from a malt bill that includes wheat, barley and oats, suggests richness, while the thick white foamy head has amazing staying power. This hazy IPA sure looks delicious. The nose is subtle and citrusy. On the palate, Juicy Haze goes straight down the middle between hoppiness and juiciness. I sort of wish the latter quality would jump out more, but that's me being petty: This is a smooth, full-bodied IPA that's about 10, 847 times tastier than anything you might have found at the gas station a decade ago.
Besides: Whereas 7.5% ABV IPAs can taste harsh, this one goes down easy and 19.2 ounces of it have given me the kind of agreeable buzz sung about in the craft beer song.
Finally, perhaps my favorite cut off the album by an artist who is truly coming into her own.
As I write these lines, singer/guitarist and occasional one-woman band Ghalia Volt is about to unleash her newest recording Shout Sister Shout! Dean Zucchero was directly involved with the albums that have brought her to this point, and naturally invited the Belgian-born rising star to be a part of the Electric Church sessions. "Last Minute Packer" was the opening cut on 2021's One Woman Band LP – but you haven't heard the song until you've listened to this revamped, slide-driven, galloping along at full speed band version. Volt's sassy vocals suggest a successful career in country music would be hers for the taking if she so chose. She nails it. 
Friends … Listening Party #68 should be along soon. You are heartily invited. And if you happen to have some time on your hands, why not explore some of the other content here on Who Is Blues or check out one of my books.
Cheers!
* * *
The Who Is Blues Listening Party is powered by Bierlager, one of Germany's finest addresses for premium craft beer.