Strong Stories
An interview with Erja Lyytinen
Words: Vincent Abbate
It's a half-hour before showtime and Erja Lyytinen is about to take care of the last, most vital bit of business before taking the stage.
Loosening up the left hand? Overrated.
Doing vocal exercises? You're joking.
It's her make-up that demands attention. It's time to get made up. She looks fine just as she is – more than that, really – but nowadays, fine and $2.75 will get you a ride on the New York subway. For better or worse, styling is part of Lyytinen's job description; she wouldn't dream of standing unmasked under the bright lights any more than Gene Simmons or Paul Stanley would. The vocal warm-ups can wait.
"When I walk downstairs later, I'll hum a little bit."
If her carefree attitude toward concert preparation is a sign of cockiness, well, Lyytinen has plenty of reasons to be feeling good about herself. It's been over a decade since the native of Kuopio, Finland first made noise on the international blues scene, and she continues to prove her skeptics wrong. As her catalog of albums has grown – she's made ten in all, not counting the live ones – the slide guitar specialist has reached a level of success few thought possible in 2005, when she first toured Europe and the USA with the Ruf Records Blues Caravan.
Her impeccable guitar skills have never been in question, but she has grown artistically and as a cool and confident stage persona to be reckoned with – the difference between now and then is nothing short of remarkable.
Meanwhile at home, Lyytinen has transformed into a showbiz celebrity. In 2017, she appeared weekly on the TV variety contest Tähdet, Tähdet, tackling Gwen Stefani's "Hollaback Girl" and the Shirley Bassey classic "Diamonds Are Forever" in the battle for viewers' votes. When New Year's Eve rolled around, she and her band were asked to be part of the national holiday celebration on Helsinki's Kansalaistori Square, performing to an audience of thousands.
"I still can't believe we were there."
Lyytinen's brand new single, "Without You," features a big, hooky chorus and plenty of fret-burning, fuzz guitar fireworks. A full album is due to follow before year's end.
Who Is Blues caught up with Erja a few weeks prior to the song's debut to talk about her new band, motherhood and what it takes to make it as a blues musician in Finland.
Who Is Blues: Tell me about New Year's Eve in Helsinki.
Erja Lyytinen: It's sort of like Times Square in New York. When we were invited to play I thought, "Oh, that sounds awesome," because so many people watch that. Once we got there, they told us there were about 85,000 people there, plus all the millions watching on TV. But I felt so relaxed onstage. Not everybody knows who I am or what I do, so it was nice to get this good vibe going. Besides, we were the first band to play. We went on at eleven and the show ran to midnight.
WIB: Do Finnish people know you as a blues musician or did they see you and go, "Oh, there's that singer who was on Tähdet, Tähdet"?
Erja Lyytinen: I don't know. We did play a couple of rockier songs from the last album. That was a conscious choice. Not just to play hardcore blues. We did "24 Angels" and "Rocking Chair," but also did one fast shuffle, "Lover's Novels." The songs had to be under four minutes, so we had to think about that, too.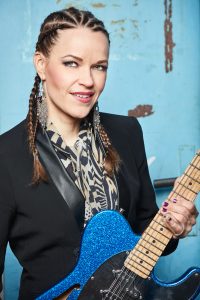 "If I wasn't able to do what I love, I don't know who I would be."
Someone from the BBC asked me recently if I was a pop star in Finland. I still see myself as a blues artist, or a blues rock artist. But since I did Tähdet, Tähdet, more people know what I can do. Many people were surprised I could stretch myself and do so many different styles. They weren't aware that I'm a singer and not just a shredder!
WIB: At the same time, you were involved in the Blue Christmas Tour with some other Finnish musicians. Did you put out an album?
Erja Lyytinen: We could have done an album, because it was really cool. There were two other artists, Sami Saari – we call him "The King of Soul" in Finland – and Maria Hänninen, a singer I would compare to Janis Joplin. She plays violin as well. We did around fifteen shows; Christmas songs together with our own songs, which we performed together. People really loved it. It was so successful we might do it every year as a kind of Christmas Blues Caravan. At the same time, it was a lot of work, because my company organized the tour. This was while I was competing on Tähdet, Tähdet.
WIB: Being a blues musician in Finland is hard work, isn't it?
Erja Lyytinen: That's right. I was fortunate to get an international record deal in 2005 which helped me to break out of the country. I've been able to travel the world and see different places and build an international career. I get invited to play festivals all around the world. But it's also easier because of the internet. You can see bands from all over and what they're doing. People are moving a lot more. Back when I was starting guitar, when I was 15, there was nothing. But even now, the scene in Finland is small.
WIB: You just released a new single and there's an album on the way soon. Tell us about it.
Erja Lyytinen: I've already written a bunch of new songs, almost enough for a whole album. I also have a new band featuring Kasperi Kallio on keyboards, Tatu Back on bass and Iiro Laitinen on drums. We already cut one track with in the studio. That's the new single. It gives you an idea of the vibe of the next album, which should be out in October or November. At first I didn't think I would put out any new music this year, but now it feels like stuff is coming out. A lot of new ideas, new songs and stories.
The last time we met, we talked about break-up and family stuff and all these changes in my life. So a lot of my thoughts on that dark period went into the Stolen Hearts album. I was thinking: Is my next album going to be a happy album? Or careless and easygoing? But apparently, I do have a dark side in me. Because there are a lot of dark songs and rough stuff coming out. I think it will be similar musically to Stolen Hearts, but with different stories. Not so much sad stories, but strong stories.
The only problem is when to make the album. We've already got 100 shows booked this year, and it's going to be more.
WIB: Being busy is good.
Erja Lyytinen: And it's crazy! I have twins at home. Four-year-old twins. They say, "Oh, mommy is going on tour." They're not very keen about speaking on Skype. On this tour, I'm going to be away for two and half weeks. Then I have one week off before I go to the UK for a week and a half. That's tough.
There's always a part of me missing when I'm away from the children. But if I wasn't able to do what I love, I don't know who I would be. Music defines me. Guitar playing has been in me for decades.
So I'm happy. I'm in a happy position in my life.
(She knocks on a wooden table between us.)
As long as the boys don't grow up to be totally messed up!
* * *
Make no mistake: This mom plays a mean guitar. Here's Erja Lyytinen, with and without cornrows, on her new single "Without You."