featuring…
♫ Sue Foley, Deborah Coleman & Roxanne Potvin, Time Bomb
🍺 Steamworks Pale Ale

Words & photos: Vincent Abbate
Can we agree there's too much product out there?
It's how I feel and have felt for quite some time now. Everybody and his brother puts out a CD or DVD or digital-only release on a regular basis. For the consumer, trying to keep up with each new wave of recordings is a Sisyphean task that hinders the enjoyment of music. Long gone are the days when we would sit for weeks with a favorite LP, poring over the lyrics and attempting to decipher the secret meanings hidden in the whacked out cover art. Today, we listen quickly and superficially before it's wham, bam, on to the next one.
What's worse, the never-ending torrent of new product keeps us so busy that we rarely dive into the collection we've assembled, which is full of gems we probably didn't spend enough time with in the first place. Like Time Bomb.
The album was recorded and released to coincide with the third edition of the Ruf Records Blues Caravan Tour, which featured Sue Foley and Roxanne Potvin alongside the late American guitarist and singer Deborah Coleman.
I want to go music-heavy as I explore this excellent record from 2007, keeping the blah blah to a minimum and giving each of the three talented ladies who contributed to the project their chance to shine. 
And of course we'll do a little beer tasting along the way, indulging in our first Canadian brew in honor of Foley and Potvin, each of whom hails from the Great White North.
Let's stop – take a deep breath – pour a cold glass of Steamworks Pale Ale – and enjoy Time Bomb.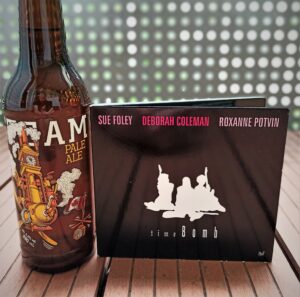 Before I say another word: The album's overture.
I have to assume that's Foley, Coleman and Potvin trading guitar licks in fine, house-rocking fashion – but let's give it up as well for the rhythm section driving this instrumental: Billy Thommes on drums, Jim Anton on bass and Bruce McCabe on piano. Not the biggest names in the business but more than solid throughout the album which, as you'll see, encompasses a broad range of styles.
Saskatchewan-born, Ottawa-raised Roxanne Potvin was a fresh-faced newcomer when she took to the road with the Blues Caravan. Only months earlier, her soulful solo effort The Way It Feels came sparkling with promise. With vocal skills recalling those of Norah Jones or Amy Winehouse, Potvin seemed poised for stardom. She continues writing and recording today, though she's hardly become a fixture on the international blues scene. Not quite her thing, perhaps?
Here's the wonderful "Strong Enough To Hold You."
Deborah Coleman left this earth in 2018 due to complications from pneumonia. As it turns out, Time Bomb was her swan song. Between 1995 and 2007, the Viriginia native with the husky voice and infectious smile put out eight well-regarded solo albums. She was an unfussy, down-to-earth presence onstage and a pleasure to be around. She's missed by all who knew her.
Sue Foley (here's our 2018 interview) emerges as the most dominant musical force on Time Bomb. That's not surprising given her skill set: an unmistakable voice, somehow twangy and seductive all at once; invigorating down-home guitar playing that bristles with energy; clever songwriting. Her roughly 30-year career has had its share of ebbs and flows, but seems to have been rejuvenated by her return to Texas a few years ago.
Foley's "So Far," has a Dylanesque, "Subterranean Homesick Blues" kind of feel to it …
Now, on to the "party" portion of the Listening Party.
As mentioned above, we're going to Canada this time around. More specifically, to the outskirts of Vancouver, where Steamworks began brewing in 1995. The original set-up was a brewpub in Vancouver's historic Gastown neighborhood, named for mythical-sounding saloon owner "Gassy Jack" Deighton. The makers of Steamworks used steam pipelines running under the building to create Canada's first steam-fired brewing operation. The larger facility in neighboring Burnaby was built to meet growing demand. Today, Steamworks has a partner brewery in Berlin. So I'm cheating!
Steamworks' "northwest style" Pale Ale, brewed with Cascade and Chinook hops, is honey-colored and slightly hazy with a light, fruity aroma. Though it profiles as a bitter, hoppy beer, it feels exceptionally soft and cloudy, almost velvety on the tongue, with hints of melon and berry that make it a pleasure to the end. I'm enjoying it late in the afternoon, and it suits the slow down, anti-blind consumerism vibe I happen to be feeling at the moment. A good glass to chill out with.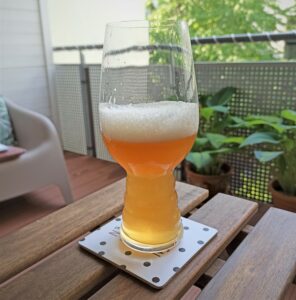 If I may leave you with one thought before I go, it's this: Look at all those CDs on your shelves! Or maybe it's vinyl. Or cassettes. Whatever the case, grab some album you haven't listened to in a decade. You might be surprised. Don't go on forever chasing after the next big thing. Support your favorite artists, sure. Buy their records! But don't forget all the great music that's already sitting there gathering dust.
Here's a party tune to send you home with. Hope you'll come around again next week. We're just getting started here.
* * *
The Who Is Blues Listening Party is powered by Bierlager, one of Germany's finest addresses for premium craft beer.