featuring…
♫ Skip James, Blues From The Delta
🍺 Chinook Red Indian Ale
Words & photos: Vincent Abbate
Are you ready to get way down low?
I just dug out my CD copy of the Skip James album Blues From The Delta, thinking it might be a worthy Listening Party candidate. It's been a while since this one found its way into the CD player tray. The purple and violet-tinged Vanguard Records release combines nine tracks from 1966's Today! with an additional nine cuts from 1968's Devil Got My Woman. Two previously unreleased recordings bring the total to 20. As my favorite baseball broadcaster might say when noting a player's stats: That's just bookkeeping.
Then I skim listened, starting with James's most enduring title "Hard Time Killing Floor Blues." Goose bumps. "Special Rider Blues." Goose bumps. James's sorrowful moan set my hair on end the first time I heard it and it still does today.
If you're unfamiliar with the originator of the so-called "Bentonia School" of blues (James was raised on a plantation near Bentonia, Mississippi), this 1998 Vanguard compilation is the place to start, as opposed to the hissy, scratchy relics he recorded for Paramount in 1931 – undeniably great but considerably less accessible.
Over on the beer side of things, we'll be unscientifically enjoying a bottle of Kraftbierwerkstatt's Chinook Red Indian Ale. Let's be clear: I did not choose this beer on the strength of its name. I suppose I could have not chosen it on that basis. Were it brewed and bottled in the US instead of the southern German city of Böblingen, the marketing people at Kraftbierwerkstatt surely would have thought twice about the Red Indian moniker. Just ask the owners of the baseball franchise now called the Cleveland Guardians or the NFL's Washington Football Club, who are still looking for a new name.
Issues of racial insensitivity aside: The album and beer look great together.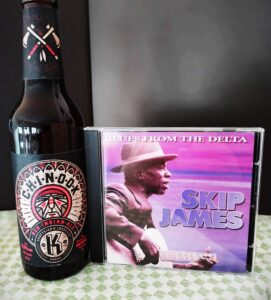 Listening to Blues From The Delta from the perspective of the year 2021, I found myself wondering if Skip James – or an artist with his gifts – would make it today. Would he stand out from the crowd or even get the opportunities James got following his rediscovery in 1964?
My first inclination is to say no, merely because his "style" of blues is so far removed from that of the musicians currently enjoying success. Many of them, let's say sixty percent, play formulaic bluesy rock or bluesy pop. (Not a knock, just an observation.) Thirty percent reheat the sounds of the past. Maybe ten percent offer something original.
Here's what Skip James sounds like.
It's unlike anything else in the blues. You might hear a similarity to Robert Johnson. That's because a few of the songs Johnson famously recorded in the mid-30s – "32-20 Blues," "Hellhound On My Trail" – appear to have been based on tracks James laid down in 1931. Skip James may not have sold many records during the Great Depression but seems nevertheless to have inspired imitation.
The quality and depth of his musical output from the 1960s is mind-boggling. For the most part, when he played the Newport Folk Festival or entered a recording studio as a man in his sixties following 30 years of musical obscurity, he sang the same Depression-era blues as back in the day. The songs sounded anything but dated. James's high, lonesome wail cuts to the bone. His idiosyncratic minor-key fingerpicking (some sources claim it was open D-minor, others open E-minor) grabs hold of you and doesn't let go. In its entirety, the music is often achingly beautiful.
That's why I do think James would make it today. His blues is too powerful to be ignored.
One curiosity of Blues From The Delta is the inclusion of several tracks on which James accompanies himself not on guitar, but on piano. They're perhaps not as compelling as guitar cuts like "Sick Bed Blues," "Devil Got My Woman" or the other songs we'll listen to here, but they put the image of James as some perpetually forlorn drifter to rest. James is said to jobbed as a piano player at a brothel while living in Memphis. It's not hard to imagine the bouncy and suggestive "Little Cow, Little Calf Blues" being part of his repertoire.
OK, so let's see what this Red Indian Ale can do.
Chinook is the second beer I've covered from Kraftbierwerkstatt after Men's Hell Extra Strong Lager in Listening Party #8.  The name comes from the popular Chinook hop varietal, known for its piney, spicy bouquet. It is one of several "C-hop" varietals developed in the Pacific Northwest, which, not coincidentally, is also home to the Chinook Indian Nation. (Note: This is the name used on the nation's website. You can look it up!)
The red ale's aroma is maltier and less citrusy than expected. The color is more like that of an English brown ale; it pours a frothy tan head with excellent retention. On the palette it is full-bodied but not heavy and evolves from a flavorful blend of caramel and grapefruit (with a slight metallic character) into a pleasingly soft, almost honey-like finish. Yum.
Since I do these tastings just once a week and the beers my sponsor supplies are generally good to very good, my evaluations tend to be positive. This time's no different. I'm enjoying this. But Chinook surprised me even more than most of the beers I've introduced here – there was a "wow" moment mixed in and that doesn't happen every week.
Is Skip James "wow" music? I think it is. It's not flashy or electric or danceable and my choosing it means this particular Listening Party celebration will be comparatively low-key. That's OK. It takes all kinds. Skip James, who died in 1969, only a year after recording some of the material on Blues In The Delta, left behind a handful of undisputed classics and other less heralded tunes that can raise the hairs on the back of your neck.
Here's one more. See you.
* * *
The Who Is Blues Listening Party is powered by Bierlager, one of Germany's finest addresses for premium craft beer.