featuring…
♫ Elvis Presley, Reconsider Baby
🍺 BrewDog Elvis Juice
Words & photos: Vincent Abbate
Loyal readers … for Listening Party #30, I've chosen to return to the flourishing Scottish-founded brewer I introduced in Listening Party #2: BrewDog. This entry will serve merely as a preamble to a kind of "BrewDog special" I have in mind for next week on the heels of a satisfying interaction with the company's customer service department. I'll expound on that when the time comes.
As for now, we'll be sampling one of BrewDog's most hip sounding offerings, a grapefruit-infused IPA they call Elvis Juice. Frankly I'd have thought an Elvis Presley-inspired beer would be flavored with peanut butter and banana. Whatevs. If you google "Elvis Juice," as I just did, you'll find that legal battles have been waged between BrewDog and Elvis Presley Enterprises over BrewDog's attempts to trademark the beer. At this writing, though, Elvis Juice is the name on the can.
Our accompanying musical selection is Reconsider Baby, which has Presley singing the blues in a variety of settings – from a previously unreleased master of the Lonnie Johnson hit "Tomorrow Night" from 1954 (or 1955) to a recording of "Merry Christmas Baby," a song made famous by Charles Brown, from May of 1971. The compilation originally appeared in the mid-1980s as part of the Elvis 50th Anniversary series – including the blue vinyl edition I was lucky to get my hands on through a roommate who worked for RCA at the time.
So it's Elvis times two. Are you ready for this?
I'm sure to get some flak for writing about Elvis in a blues context, especially considering the current climate of extreme political correctness prevalent in the US. With many music fans, it is now de rigueur to say that the King of Rock 'n' Roll was a talentless pretty boy who made his millions by copying or – more harshly – stealing the music of black blues musicians. While that argument may have some merit, let's remember that Presley also copied (or stole from) his favorite country and gospel music heroes.
In other words: Those were his influences.  
Once he hooked on with Sun Records boss Sam Phillips, who was said to have been looking for a white boy with the "the negro sound and the negro feel," Elvis didn't hesitate to record the songs he'd grown up with. As a young man, he hung around parts of Memphis his pale-complexioned peers were careful to avoid. On the wrong side of the tracks, he soaked in the sound and the feel and the fashion of his black contemporaries, which made him an outcast in many ways.
That's why, early in his recording career, Presley copped Roy Brown's "Good Rocking Tonight," transformed Sleepy John Estes' "Milk Cow Blues" into "Milkcow Blues Boogie" and turned repeatedly to songs penned by fellow Mississippian Arthur "Big Boy" Crudup, including his breakthrough debut single "That's All Right."
But let's ask this: Was Elvis any good at singing the blues?
I think he was. Otherwise we wouldn't be here.
But if you don't believe me, maybe you'll take the word of roots music guru Peter Guralnick, whose liner notes grace the back cover of the LP. Noting that Elvis's blues cuts were often done as an afterthought and not driven by commercial concerns, he writes: "… you feel as if on each of these songs, Elvis has been set free."
That's certainly true of "Reconsider Baby," recorded in April 1960 for Elvis Is Back!, his first post-army discharge release. Great energy, loose feel and a nifty saxophone solo from Boots Randolph.
The blues remained a part of Elvis's repertoire throughout the 1960s. In fact, after falling out of favor with rock'n'roll fans after the Beatles and Stones came along, Presley seemed to grab hold of the blues as a kind of life raft. A version of Jimmy Reed's "Big Boss Man" appeared on the soundtrack to the forgettable 1967 movie Clambake and reached #38 upon its release as a single – despite its cheesy Hollywood arrangement.
His take on Tommy Tucker's "Hi-Heel Sneakers" from the same period is much closer to the mark.
And now … Elvis Juice!
Will it live up to its reputation as an unusually citrus-heavy beer that tests the limits of one's tolerance for bitterness?
The citrus is there in spades. A lovely grapefruit scent leaps from the can even before the pour. In the glass, it's crystal clear and radiates a golden, honey-colored hue with seemingly little carbonation. The head dissipates quickly. In the drinking, Elvis Juice proves to be a light refreshment I would return to, not overtly bitter and with a pleasing, fruity taste that blends orange, grapefruit and lime.
If there's one knock, it's this: Though all the standard beer ingredients are there – the malted barley, the yeast, the hops – Elvis Juice doesn't taste all that much like beer. The "juice" moniker fits. It's not one for beer traditionalists.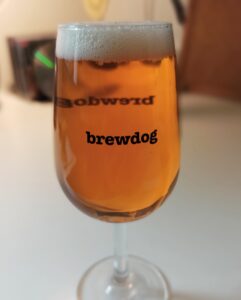 And there's my segue, because Elvis Presley is certainly not someone a blues purist would embrace.
My message to the purists, my olive branch if you will: Let's have fun with this! Because purist or non-purist, we are both in on a secret. We know the blues is not a sad music, as so many people believe, but just the opposite. It is music that can pick you up no matter how you're feeling.
It's pretty clear Elvis had fun playing the blues. And if there was ever any doubt, his famous '68 Comeback Special laid that to rest. My favorite segment is the sit-down session with a small band that included Scotty Moore and DJ Fontana. That's what I want to leave you with this week – Elvis and his pals jamming on Jimmy Reed's "Baby What You Want Me To Do" from the '68 Comeback special.
Long live the blues. Long live Elvis. Feeling good now. Hope you are, too.
* * *
The Who Is Blues Listening Party is powered by Bierlager, one of Germany's finest addresses for premium craft beer.