featuring…
♫ Tab Benoit, The Sea Saint Sessions
🍺🍺 BrewDog Silk Road Hazy IPA &
Double Hazy New England IPA
Words & photos: Vincent Abbate
I spent quite a while skimming through my CD collection, trying on various records, before I settled upon the right music for this week's beer-and-blues jamboree. In the process, I came to a realization: I have a lot of CDs. A lot. Somewhere between 1000 and 2000, I'd estimate.
Mind you, many of them were sent to me as promos – a fringe benefit that makes up for the miserable pay that comes with being a music writer. Even if labels and magazines have long since stopped sending out physical promos and I've sold off some of the excess in my collection, I've still got shelves, storage boxes and countless nooks and crannies filled with all the silver discs I've bought or been given, housed in jewel cases, digipaks, paper sleeves or nothing at all.
And let's face it. They're more or less obsolete. Most people listen on streaming services these days. It's practical. Hoity toity audiophiles and collectors, on the other hand, tend to go for vinyl. CDs are still hanging around, but except in rare cases – like if they've been autographed – no one feels particularly sentimental about them. Do you?
But CDs are good for skimming. And today's somewhat dusty skimming activities eventually led me to an excellent album released on Telarc in 2003: Tab Benoit's The Sea Saint Sessions. Three choice cuts will give you an idea of the record's stripped-down, bluesy southern energy and the prodigious talent of an artist who's been criminally underrated.
As I mentioned last week though, my focus is more on beer this time around. I'll be sampling not one but two different hazy IPAs from BrewDog: the Double Hazy New England IPA and Silk Road Hazy IPA flavored with lychee and mango.
Here they are, all lined up and ready to go …
I've got a BrewDog story for you, but first let's jump right into the music with "Boat Launch Baby." This music could only come from one of the 50 United States. Hint: It's not Idaho. 
If that doesn't get you shimmying around the kitchen, nothing will.
Not too long ago, BrewDog – a rapidly expanding company with brewing operations on three continents and a growing network of pubs – had a promotion: For the price of shipping, they'd send you a "free" bundle featuring four different BrewDog beers. Too good to pass up. I sent away for it. And waited.
A few weeks after placing the order, I got an email saying it was being processed and would be shipped shortly. The massive response to their promotional campaign had caught them off-guard. They apologized for the delay.
Several weeks passed and still the four-pack hadn't shown up.
Though I reside in a country where people have come to expect lousy customer service, I learned from my mom a long time ago that if you're unhappy with something, you should complain about it. I went online, found BrewDog's customer service department and dashed off a friendly email explaining the situation. You catch more flies with honey than you do with vinegar. Did my mom tell me that one, too?
Here's Tab Benoit taking a Chicago classic and giving it the down-home LOO-si-ana treatment.
So here's what happened: Within an hour of my complaint, I heard back from a member of BrewDog's Customer Service Crew. She identified as Maya and was apparently writing from London. Maya apologized for the inconvenience (detailing problems with a new warehouse in Germany) and offered to either refund my original order or – this is where it gets good – give me a 15 euro credit for purchases in BrewDog's online store.
Maya, here's to you! With that 15 euros (credited to my account within six hours of my original email), I was able to order the following items: two cans of Elvis Juice (see Listening Party #30), a tasty Pale Ale that happened to be on sale, the pair of hazy IPAs I'm about to indulge in plus a nifty little tasting glass bearing the BrewDog logo.
That's what good customer service looks like and perhaps one reason BrewDog why has exploded apart from the quality and creativity of its beers.
I'd hate to have missed out on Silk Road. The mango and lychee flavors mentioned on the can had me skeptically lowering my expectations, but this hazy IPA is a winner for sure. The motto on the label – BrewDog is big into snappy slogans – is "The Road is Long and Fruity." Not something a he-man would want to be seen holding, but perfect for a beer as delicious as this one.
As with Elvis Juice, its fruity aromas jump right out at you. The mango-lychee combo is heavenly. I could literally sit there all day just sucking it in. The beer pours a cloudy orange with a decent head that dissipates quickly. The mix of malted barley, malted outs and torrified wheat give Silk Road a richness that likely inspired its name. And while it is very fruity, the assertive hoppiness reminds you that you are drinking beer and not juice. That and the 6.5% ABV, which means it packs a bit of a punch.
I'm less enthused about the only slightly stronger Double Hazy New England IPA. The aroma is pungent and considerably more citrusy than that of Silk Road. It's appearance is a slightly deeper orange shade. Where it lost me is on the palette: In one of my first Listening Party posts, I joked about a beer critic who used "orange muffin" as a flavor descriptor, but I've been proven wrong. Orange muffin is a fairly apt description of Double Hazy's taste, which is simultaneously sweet and tangy. It's tartness is reminiscent of the bitter Italian aperitif Aperol and it leaves a fairly heavy alcoholic aftertaste.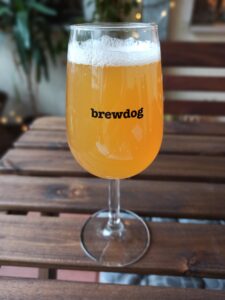 But while I'm not quite ready to "Embrace the Opaque" (Double Hazy's advertising slogan), I've become a fan of BrewDog's hip styles and sales strategy, which allows you to earn rewards each time you order. The beers I've tried have been hit-or-miss, but Silk Road is an instant favorite and the West Coast Classic Pale Ale ("A Stone Cold Slayer") is also very good.
So … life could be worse. The monotony of the COVID-19 lockdown has receded to the point where things feel almost normal again. Live music has started back up, in fact, I've been to two shows this week alone. There, it was more about the quantity and less about the quality of the beer going down my gullet, but it's good to be celebrating with friends again.
To close, I'm going drop the needle on a classic minor key slow blues, done to bare bones perfection by Tab Benoit on The Sea Saint Sessions as on many of his live shows. It really doesn't get much better than this. Take care, people. Come back around soon.
* * *
The Who Is Blues Listening Party is powered by Bierlager, one of Germany's finest addresses for premium craft beer.