featuring…
♫ Seasick Steve, Man From Another Time
🍺 Hopfenstopfer Incredible Pale Ale

Words & photos: Vincent Abbate
Last Friday marked the one-year anniversary of the Who Is Blues Listening Party. (Thanks for the reminder, Facebook.) Sitting here today on a cold, dull gray afternoon, I recognize that coming up with the idea for this regular celebration of beer-and-blues in the middle of January was no accident. I hate January.
Once the familiar warmth and boozy partying of the holidays passes, January turns dreary in a hurry. Armed with good intentions, you tell yourself the new year is a chance to reinvent yourself. To make a new start. But where I'm from, things can't get rolling until the kids are back in school and businesses get up and running again. By then, it's mid-January and your forward momentum has ground to a halt. Even in normal times, there is a dearth of concerts in winter. Life seems to have been put on hold. Yet the clock is ticking away the whole time, silently, unceasingly, a stealthy adversary.
Then – WHAP! – in the seeming blink of an eye, January is over and you realize one-twelfth of the year has already vanished down the drain.
As if that weren't enough reason to get a bad case of the blues, there's this.
Unlike the protagonist of Seasick Steve's song, I don't like the dark and it is not my friend. I wonder how people up around the Arctic Circle survive winter. I wouldn't. My mood is seasonally affected even at the 51st parallel. I need and crave light.
But there's always beer and music, right?
Man From Another Time is a 2009 masterpiece from the aforementioned Seasick Steve. I'll be exploring it with the help of Hopfenstopfer Incredible Pale Ale from Germany's Häffner Bräu.
Just saying "Hopfenstopfer" puts a smile on my face. Drinking it promises to be even better.
This time I'm going straight to the beer for a change and will let it perform its noble work. You see, I originally intended the Listening Party as a loose, fun thing. (Thanks again, Facebook.) Yet my sense is that over the past year, I've sacrificed some of the free-form riffing I was originally aiming for in the name of readability. That pesky left brain of mine does tend to get in the way sometimes.
So today, we dive headlong into the hop juice and hope for some right brain magic.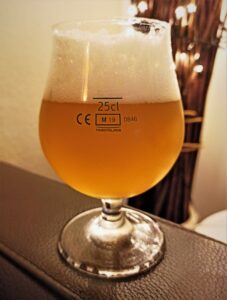 Hop juice indeed!
The beers brewed by Häffner Bräu and flown under the Hopfenstopfer flag are so named because they are figuratively stuffed with hops. The IPA they call Incredible Pale Ale is no exception, deriving its citrusy aromas from no less than four different hop varieties, including Hallertau Saphir and Taurus and the omnipresent Cascade. I've found conflicting information on the fourth member of the quartet – it's either Amarillo or the New Zealand born and bred Nelson Sauvin.
Let's find out what this fab four has to offer as we listen to another choice cut.
Seasick Steve does a lot of deep reflection on Man From Another Time, an album he wrote when he was in his late fifties. Some of it's funny, some of it's wistful and all of it comes in plain vocabulary anyone can understand and relate to. Particularly if, like Steve, you're heading into the clubhouse turn, the home stretch soon to become a reality. My greatest fear before I die is to turn into a boring old fart. Amen, Steve!
Incredible Pale Ale glows a pale amber in the glass and presents with a clean citrus aroma that's rounder and fruitier the deeper I stick my nose into it. You gotta do that when you're tasting beer! My wife – a casual beer drinker – caught me overtly sniffing recently and thought it was laughable, because in her opinion, all beer smells bad. Wha??
But I'll be honest: I'm always relieved to get past the nerdy tasting etiquette and reach the point at which I can simply sit back and savor the glass of beer in my paw. That's where I am right now and, yes – this IPA is indeed a pleasure, a fruity, foamy goblet of goodness. Hail brewers, hail hop growers, hail Mr. Hopfenstopfer!  
Hail Seasick Steve and drummer man Dan Magnusson!
That drumming is the shit, no? I recall driving from Nashville to Memphis a year after this record was released, my best friend – a drummer who'd just lost most of his possessions when the Cumberland River overflowed its banks and came right up into his bedroom – riding shotgun. He could dissect what Magnusson was doing on "Never Go West" in a way I never could. What I do know is that the interplay of hi-hat, snare, kick drum, toms and cymbals is extraordinarily creative and that the beat kicks like a motherfucker.
Profane enough for you?
The perfect interaction of malt, hops, yeast and water can have that effect, just like the parts of a drum kit in the hands of a master.
While writing this Listening Party entry, afternoon has turned to evening, the dreary gray skies have turned to black. Yet thanks to the music and the beverage, my winter blues have flown. Far away. For now, that's enough. It's a blessing during what many people have come to refer to as "these challenging times."
(Nothing to do with the album we're listening to – at least not directly – but I'm reminded just now of the soaring voices of Maria Muldaur and Bonnie Raitt singing precisely those words: "It's A Blessing." Way leads on to way …)
I've surely rambled today more than I have in previous weeks, but that indeed was my goal: To remind you of (or introduce you to) a great album, enjoy a good beer and forget everything else for a little while.
Why bother? I'll let one more Seasick Steve cut – a beautiful one – answer that question.
See you again soon.
* * *
The Who Is Blues Listening Party is powered by Bierlager, one of Germany's finest addresses for premium craft beer.