featuring…
♫ Eric Bibb, Migration Blues
🍺 Tyskie Gronie

Words & photos: Vincent Abbate
I'm finding it hard to carry on with business as usual. Life goes on, as it must. As it should. Yet when war, destruction, mass flight and the murder of innocents are happening just a single time zone away – the Ukrainian border is roughly 800 miles from where I sit – most everything else seems trivial. I didn't post a Listening Party last week because it didn't feel right.
This week I've decided to feature an album released some five years ago in response to Europe's last great refugee crisis. Though let's face it: The "crisis" has never actually taken a day off. Between the mass exodus of families from war-torn Syria and the ongoing evacuation of women and children from Ukraine, countless desperate thousands have risked their lives trying to cross the Mediterranean from northern Africa to southern Europe.
That is exactly the point of the 15-song Migration Blues. Eric Bibb, like me a native New Yorker who has settled on the European continent, went from thinking about the humanitarian crisis of 2015 (when some 1.3 million sought asylum in Europe) to considering the Great Migration that saw millions of African Americans flee oppressive conditions in the rural South for the promise of greater freedom in northern American cities. Ultimately, Bibb concluded that, "We all come from people who, at some time or another, had to move."
We'll focus on his music with little commentary from me.
Because the traditional format of this feature also includes beer, we'll raise a glass of Polish piwo in salute to a country that has already welcomed almost half a million refugees in the past week.
Watching the bombardment of Ukraine from the comfort of my living room has caused me to feel various emotions. Sadness. Anger. Confusion. Guilt. Compassion. Helplessness. Resolve. Bewilderment. And on and on. Sometimes though, I am left speechless. There are no words.
Here is Eric Bibb's overture to Migration Blues, "Refugee Moan." He sings:
If there's a train that will take me there
Take me where I can live in peace
Oh, Lord, take me onboard, don't leave me here
Let me ride that train …
The blues can help during times like these. How? Bibb is helping by singing songs that call our attention to the plight of the suffering. But the blues helps because music in general is something that transcends borders, governments, nationalities, religions and everything else that tries to separate us. Music has the power to help us see – no, feel – that we are one family. If we could only look beyond all that.
"With A Dolla' In My Pocket" is a blues song documenting the brutal conditions once faced by America's black population in the deep South. Here, Bibb imagines what his elders would have wanted to say, but could not. "I'd rather be freezin' than hangin' from the trees in the Mississippi sun…"
Time to open a piwo.
Tyskie Gronie is a pale Pilsner-style lager and apparently Poland's most widely available beer. I had no trouble finding it at a corner store here in Cologne, Germany. I'm not here to do a proper tasting, but simply to raise a toast as we listen to more songs from Migration Blues. As we do this, families will be crossing the western border of Ukraine into Poland and the neighboring countries to the south. They'll be handed a blanket and a cup of tea or maybe a bowl of soup before being shuttled onward to some other location in Europe, not knowing when they will head home or what will be left when they get there.
Next, Bibb's understated but nevertheless chilling reading of Bob Dylan's timeless protest song "Masters Of War."
Last Monday I took part in a peace rally held in Cologne. The gathering began on one of the city's smaller public squares. Organizers were expecting "only" 30,000 people. At 9:30 a.m., I stood with a group of friends as bit by bit, the square began to fill. At 10:00, the official program commenced. Local officials addressed the crowd, local musicians sang songs befitting the occasion. By the time they had finished, the square and surrounding streets in every direction were packed. The planned march through the city was stalled there for a good long while.
So we waited and listened to the songs playing on the PA system. John Lennon featured prominently. Cat Stevens – you know which one. And Dylan, singing the aforementioned anti-war classic.
Hard as it is, I'd like to finish on an up note here. Days like Monday, when so many people came out to stand together in opposition to Putin's war and to demonstrate their support of Ukraine (the official estimate was 250,000), are a glimmer of hope. We outnumber them. We, the people, who want nothing more than to live our lives and raise families and eat and drink and dance and make music and enjoy the company of our fellow human beings are far more powerful than those who manufacture wars. If the people of Russia weren't so afraid of their government, we'd see that there, too.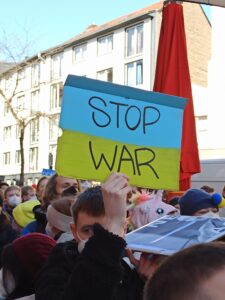 The first line of Eric Bibb's poignant "Brotherly Love," the song with which we close, is: "I still believe we can find a way to live in peace – I do – how 'bout you?"
Peace.
(Please consider donating to World Central Kitchen or one of the many other organizations helping to alleviate suffering in the Ukraine and other parts of the world.)
* * *
The Who Is Blues Listening Party is powered by Bierlager, one of Germany's finest addresses for premium craft beer.