featuring…
♫ Los Reyes del K.O., Hot Tin Roof
🍺 Lemke 030 Berlin Pale Ale

Words & photos: Vincent Abbate
Berlin! More than Germany's pre- and post-Cold War capital, this multi-faceted city of over three and a half million is also a craft beer hub. At least a dozen distinguished small and mid-sized brewers operate within the city limits and there's an abundance of pubs and beer gardens serving local and international craft beer. As a vegetarian, I couldn't help but notice all the street food and how far ahead of the curve Berlin is in offering meatless options. Vegan places have sprouted up everywhere. Similarly, as a beer lover, all I can say is that there, too, Berlin puts my home city and its decidedly more provincial tastes to shame.
But since my visit this summer was a family holiday, I had to make certain concessions. Much as I would have loved to hit every place on this helpful list of the 11 Best Craft Breweries in Berlin, I couldn't, in good conscience, blow off my wife and kids and go on a six-day bender.
"Daddy, you're a drunk!!" Nah, I didn't fancy hearing that.
The situation, like much in life – family life in particular – called for compromise.
Fortunately, my missus has nothing against an occasional drink. So together we did the touristy thing and ordered red Berliner Weisse on a steamy Sunday afternoon …
… and then the green version (much more to my liking) on a sunburn-waiting-to-happen boat trip the following day.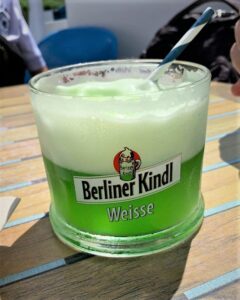 If you're unfamiliar with Berliner Weisse, Jeff Alworth's Beer Bible calls this traditional beverage, which has been enjoying something of a renaissance in recent years, "a sparkling low-alcohol beer so sharp with lactic acid that Berliners took to dosing it with sugar syrup." Alworth thinks the green variety, which is spiked with woodruff syrup, "tastes something like an herbal marshmallow." So he's obviously tried it. I rather liked mine. Though I was dying of thirst at the time.
My wife and I also enjoyed the Republik beer garden, a short walk from our flat in Berlin-Mitte and just down the street from the infamous Kit Kat Club and its "undress code." On a night out without the kids (!!) the young, hip location was serving a pair of beers on tap: a helles from Bavaria's Spalter brand and a smooth and fruity pale ale from Berlin's own Heidenpeters Brauerei.
We'd better get to the music and today's tasting, no?
The blues album I most closely associate with the German capital? I'll tell that story after the first song.
Earlier this millennium, I stayed in Berlin for a week. My goal was not to reflect upon the Cold War or learn more about the crimes of the Third Reich, but to catch a glimpse of the city's lively blues scene. I tagged along with piano player Christian Rannenberg, one of Germany's best and the subject of a chapter I wrote for an anthology on German blues shortly thereafter. Chris performed in a number of settings that week: at a snazzy hotel bar, at a staid blues festival north of the city … but the one that sticks with me most is the Thursday night blues session at the Café Garbáty in Berlin's Pankow district. For it was there, in a packed and jumping joint where the beer was flowing and boys and girls were having a night, that I got to see Los Reyes del K.O. in action.
Los Reyes del K.O. is Spanish duo Marcos Coll and Adrián Costa and their album Hot Tin Roof was brand new at the time. As far as I could tell they were splitting time between their homeland and Berlin after working with pianist Rannenberg and a host of other local musicians on the CD. They invited me out to the session when we were hanging out the previous night. And they were remarkable that evening at the Café Garbáty – Coll blowing up a storm on the harp and the diminutive Costa proving to be a magnetic performer as well as a nimble-fingered guitar player. They had a youthful spirit about them that is rare in German blues circles.
Let's enjoy another cut before we get to a beer from the capital. (Yup, it's the Michael Jackson song. Give it a try.)
There's little need to search for a craft beer specialty shop in Berlin – supermarkets are well-stocked with beers from outside the mainstream, with an emphasis on smaller hometown breweries. One of those is Lemke, a 1999 start-up whose handcrafted beer was available exclusively in a number of company-owned pubs until 2014, when rapid growth allowed them to begin bottling. The attractively packaged 030 Berlin Pale Ale (named for the city's dialing code) is an American-style pale ale that beckons with four kinds of malt and dry-hopping with Centennial and Cascade hops.
The visuals speak to the beer's quality. It pours a slightly hazy pale gold. And just look at that gorgeous fluffy head.
As it slowly (but never completely) dissipates, it leaves behind the kind of elaborate lacing on the glass beer geeks get excited about. Highly aromatic with a sharp, piney zing, the beer is initially rather dry and bitter on the tongue but finishes juicier and more crisp than bitter.
Forced to make the tough call between the Heidenpeters pale ale I had at the beer garden and the 030 Berlin Pale Ale, I probably choose the Heidenpeters. But that's probably due more to the setting than anything else. Lemke's pale ale is extremely satisfying and has me curious to try some of the brewery's other offerings. Maybe next time in Berlin?
What Los Reyes del K.O. are up to these days, I'm not exactly sure. Harp player Marcos Coll still lives in Berlin and is active all over Europe, while Adrián Costa appears to be making music in Spain. A Los Reyes del K.O. reunion went down last November, with Coll, Costa, Rannenberg and others reuniting onstage 15 years after the release of Hot Tin Roof.
Let's take it home with a fitting tune from that album. I'll be back on the road again next time.
* * *
The Who Is Blues Listening Party is powered by Bierlager, one of Germany's finest addresses for premium craft beer.