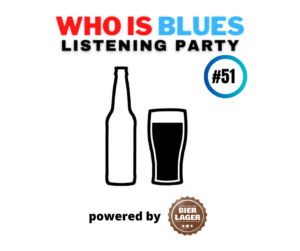 featuring…
♫ Four songs & 🍺 Four beers

Words & photos: Vincent Abbate
"I'm not gonna waste good beer."  — Felix Unger
If you're an Odd Couple fan – the syndicated sitcom Odd Couple, not the stage play, movie or any of its myriad other incarnations – then the line above, spoken by actor Tony Randall in the classic role reversal episode, will ring a bell. Felix (played by Randall, seen on the left in the photo below), imitating his ill-mannered roommate Oscar, puts out his cigar in a glass of wine. "I'm not gonna waste good beer" is his deadpan explanation.
I've adopted it as my motto for this edition of the Listening Party.
You see, while various factors (basically, a heavy workload followed by family vacations) have limited me to just a handful of blog entries in the past few months, several bottles and cans in my stash have been marching toward their expiration dates without any regard for my life situation. That beer – much of it kindly supplied to me by my craft beer partner Bierlager – is not something I want to let spoil.
The simple solution to this backlog was to divert from my usual "one album, no scotch, one beer" format. This time around, I'll briefly present four different beers and let each one take me where it wants to take me. A song that comes to mind during each tasting will add to the fun.   
Remember: A beer is a terrible thing to waste!
Let's start the ball rolling with Bayerisch Nizza, a somewhat oddly named wheat pale ale from Hanscraft & Co. While it's silly to let packaging influence your expectations, I'll admit this product's rather dull façade led to it being pushed to the back of the line by some gaudier bottles and cans. Had I waited any longer and let the beer perish, I'd have missed out on an unexpected pleasure.
My first taste of Bayerisch Nizza elicits a "wow." When that happens, you know you're in for a treat.
This perfect summertime beer goes down way too easy. It is exceedingly smooth and refreshing with a delicious honey scent and a mild but satisfying wheaty flavor. In the course of 330 ml, I feel myself shifting from a state of mild annoyance brought on by outside factors (not mentioning any names) to a blissful "Everything's Fine." (If you listen closely, you'll hear a bit of "Summertime" in there.)
Belhaven, says Wikipedia, is Scotland's largest and oldest surviving independent brewery, dating back to at least 1719. Less than a decade ago, the company launched a line of craft beers, including Scottish Oat Stout, Twisted Thistle IPA and Belhaven Scottish Ale. The latter is a classic reddish brown ale, light and nutty. The lack of carbonation in the glass I'm drinking makes it seem flat and nondescript but could well be the result of a lack of freshness. It's right around its best before date, so I'm committing a bit of a sin here. I'm going to give it an incomplete.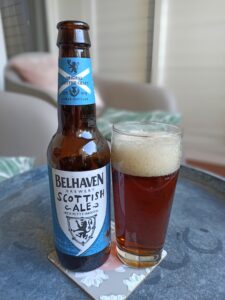 Many of you, like me, may have first met the song "Jealousy" as a fiery minor key slowblues performed by British bluesrocker Joanne Shaw Taylor. This is the original, as recorded by Glasgow-born singer Francis John "Frankie" Miller for the 1982 album Standing On The Edge.
I featured Hamburg-based craft beer specialist Superfreunde way back in Listening Party #5, the name of the brewery (meaning "super friends") inspiring me to reminisce about a wayward pal and our long-ago visit to the city of New Orleans. He has still not resurfaced in his former circles well over a year later. I'm sampling the brewer's Pilsener on a sticky afternoon that has me yearning for refreshment.
Freed from the bottle with its funky red, white and black labelling and skeleton mascot, Superfreunde Pils unleashes a crisp, tangy aroma like the one that enticed me as a boy whenever my father would open a Schmidt's. It glows a pale yellow and shows abundant carbonation. On the palate it is light and assertive with a pleasant, prickly bitterness. After a few swigs it has me drifting into thoughts of that AWOL friend I mentioned.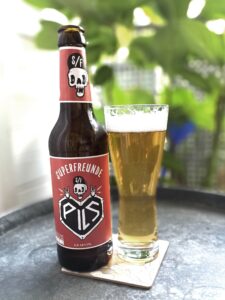 I wonder where he is at this moment. Alone, as I am? Having a taste, as I am? Drinking turned into a problem for him. But we always suspected the beer he'd drink at shows – no more or less than the rest of us – wasn't the culprit. More likely, it was whatever hard stuff he was indulging in on his own before heading out for the evening.
Hmm. Luther Allison's "Cherry Red Wine" is perhaps a little gloomy for this occasion but would seem to fit the moment I'm spending with memories of my friend.
Finally, a beer from an Austrian microbrewery that has become one of my favorites during the past 18 months. The beers of Bevog (previously featured in Listening Party #14 and Listening Party #33 1/3 ooze creativity and stand out from the crowd in terms of flavor. Buzz, a double dry-hopped hazy IPA, is the culmination of the brewers' experimentation with various hops, yeast strains and grains. The lettering on its colorful label reminds me of Homer Simpson's favorite brand Duff (intentional?), but that's where the similarities end. Buzz starts with barley, wheat and oats, both malted and unmalted. The hops are a well-guarded secret.
I'm a sucker for a good IPA and that first whiff, fruity and delectable, promises fun and relaxation. Swirling this pale ale lightly in the glass reveals some underlying grassiness. The creamy, pretty white head sticks around for a good long time following the pour.
Just go ahead and drink it, will ya!!!
Oh yeah. Now that is smooth. This beer is far too yummy to guzzle from the bed of a pickup truck with the glass perched between my cowboy boots.
Wha??
Sorry, but I just have to pair Bevog's Buzz with "Get Your Buzz On" by The Cadillac Three (formerly Cadillac Black), that southern trio that has written more odes to drinkin', good ol' boy style, than any I know of.
Pretty rad, no?
Hey, so I wanna thank you for swinging by today. You know how I said I'd been travelling with the family this summer? Well it wasn't all kids' stuff. I managed to sneak in the odd beer garden or pub visit and made it a point to at least skim the surface of the local beer scene no matter I was staying. So next time around, the Listening Party will be on the road, so to speak.
Come on back.
* * *
The Who Is Blues Listening Party is powered by Bierlager, one of Germany's finest addresses for premium craft beer.