featuring…
♫ Ray Charles, The Genius Sings The Blues
🍺 Cascade Brewing Blueberry

Words & photos: Vincent Abbate
How much are you willing to pay for a can of beer?
That's today's musical question.
Getting deeper into craft beer these past few years has undoubtedly changed my attitude about beer. It has shifted dramatically toward quality over quantity. Big drinking parties like Oktoberfest, which is all about guzzling it down by the liter, are a total turn-off. I've even gone off the local brew Kölsch somewhat, an easy drinking beer eminently suitable for consumption in large quantities. Instead, I now appreciate craftsmanship and premium ingredients and savor each glass of beer or even each sip as a small-scale celebration.
That means I'm also willing to pay a little more. At the local supermarket, you can still buy a six-pack of Kölsch or Pils for around five euros. A craft beer from a specialty shop, on the other hand, can start at about two euros and cost as much as six, seven or eight euros (around eight dollars) for a single can or bottle. That's where I start to ask myself: Can beer be that good? Is craft beer really five, ten or twenty times as enjoyable as the cheap stuff?
Recently I decided to find out. I crossed a self-imposed line and invested seven euros in a single can of beer. An exotic variety I had never seen let alone tasted before. Allow me to introduce you to Blueberry, a barrel-aged blend of sour triple and blonde ales and locally grown blueberries from Oregon's Cascade Brewing. Cozying up to the stylish 250 ml can is today's musical selection, The Genius Sings The Blues, a timeless Ray Charles classic.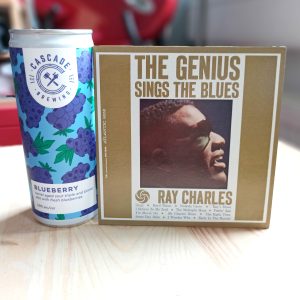 Let me run that past you again. I paid seven euros of hard cash for 250 ml (or 8.45 fl. oz.) of imported Blueberry. The math is easy: That works out to 28 euros per liter. Which is kind of steep no matter how you look at it.
To put that in perspective – and to make this Listening Party more interesting – I also bought a can of the cheapest "craft" beer I could find. It cost 49 cents for 330 ml at a nearby discounter. That's just one euro fifty per liter. The beer, an IPA, doesn't have a brand name really; here's what the can looks like: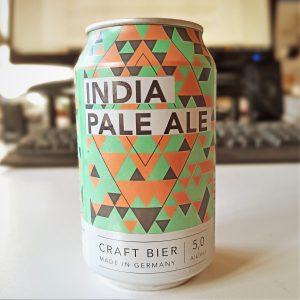 So we're going to do more than just a tasting this time. We're going to compare the top-shelf import with the generic bargain basement IPA.
But first let's listen to some good stuff from Brother Ray.
Some background on The Genius Sings The Blues: The 1961 release was Ray Charles' last for Ahmet Ertegün's Atlantic Records, pre-dating the singer's move to ABC and his groundbreaking Modern Sounds In Country And Western Music by one year. A compilation of bluesy tracks he recorded for Atlantic between 1952 and 1960, the album may have been nothing more than a convenient way of fulfilling contractual obligations. For blues fans especially though, it's a treat and one of the go-to collections in Charles' magnificent discography.
OK. We're gonna do this. The 49 cent beer tasting.
The India Pale Ale "Made In Germany" pictured above is brewed by Brauerei Mönchengladbach, a division of the Oettinger brewery. Oettinger made news recently for closing down one of its production sites, in essence because Germans on average are drinking less beer than in the past. Perhaps supplying discount supermarkets with low-budget craft beer was an effort to bridge the gap and reach a new target group.
Here goes.
Hazy gold in the glass, the IPA shows surprisingly good head retention but offers little in the way of aromas. There's something there but it's bare bones. The flavor is hopped-up, bitter and bereft of fruitiness, the mouthfeel is dry in the extreme – with a metallic aftertaste into the bargain. With each sip, I feel my mouth rebel.
It's not the worst beer I've ever had, and does give me a slight buzz, but I'm guessing a few more of these would lead into headache territory.
This is a good time to return to Ray. That man really could do anything. The blues was most certainly in his wheelhouse.
Beaverton, Oregon's Cascade Brewing bucked the northwestern US trend toward ever-hoppier beers early in its 25-year history by choosing to focusing on barrel-aged sour ales. Just found that out. If you look at their online beer listing, you'll find temptingly descriptive names like Framboise Northwest, Bourbonic Plague 2017 or Nectarine Dream 2019. My message to those able to visit the Cascade Brewing Barrel House in Portland and sample such creations at the source: You lucky SOBs!
Still I'm happy to have stumbled across this adorable little can of Cascade Blueberry in the craft beer section of a Dutch liquor store. Don't disappoint me now…
(Pause to erase the memory of the cheapo IPA. And drink a glass of water. And eat a piece of bread. And above all, to rid myself of any expectations.)
Getting rid of expectations was the right move. Because Blueberry neither looks nor smells nor tastes like any beer I've ever had. Is it even beer? Two years of aging in Pinot Noir barrels lends it an aroma more like that of a sweet wine. There is literally no head to speak of, nothing foamy to examine. And calling it sour is an understatement. Yet within a few moments of it crossing my lips, I go from a "whoah" of shock to a satisfied "mmmm." It is crisp, bubbly and delicious.
The Germans have a saying, "Sauer macht lustig." It puts forth the theory that sour generally gets you in a good mood. And it applies here, because for some strange reason, listening to Ray Charles while sipping this luscious sour ale flavored with blueberries puts a smile on my face that refuses to go away.
The phrase "berry explosion" comes to mind.
So what's the verdict here?
For one, I'll never go near the supermarket IPA again. Even If I was to fall on hard times, I'd choose something else. It's drinkable, sort of, but gives craft beer a bad name.
The other side of the coin: I'm loving the fruity, exotic offering from Cascade Brewing. There are worlds separating these two drinks. But would I buy it again, at that price?
You know, I think I would.
And I would definitely try Cascade's other beers.
Quality over quantity is a luxury to be sure.
But every once in a while … why not?
Brother Ray, take it on home!
* * *
The Who Is Blues Listening Party is powered by Bierlager, one of Germany's finest addresses for premium craft beer.