Common Ground
Blues Caravan 2022 @ Spirit of 66
Verviers, Belgium
Words & photos: Vincent Abbate
From its inception in 2005 until, say, two and a half years ago, the Blues Caravan went off pretty much without a hitch. For roughly 15 years, you could count on the annual tour of Ruf Records artists for good vibes and solid entertainment. Along the way, it gave us a first glimpse of numerous artists on the rise who've since become staples of the international blues scene.
Then COVID happened.
The 2020 edition of the Caravan (Ryan Perry, Whitney Shay & Jeremiah Johnson) had got off to a spectacular start before having the rug roughly pulled out from under it. A new tour was planned for 2021 but never materialized due to the uncertainty of international travel and the ever-present threat of lockdown. Even the line-up that debuted early in 2022, with Ghalia Volt, Katie Henry and Will Jacobs, just barely came together; again, travel issues forced label head Thomas Ruf to reconfigure the tour several times.
Volt, Henry and Jacobs were good together. Disparate musicians to be sure – but unlike certain prior Caravan line-ups hampered by their stylistic differences, this troupe of young artists, hungry to hit the stage after the long corona layoff, put on one heck of a show. So much so that I decided to go back for more on the fall leg of the tour.
But problems arose once again. Will Jacobs, a Chicago native who's made a second home in Berlin, was a late scratch due to an undisclosed personal issue. Thomas Ruf had to scramble for a last-minute replacement – finding it in the person of Eliana Cargnelutti, a veteran of the 2015 Caravan. Cargnelutti raced north from her native Italy to make the first tour stop in Belgium and a single rehearsal before taking the stage alongside Volt, Henry, drummer Denis Palatin and bassist Tomek Germann.
A decent-sized crowd filled Vervier's venerable Spirit of 66 for this tour kickoff concert and those in attendance were pumped up and ready to party. Despite a few musical bumps and snags due to rust and unfamiliarity, the performance would prove to be a triumph – of youth and enthusiasm over cool perfectionism, of joy and desire over nightmare logistics.
After the full band opened with this year's unofficial tour anthem, the catchy "Hop On A Ride," Katie Henry took over with an engaging set highlighting songs from her recent album On My Way. The New Jersey-based singer and songwriter is fairly new to the international scene and makes up for in down-to-earth charm what she may lack in experience. Mixing bluesy, soulful sounds and a vibrato that indeed at times recalls Janis Joplin, Henry switches off between keyboards and guitar. Her temperamental Gibson SG wasn't doing her any favors in Verviers, demanding to be retuned mid-song on more than one occasion, but she shone on electric piano, calling the great Billy Preston to mind. Henry mines the rich musical soil of the 60s and 70s without it ever feeling heavy-handed or intentional.
Champing at the bit on rhythm guitar throughout that first set was Eliana Cargnelutti, a flashy electric guitarist who might have been given more opportunity to solo. When Henry ceded the spotlight to her, it was off to the races. Cargnelutti showed off her slick, effortless rock-oriented chops and was ably assisted by a talented rhythm section that transitioned from Henry's more restrained approach like it was nothing. Demonstrating the poise gained from years of touring with various band projects, Cargnelutti shook off the wear and tear of her drive to the gig and delivered as a skilled player and likable entertainer.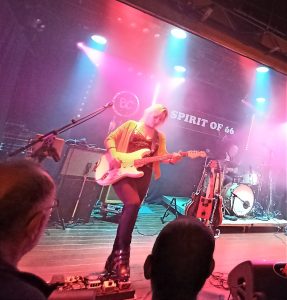 The ensuing break allowed patrons to grab a smoke or buy more drink jetons and head to the bar. Very good beer selection there, including a tasty "Spirit of 66" blonde ale specially brewed for the club by Brasserie Grain d'Orge in nearby Hombourg. (Sure to be featured in a future edition of the Who Is Blues Listening Party.
)
The last time we saw Ghalia Volt prior to this year's Blues Caravan, she was climbing the tables at topos in Leverkusen, Germany in an attempt to animate a sullen crowd. (Read the full review of that February 2020 performance here.) Some saw my review as a knock on Volt and the musicians she was touring with at the time. If that's how it came across, then mea culpa – because actually I love what this highly sought-after Belgian export brings to the table. In short, she's got the Mississippi thing down. And that is a rarity nowadays. We're so accustomed to hearing rock blues and Chicago blues and west coast blues that when someone like her comes along, a singer and guitar player who's got the Delta in her veins …
You might feel differently, but frankly, when I hear Volt play those grooves, it makes my heart smile. A glance at her packed tour schedule tells me I'm not the only one. Her star is clearly on the rise and she deserves it.  
She'd just been over to the Telluride Blues & Brews Festival in Colorado before joining the Caravan tour in Belgium and her featured performance in Verviers had every bit the feel of a homecoming. For one, she could converse with the audience in her native French. She had them eating out of her hand in no time. I don't parlez vous much, so for me, it was all about those beloved Mississippi Delta and Hill Country sounds. The kind Volt featured heavily on last year's One Woman Band record. She added a new wrinkle this time by having Denis Palatin handle the drum parts, freeing her to focus on guitar and vocals.
It worked. Oh yeah, it worked. Showing he could switch gears yet again and play authentic Mississippi-style blues was the icing on the cake for the veteran Palatin. And Volt was simply in control from start to finish, shining especially when she dove deep into gritty Elmore James/Hound Dog Taylor-style back-alley blues as on "Reap What You Sow."
The finale with all five band members back onstage exuded the good vibes we've come to expect from this yearly showcase. Yes, co-headliners Katie Henry, Eliana Cargnelutti and Ghalia Volt are very different musicians. Still, there is always common musical ground to be found and they proved that with a rousing version of Creedence Clearwater Revival's "Fortunate Son" that sent everyone home happy.