featuring…
♫ Lonnie Johnson (with Elmer Snowden), Blues & Ballads
🍺 Kona Gold Cliff IPA
Words & photos: Vincent Abbate
I'm back. Vacation was fun (see Listening Party #24 and #25) and my newest book is just out. Hooray for that! It took roughly a year and half to complete it, so that's definitely cause for celebration.
If I'm honest – and I try to be – finishing the book and sending it out into the world has left me a bit spent. So I'm going to wade back in slowly with this first post-publication Listening Party. I've got what promises to be a tasty brew, Kona's Gold Cliff IPA, chilling in the fridge. I'm kind of anxious to drink it, truth be told.
As for this week's album, I'm going with an undisputed classic that's quieter and more intimate than most: Blues & Ballads, recorded in 1960 by guitar maestro Lonnie Johnson with an able assist from Elmer Snowden. It's music suited less for an all-out bash than for a small gathering of friends. Are you with me?
I have a lot of memories and stories tied up with this record so let's jump right on over to the other side …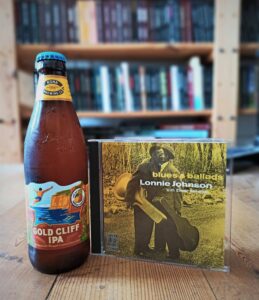 First of all, Lonnie Johnson. I wonder how many blues fans have actually heard his records. Most writing about Johnson focuses more on his achievements and significance in blues and jazz history than on the unique artistry of his playing and singing. Because he was skilled and versatile enough to have played with Louis Armstrong and Duke Ellington and record a series of ground-breaking guitar duets with Eddie Lang during the 1920s (the sides with Lang were among the first interracial records ever made), the praise heaped upon the New Orleans-born guitar pioneer tends to sound dryly academic.
When I was first getting into the blues, I had a much more visceral reaction.
The first thing I ever heard by Johnson was one of his most enduring tunes, "He's a Jelly-Roll Baker," recorded in 1942 for the Bluebird label. It wasn't really his guitar playing that made me a fan. It was his voice. It immediately struck a nerve. Johnson's singing on that quintessentially bawdy number is sly and mischievous while displaying his great vocal range and flair for melody.
Not too long thereafter I picked up a CD re-issue of Blues & Ballads, originally released on Bluesville. Let's have a first taste.
OK. Now you can see why the album is called Blues & Ballads and why it's not something you'd want to try out on your blues-rock loving buddies.
Once, back in the late 90s, I was hanging out with a couple of local musicians, listening to the blues and drinking whiskey. By local, I mean German. We'd reached that point late in the evening where I thought Blues & Ballads would be just the thing.
A few songs in, the younger of the two musicians, a guitarist whose tastes tended toward jump-style and swamp blues, began complaining that the music was too sedate for him. In his ears, there wasn't enough going on. The other guy, a veteran German piano player who'd lived in Chicago for a while and is the real deal, appreciated the subtle beauty of Johnson's playing and his penchant for letting his solos breathe. It was two against one, so Blues & Ballads played on.
Lonnie Johnson was a huge early influence on B.B. King. But while King's star was rising in the 1950s, Johnson – who'd had a chart-topping hit with "Tomorrow Night" in 1948 – fell out of fashion and was living in obscurity. When Philadelphia DJ Chris Albertson found him in 1959, a few months before buying him a new guitar and taking him into the studio to record a pair of albums, Blues by Lonnie Johnson and Blues & Ballads, Johnson was toiling as a hotel janitor.
Think about that. One of the seminal guitar players of the 20th century was mopping floors.
Check out his virtuoso performance (the solo!) on this up-tempo version of "St. Louis Blues" while I crack open that bottle of Gold Cliff IPA.
Brewed by Hawaii's Kona Brewing Company, Gold Cliff IPA boasts a 7.2% ABV that makes it a good bit more potent than the same brewer's Longboard Island Lager. We sampled that one at Listening Party #19. The IPA's recipe employs four different kinds of hops – Chinook, Topaz, Mosaic and Citra – as well as a barely noticeable touch of pineapple. With its golden hue and pleasant honey aroma, the beer is very attractive. Excellent head retention, intricate lacing on the glass, all good.
As IPA's go, this one is somewhat on the bitter side, though that initial impression fades when I do a full pour and take a long healthy swig. Gold Cliff IPA goes down easy with assertive juicy flavors that deliver on the brewer's upbeat promise of "liquid aloha." The deeper I dive into this single 12-ounce bottle, the better I feel. And isn't that the whole point? Rather than downing glass after glass of some middle-of-the-road swill that does nothing but make you fatter?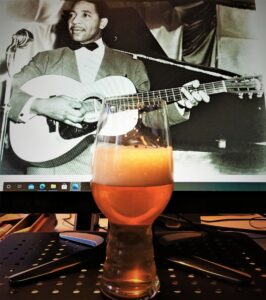 I'd like to close this edition of Listening Party with a brief salute to the late Chris Albertson. From his humble beginnings in Copenhagen, Chris led an amazing life as a celebrated author, journalist, television, radio and record producer. In the 1960s, he recorded some of the final works of blues legends like Alberta Hunter, Ida Cox, Meade Lux Lewis, Little Brother Montgomery and, obviously, Lonnie Johnson.
I'm fortunate to have spent an afternoon visiting with Albertson at his apartment on Manhattan's Upper West Side some 20 years ago – my love for Blues & Ballads had led me to track him down via the Internet. Chris was a gracious host and shared the whole back story with me. As he sat across from me painting the picture, I was in heaven, just two degrees of separation from one of my favorite blues artists.
Albertson's relationship with Lonnie Johnson didn't begin and end with those recording sessions, either. He became Johnson's manager of sorts, a trusted friend and advisor who got Lonnie back on his feet and helped restore his reputation before Johnson's passing in 1970. Maybe it's time to publish that interview in its entirety.
In any case, I'm raising this glass to you, Chris.
See you all next week.
* * *
The Who Is Blues Listening Party is powered by Bierlager, one of Germany's finest addresses for premium craft beer.